Even though the beach "Re-nourishment" barge was still ruining visibility off of Redondo Beach, the annual Under Water Beach Clean Up went forward.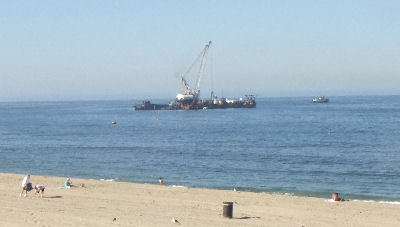 This is the event where they stop fishing for two hours off of the Redondo Pier so divers can pick up trash underneath.
In previous years, an artificial leg, a human skull and a few pistols were found.
This year's top find was by Chris G., who found an M16 Military Assault Rifle.
After surfacing to tell the Dive Masters of the find, the Police asked him to bring it in.
"It looked like someone had smashed it against a pole; only half of it was there and it looked like it had been down there for a while," Chris told me.
The Police took it and Chris "gave them a statement."
I am so glad that I didn't find it – I try to avoid talking to the Police; I figure, the less I make contact with the Police, the better off I am.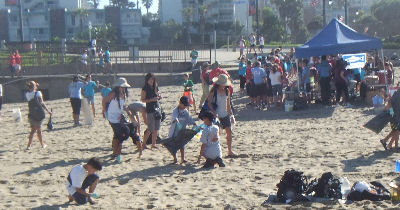 While we dove, volunteers cleaned the beach and surrounding areas.
Once again, Dive 'N' Surf provided the Dive Mastering and after event.
I entered the fairly calm water with TwinDuct and TwinDuct's buddy Paul; unfortunately, Twinduct had to return to shore to get the proper amount of weights – he was not able to stay down.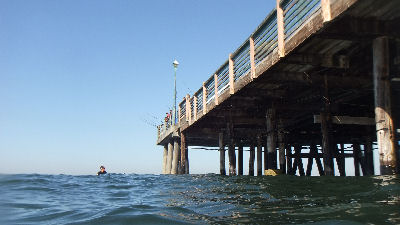 Logged SCUBA Dive #421
Dove with TwinDuct's Friend Paul
Redondo Pier
Redondo Beach, CA USA
In With: 2900 psi
Out With: 600 psi
Max depth: 65 feet
Waves: Pretty flat with an occasional roller
Visibility: Up to 15 feet, but only at depth
Water Temperature: 56 degrees
Air Temperature: 83 degrees
Total Bottom Time: 40 minutes or so
Paul and I submerged and swam towards the pier.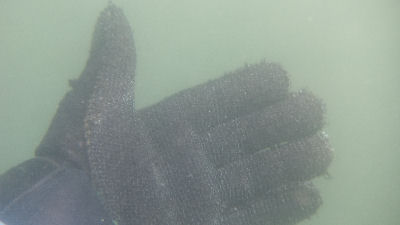 Visibility sucked ass, but at least I could see my hand and gauges.
Amazingly, there wasn't quite the amount of trash as in previous years.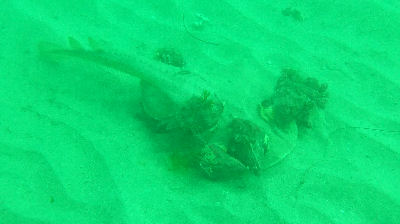 A dead Pacific Electric Ray is food for local conch.
After collecting a few fishing knives, a pair of scissors and some potato chip bags, we headed South and down the canyon.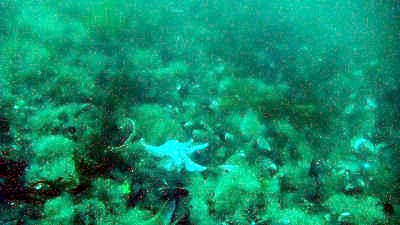 The Canyon just South of the pier does have some life to it.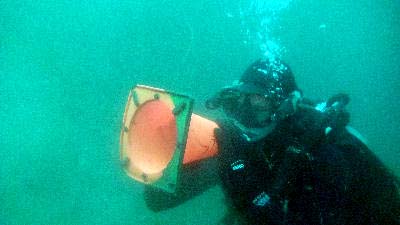 Paul found an Orange cone that had "Wet Floor" written on it – get the irony?
We collected mostly the remains of plastic bags, but a few beer bottles and a fishing pole added to our trash heap.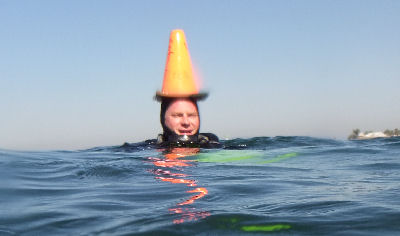 We surfaced to get a bearing to our exit point.
We swam in when I was down to 800 psi; Paul had a 120 cubic foot tank, so he had plenty of air – I hope he didn't feel cheated.
We made an easy and uneventful exit.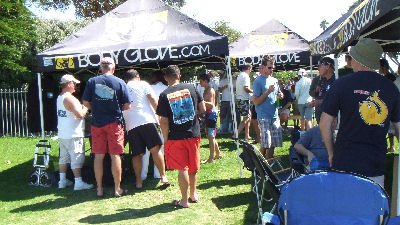 The after clean up dive party – Anchovy-less pizza, beverages and a raffle.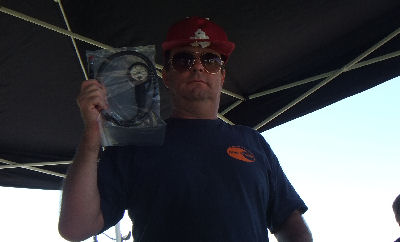 I scored a pressure gauge from the raffle!
It was good to see some old diving friends again, I must get out more often!
Diving keeps me young, so no wonder I am aging.