Here again is my once a year opportunity to dive underneath the Redondo Beach Pier and collect what people have dropped over the side for the last 12 months.
For a few hours, they prohibit fishing off the pier and let SCUBA divers clean the "garbage" underneath.
I arrived a little late, so my dive buddy TwinDuct and I were one of the last divers to enter the water and head for the pier.
Upon entry, a wave knocked me flat on my ass, and to make things worse, I couldn't get up – a wave would hit me, and I would try and get up, or at least try and float out to waist level water, but I ended up flailing in the surf zone until TwinDuct and my arch Divevets rival Airborne helped me to my feet.
Thank God there were no witnesses or pictures, as I did not look very macho.
We swam out and headed for the pier.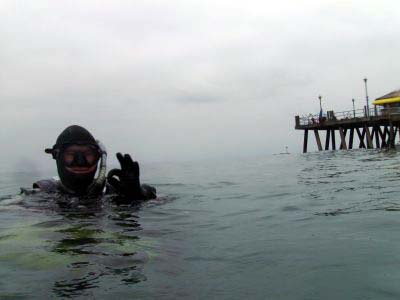 We descended and went towards the pier.
Logged SCUBA Dive #389
Dove with TwinDuct
Off of and Under Redondo Pier, Redondo Beach, CA
In With: 2800 psi
Out With: 800 psi
Max depth: 70 feet
Waves: Big in the surf zone, calm once out
Visibility: 15 feet at best
Water Temperature: 62 degrees, colder at depth
Total Bottom Time: About 40 minutes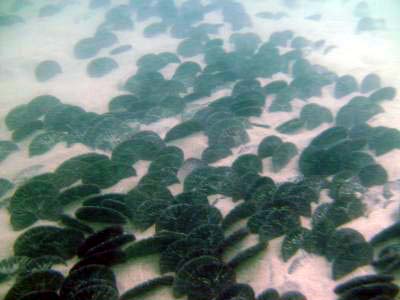 We passed over a community of sand dollars; I've always wondered, where the hell do sand dollars come from and what is their purpose in the ecology, anyway?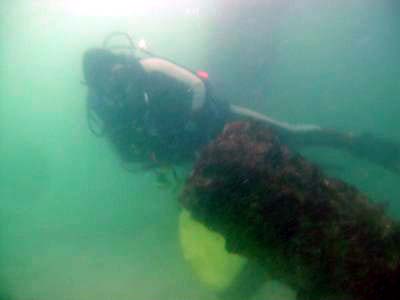 It looked like all the good stuff was already picked up – in previous years, guns, hoop nets, a skull and a variety of weird stuff has been found.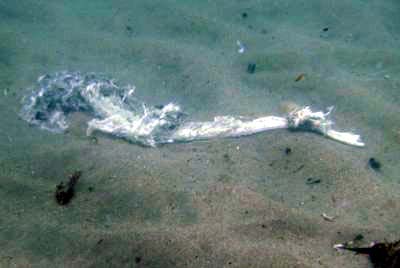 All around the pier, the remains of dead sea creatures litter the ocean floor.
We headed South and then down the canyon – there's usually trash there.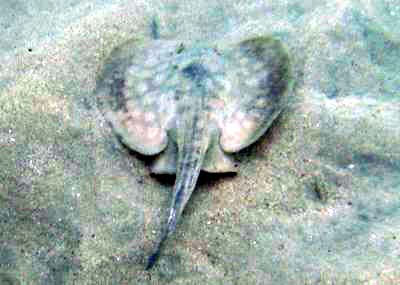 We came across a baby electric ray.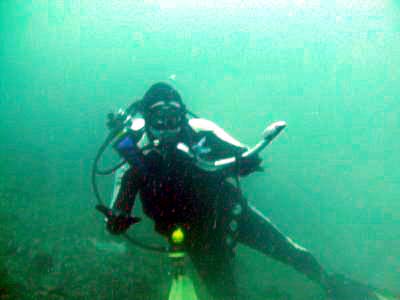 TwinDuct found a cool snorkel; I found a fishing knife and nice diving mask.
I thought I was narced or something, but TwinDuct confirmed what I saw – a duck, swimming around our area at 70 feet underwater.
I couldn't turn my camera on quick enough to catch a picture of the duck.
We went back up the canyon and did one last pass under the pier before heading in.
I made a perfect exit, except for tripping on my bag in six inches of water.
After being told to crawl by a DM, I just got up and walked ashore – now that is macho.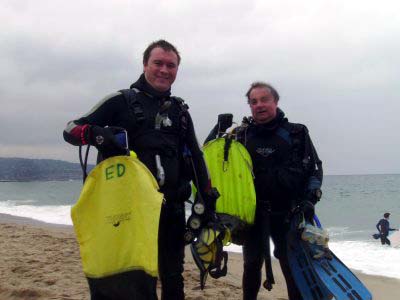 TwinDuct and I display our bags of trash.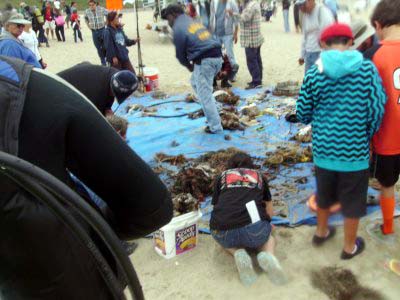 Less trash was collected than ever before, and nothing super cool was pulled up either.
What amazed me, was what was given to the people who cleaned the surface of the beach…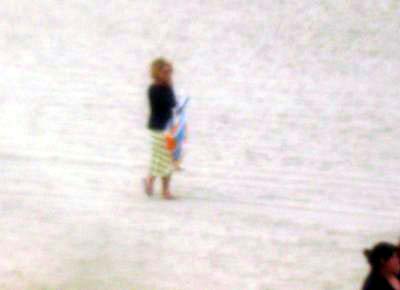 Everyone got a plastic bag to put trash in – the liberals hate plastic bags so much, they've pretty much banned them all over the South Bay and Long Beach area – but they give the clean up crew evil plastic bags?
Amazing! What a double standard!
My thanks goes to Heal and Bay and Dive N Surf for this event.