Thanks goes to ChrisFromDetroit from DiveVets for pointing the below article out.
There is speculation that the tank was made from an old Aluminum alloy that has been known to develop cracks and be susceptible to exploding.
However, tanks tend to not just explode.
I'm not trying to make light of this tragedy, but my guess is the tank was severely over filled, or it was a "hit" that was made to look like an accident.
As long as SCUBA tanks pass VIP and a hydro test and they aren't compromised structurally since, tanks just don't exploded.
************************************
St. Pete veteran killed by exploding scuba tank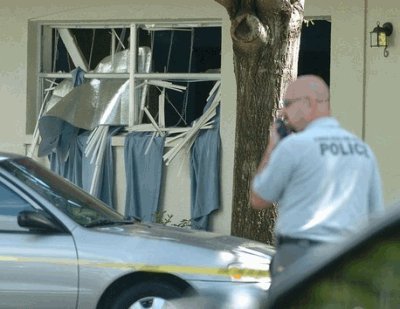 Photo by Andy Jones Tampa Bay Online Staff
By RACHEL PLEASANT, JOSÉ PATIÑO GIRONA | The Tampa Tribune
Published: September 11, 2011
Updated: September 12, 2011 – 7:15 AM
ST. PETERSBURG — An Iraq War veteran who moved to the Tampa Bay area to pursue his love of diving died Sunday after the scuba tank he was carrying exploded.
Russell Vanhorn II, 23, was carrying the scuba tank to his car about 6:50 a.m., getting ready for a planned diving trip, when it exploded.
The force of the explosion blew out the front door and windows of Vanhorn's apartment at 5875 37th Ave. N. The explosion also sent debris flying as far away as 75 feet. Some of that debris blew out the windows of cars parked nearby.
Vanhorn was taken to St. Petersburg General Hospital, where he was pronounced dead shortly after 8 a.m., said St. Petersburg Fire and Rescue Lt. Joel Granata.
The entire article can be found here: St. Pete veteran killed by exploding scuba tank
Comments Off

on Diver Killed By Exploding SCUBA Tank