I got called in to work Sunday morning, so I was unable to show up for the dive; plus, my butt and back are really sore from the fall that I took on Friday night.
Fortunately, I was able to make it to the debriefing at Old Marineland.Terranea was diveable – 54 degree water, eight to 10 feet of visibility, but "very cloudy."
It was a disappointing dive to many.
I stuck to the Budweiser…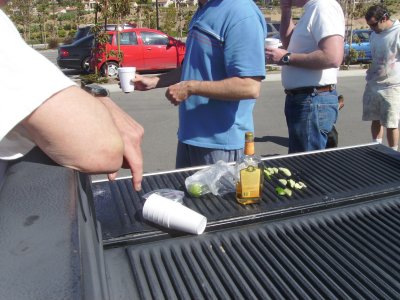 …others celebrated Cinco de Mayo, a bit early.
I talked with some divers who happened to go hoop netting for lobsters the same night I went out last.
I got skunked, and they limited!
Where?
How deep?
They said, "You don't share your secret spots, so I won't either."
I begged them for the general area and depth.
"Off of Palos Verdes in 15 feet of water."
Fifteen feet of water, after all these storms?
"Visibility was crap, so we hoop netted," he said.
With the increasing swells, I'm actually surprised they made it out Friday night.
The debriefing crew – divers and shore support…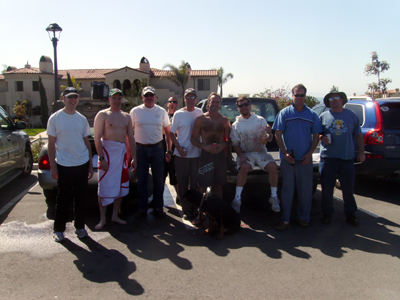 From left to right – Eric, Chris from Michigan, Reverend Al, Drysuit Greg, Ted, Dive Bum Don, The Painter Guy, SC Joe, Me.
We stood around and had some tequila fueled political debates.
We all agreed that California is impossible to govern, but the talks almost turned violent when someone said, "I like Jerry Brown, because I'm a really big environmentalist."
"Jerry Brown is a career politician who kills jobs and leads a socialist agenda," I said.
The Painter Guy said that California is so screwed up, if you want to scrape off lead based paint, you need to be licensed, you have to seal off the area with plastic and then treat the dust as hazardous waste.
I also added that the environmental wackos have gone so far as to outlaw gold dredging in California – It's all back breaking sluicing and panning now, which is the next target for the enviro-nazis.
Meg Whitman was brought up, but I said, "She's saying the same crap that Schwarzenegger said to get elected, nothing will change with her."
After careful research, I made it clear that I am supporting Dale Ogden for California Governor.
We also discussed the stupid new Immigration Bill that would require all United States workers to register with the Federal Government and obtain a biometric Federal worker's identity card, the unconstitutional Healthcare "reform", the stupid McCain bill that would put vitamins under FDA control and other contemporary topics.
Aside from the Jerry Brown lover, we pretty much agreed that government is getting too big, too controlling and very Orwellian – Welcome to the Brave New World!
With Spring fast approaching, I'm concerned about the diving now being ruined by red tide; for some reason, it seems that after an El Nino, algae blooms rise after Winter.
But, with Spring and Summer, also comes river rafting and Gold prospecting; I may be headed up to the East Fork of the San Gabriel River soon, to find Gold so I can buy newer diving equipment – maybe a day trip or a weekend excursion.