With not very many bugs deep, we decided to try a shallower spot.
If there's no bugs, we can at least look at some nice reef structure.
After quickly warming my wet suit up at waist level with some 98.7 degree liquid, Chipper and I went down the anchor line.
Logged SCUBA Dive #367
Secret Location: 4f 66 66 20 74 68 65 20 67 61 74 65 73 20 6f 66 20 6d 61 72 20 61 6c 6d 6f 73 74 20 74 6f 20 74 68 65 20 64 6f 6d 69 6e 61 74 69 6e 67 20 77 72 65 63 6b 2e, Palos Verdes
SoCal Buddy Diving With Chipper
In With: 2900 psi
Out With: 400 psi
Max depth: 62 feet
Waves: Choppy, and getting choppier
Visibility: Maybe 20 feet
Water Temperature: About 54 degrees
Total Bottom Time: About 30 minutes
I had changed the batteries in my primary light – Wow! I could see!
I spotted a few shorts as we were heading deeper, but no bugs after passing 50 feet.
We turned around after reaching 60 feet.
It was a nice kelp and reef dive – a lot more to look at than the previous dive's construction junk.
We came across a section of reef that was full of lobster; Chipper and I worked different sections.
I pulled out two huge ones, but upon measuring, they were short.
Chipper swam over with a lobster in each hand; I took one and measured it – short!
Chipper's was short, too.
Low on air, I slowly surfaced.
There was one hell of a current, pushing me away from the boat.
Being super macho, and not wearing split fins, I swam against the current and made it back in about 15 minutes; Chipper followed.
Again, diver's slowly returned, most with empty bags.
Mike C. managed to find one…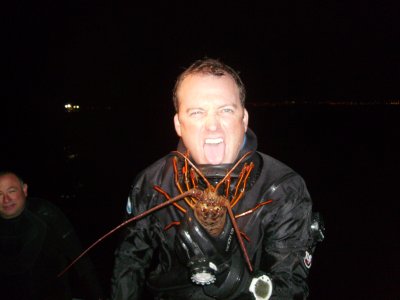 Mike C. likes the taste of freshly caught lobster.
Seven divers made it back, Jester was still in the water somewhere; we all cracked open the decompression bottles – Budweiser and…let me think?
Chipper brought some kind of tasty beer, imported from Hesperia… White Shark beer, I think?
Jester surfaced way down current; the swells were getting rougher, to the point of developing white caps.
By the time Jester made it back, he was a little pissed that we didn't pick him up.
After a struggle to climb aboard in the tossing boat, Dan greeted him with, "So, did you have a nice swim?"
"I knew you guys were all sitting here drinking beer… I was going to signal the boat, so Divemaster Mike could practice his tired diver tow, but I didn't want to live down the ensuing internet posts," Jester said.
Jester came aboard with two lobsters, both caught in 50 feet.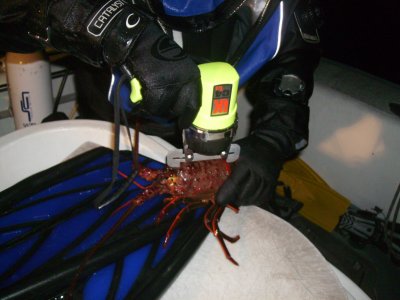 He remeasured one, just to be sure it was OK, and it was.
Good thing, as bringing shorts on board the boat is not tolerated at all.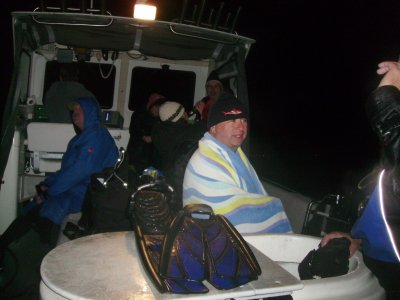 We started the cold, bumpy and wet ride back to King Harbor.
The enthusiasm to go out again before the season ends has really diminished.
The lobsters are out, but they're sparse and mostly short.
Someone complained that their bug cost them $80.
I said, "It's better than paying $80 for two night dives."
Debriefing continued for a while in the parking lot.
Some jokes were told that would make an old church lady have a heart attack.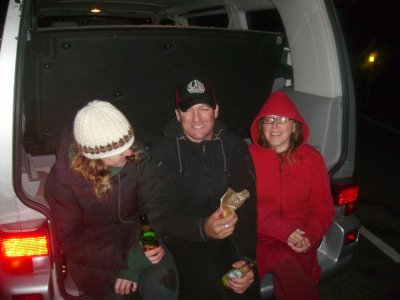 For some reason, the chicks gravitate towards Divemaster Mike.
Two dives, eight divers, brought in a total of six bugs – I think I'm done for this season.