Logged SCUBA Dive #338
Veteran's Park, Redondo Beach, CA
Solo Diving
In With: 3000 psi
Out With: 500 psi
Max depth: 111 feet
Waves: Breaking on shore, but pretty flat once out
Visibility: 5 to 8 feet
Temperature: 56 degrees, colder at depth
Total Bottom Time: About 35 minutes
Having not been in the water since the end of lobster season, I needed to test my diving skills to avoid a refresher course.
I met my friend Nick; I though he was going to dive with me, but he just came to collect money and drink beer.
Reports from returning divers didn't get my hopes up that conditions were spectacular, but I did hear the key words – "It's diveable."
I made an easy entry into the water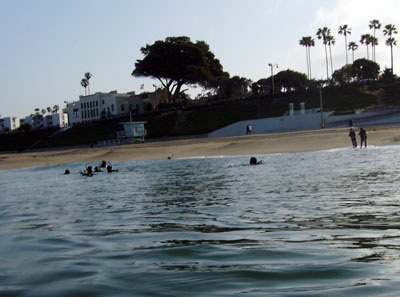 A lot of diving students were at Vets Park.
I submerged in 18 feet of water and hit the bottom before I saw it.
I headed West to go over the shelf and look for better visibility.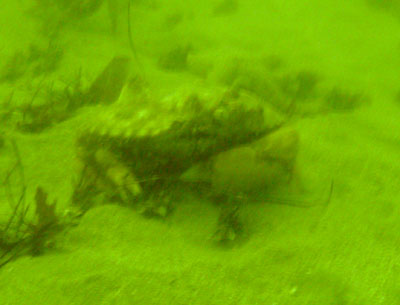 A crab smiles for the camera.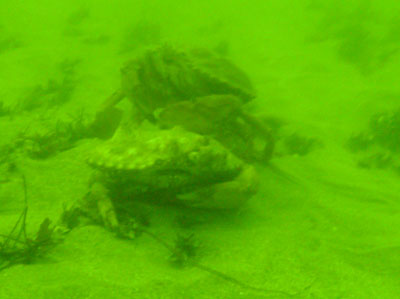 A second crab muscles in on the shot.
Vis I would have to admit, really sucked.
Actually, to put it in divers' technical jargon, visibility really sucked ass.
I headed down to 111 feet and got a little narced; and what do narced divers do at 111 feet when they're solo diving in bad visibility?
I started practicing my singing – singing through my regulator.
After all, who was I going to annoy?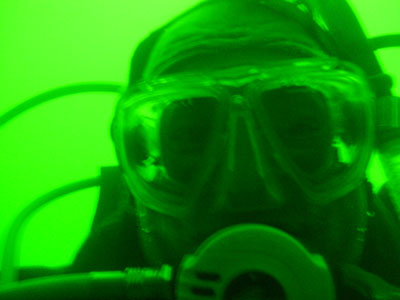 I hummed the theme song to Gone With The Wind, Hawaii Five-0, and sang my rendition of El Rey and I Walk The Line; I really have no idea why I chose those titles.
I made my way back to the edge of the shelf and slowly ascended the canyon wall.
I was heading back in, slowly swimming, accomplishing my safety stop at the same time when I came across something that scared the shit out of me.
What is it?
I couldn't recognize what it was…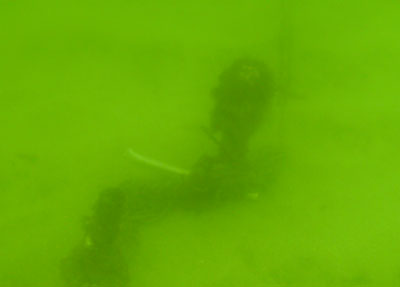 … it's just sea junk!
I surfaced in 10 feet of water just steps away from where I went in.
Debriefing took place in the parking lot with Nick and the Saturday morning Divevets crowd.