Logged SCUBA Dive #307
SECRET LOCATION: 22 54 68 65 20 43 72 61 6e 65 22 20 6e 65 61 72 20 74 68 65 20 72 6f 63 6b 20 74 68 61 74 27 73 20 66 6c 61 74 2e, Palos Verdes, CA
Solo Diving, SoCal Buddy Diving
In With: 3200 psi
Out With: 500 psi
Max depth: 50 feet
Waves: Three foot swells, sort of challenging
Visibility: 15 to 20 feet
Water Temperature: 65 degrees
Total Bottom Time: About 30 minutes
This is my first trip this season on the Island Diver; after being embarrassed with one bug on Opening Night, I was hoping to make up for it on this trip.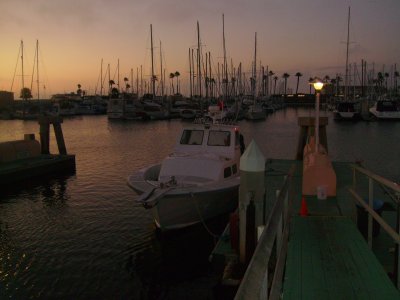 The mighty Island Diver awaits its next assignment!
The divers were all from Divevets and, with the exception of one hot chick, was a stag boat.
Opening Night proved that the lobsters are shallow, but the Captain and charter organizer decided to try a spot in 50 feet of water; the same spot last year really sucked.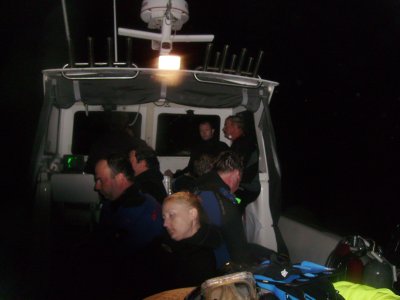 The boat tossed in the fairly large and rough swells; some non-macho divers were starting to get sea sick.
Once at the location, I was the first one overboard; when I surfaced from my giant stride, I was 15 feet away from the boat… then 20 feet…
Dan asked, "Is there a current?"
"Hell, yes, there's a current!" I yelled.
I swam to the anchor line and submerged to the ocean floor at 50 feet and followed the chain to the anchor.
I spotted a lobster and pinned it, but it was pitifully short.
I was told, "Go towards shore where it's shallower."
I thought, "If the lobsters are at 25 feet, why the fuck did we anchor in 50 feet of water?"
I swam South East, towards the beach and spotted only a few shorts, no legal bugs.
I swam and swam but didn't get any shallower than 45 feet – WHY ARE WE THIS DEEP?
I surfaced a few times to spot the boat and make sure I was swimming up current; the boat was getting smaller, but the shore didn't appear to get any larger.
The kelp in this area was insignificant, but my mask kept leaking which was slightly annoying.
In 45 feet of water I spotted a legal bug and pinned it!
Finally, I have one, so the anxiety of getting skunked tonight was over.
I surfaced when I got down to 1000 psi and looked for the boat…
Where's the boat?
The swells were rolling…
Where the fuck is the boat?
About 100+ yards away I saw it; I was down current but way over between me and the shore.
I started the long swim back, knowing I couldn't swim directly there because of the current.
I surface swam for twenty minutes before making it 30 yards directly in front of the bow; exhausted, I let the current take me to the boat.
The first thing I said to the boat Captain was, "This place fucking sucks!"
My experience was common with the other divers… very few legal lobsters and a hell of a swim back, as everyone was trying to get shallower!
Comments Off

on Bug Quest On Day Number Two Of California Lobster Season!