Logged SCUBA Dive #305
SECRET LOCATION: 54 68 65 20 67 61 74 65 73 20 6f 66 20 6d 61 72 2c 20 6e 65 61 72 20 74 68 65 20 74 68 72 65 65 20 63 68 69 6d 6e 65 79 73 – Palos Verdes
Solo Diving/SoCal Buddy Diving
In With: 2900 psi
Out With: 500 psi
Max depth: 35 feet
Waves: Minor chop
Visibility: 15 to 20 feet
Water Temperature: 67 degrees
Total Bottom Time: 45 minutes
Notable Event: This was my most frustrating lobster dive ever!
Half the boats that were nearby pulled anchor and left.
I asked the my two buddies, "Why would someone leave so early?"
Jim said, "They probably started early; at least we follow the rules."
John said jokingly, "They probably all limited."
Now, this dive was just like the last dive, just a lot more frustrating…
I got tangled in kelp on numerous occasions and I either caught shorts or couldn't pin the legal ones.
I noticed that the puny, totally illegal bugs will actually charge my light, while the big ones – through Darwinism – flee as soon as the light hits them.
More than three times,  after spotting a good sized lobster, I thought, "OK, here comes lobster number two…" only to be frustrated by me getting stuck in kelp or missing it in the pin.
This was the most frustrating lobster dive I can remember; I should have at least four, but ended up with zero!
I surfaced with 500 psi and bitch crawled about 25 yards over kelp to the boat; I wasn't going to risk swimming under and getting caught that low on air.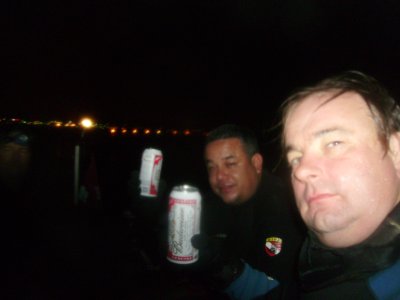 Jim and I enjoyed our post dive beers on the way back, as John turned the boat randomly to make us spill; there's no radio on board, so that's his entertainment.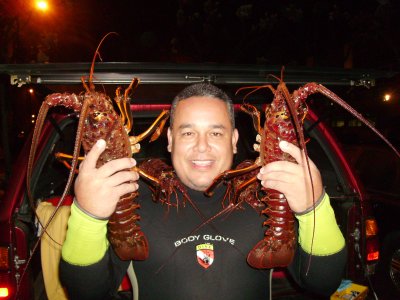 Jim with his monster lobsters.
At the dock, the Department Of Fish And Game checked our lobsters and our lobster report cards.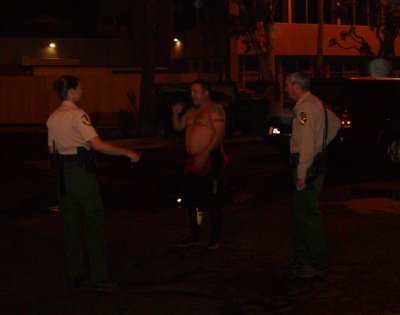 After figuring out we were all legal, they decided to mess with Jim by giving him a sobriety test.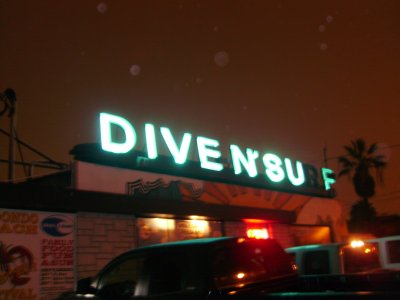 It was off to Dive N Surf for the annual "Monster Lobster Contest."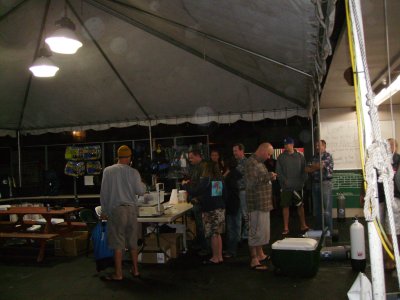 Prizes are awarded to the top three biggest lobsters, but everyone who preregistered and brought in a legal lobster, got a free T-shirt – I got a T-shirt.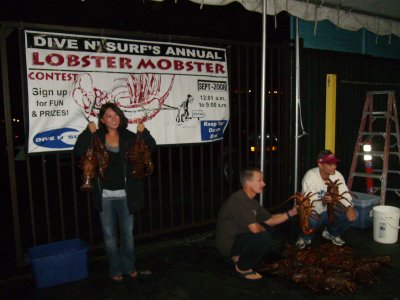 Divers posed with their stash of bugs; I soon realized how badly I did this morning.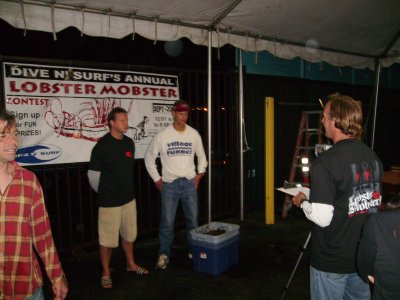 Dive Bum Don interviewed two of the guys from a group who did really well.
"Where did you find these?" Don asked.
"The Malibu area," one responded.
"Wait, I thought we were in Catalina?" the other asked.
The next question was, "How deep did you catch them?"
"15 feet," was the answer.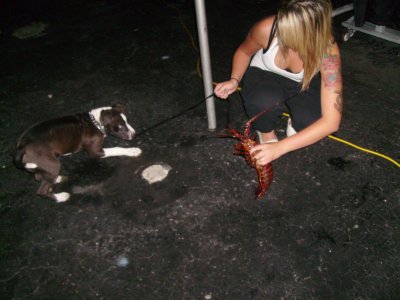 Dog vs Lobster?
This other guy pulls up with a cooler and a bag full of HUGE bugs!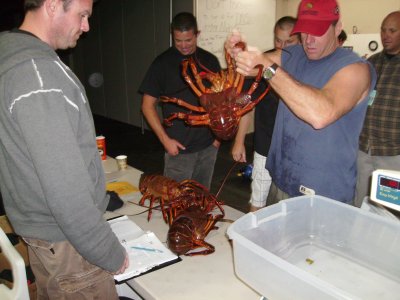 Looking at his bugs, I had the same thought as when I saw my first porno flick…"How big do those things get?"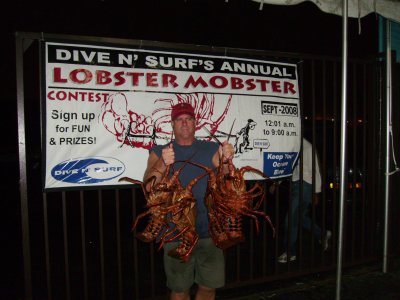 As big as his bugs were, he couldn't beat the 12.3 pound bug that was brought in earlier.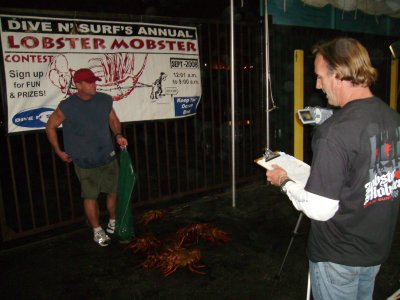 The guy agreed to an interview with Dive Bum Don.
Basically, he caught his bugs in the "Marina Del Rey" area in "10 feet of water."
The bugs appear to be shallow – really shallow right now, but someone else brought in a lobster that he supposedly caught at 85 feet.
We caught our bugs in 25 feet of water.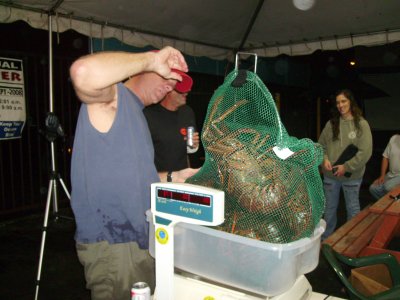 The guy weighed his entire catch – 56 pounds of lobster!
So, totals for this morning in the group I went out with:
Me: 1
John: 4
Jim: 4
I will regain my title as Lobster Liberator Number One!