SCUBA Diving Terranea Resort
Diving With TwinDuct, Dennis G., New Chris, and newly certified diver Steve.
In With: 3000 psi
Out With: 1000 psi
Max depth: 42 feet
Waves: one to two foot maneagable swells
Visibility: 5 to 8 feet at best
Water Temperature: 62 degrees
Total Bottom Time: About 35 minutes
The cove looked sort of "milky" from the top of the cliffs; waves occasionally crashed against the rocks towards the Point.
Not in the mood for a long swim or getting killed off the Point, I decided to dive 120 reef from the cove.
Dennis G. brought a recently certified diver named Steve; this was his third dive after certification.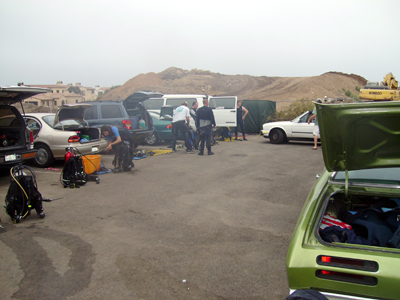 The lot was full of divers – the regular Sunday crew, along with fish counters from Reef Check.
Dennis, Steve, New Chris, TwinDuct and I decided to stay as a group; that way, if something happened to the new guy, we could all help drag his body out of the water.
Dennis was to spear fish, we were to follow; apparently, one of Dennis' friends shot a 30 pound Halibut off of Redondo the morning.
The long walk from the public access lot to the beach begins…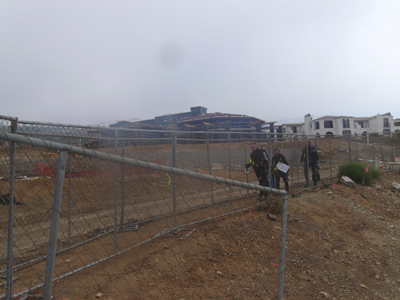 Following the narrow, fenced off trail, I get a feeling of being a steer getting lead to slaughter.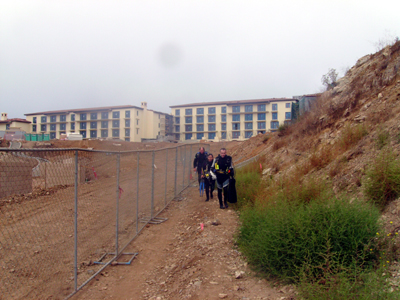 One of the fish counters was a hot chick who didn't have a problem navigating the trail.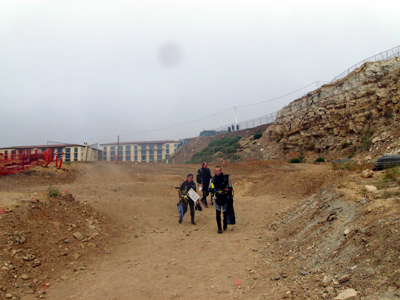 We're almost there!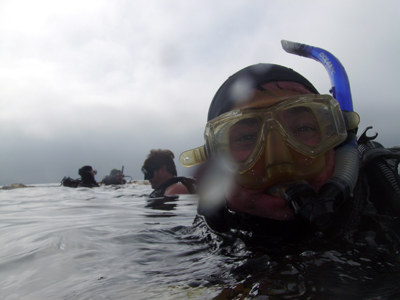 Tide was a little low, so the rocks were slimmy; entry was uneventful for the whole gang.
We rested for a bit before submerging to follow Dennis.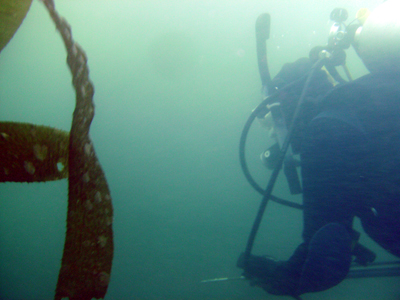 Dennis on the hunt.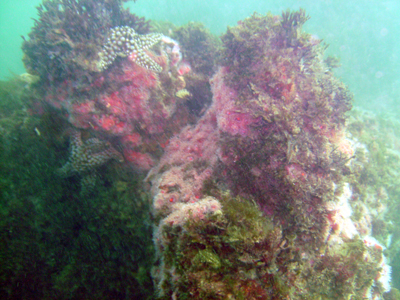 Vis pretty much sucked a lot of the time, especially when divers in front are kicking up silt.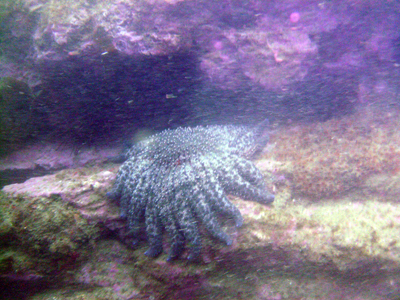 Dennis passed up shooting a Sunstar…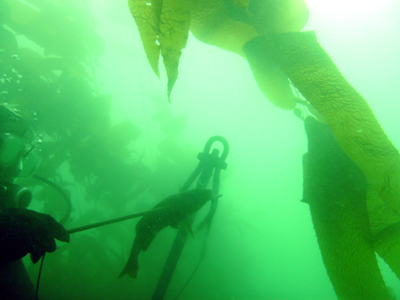 …before spearing this monster.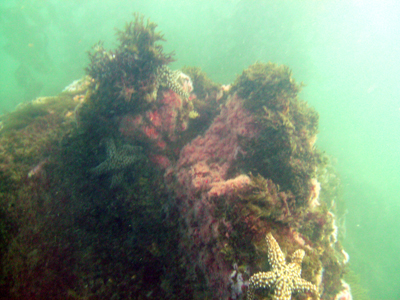 Light was better in the shallows.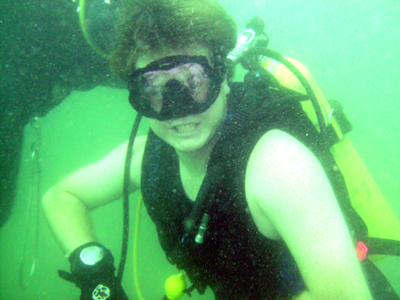 TwinDuct smiles for the camera; diving in short sleeves, he's either really cold or really immune to hypotheria.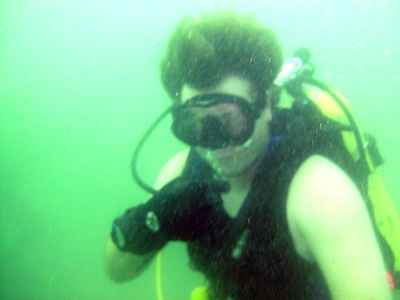 OK, dude!
Find your regulator before you drown!
We started to follow Dennis back after new diver Steve was running low on air.
New Chris spent a little too much time admiring a Spanish Shawl; he got separated, but I met him on the surface, while the others continued in.
Submerging again, we headed a little off course and surfaced West of our exit point.
TwinDuct surfaced about twenty yards from us, then out of nowhere, new diver Steve surfaced between me and Chris.
"Where the hell did you come from?" I asked.
We all headed in to an amazingly easy exit; for a dive at this level, Steve did great for his third post-certification dive.
Let the debriefing begin!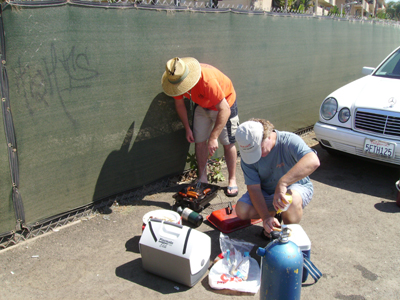 Bratwurst and Louisiana spicy links are on the menu today.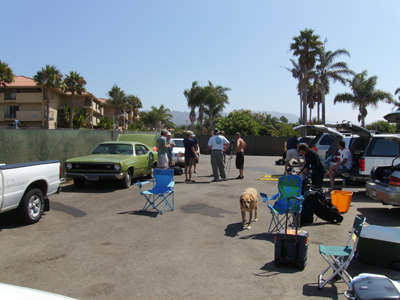 Cyber The Attack Dog patrols the crowd to make sure nobody gets out of hand.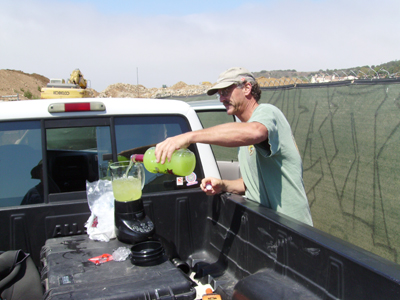 In honor of Reverend Al's return from a three week stay in Pennsylvania, Bob W. makes margaritas.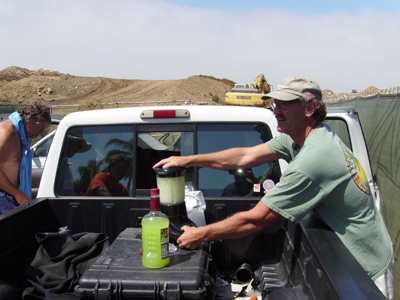 Supposedly, when Terranea Resort opens, there will be public access to the shore, hot showers, a picnic area and a beach side bar.
I'm thinking about selling my condominium and buying a motor home so I can just live here.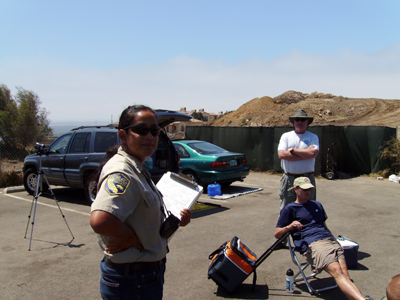 The Department of Fish and Game pulled up and questioned us about the area and fishing here.
She had no idea this was the Old Marineland access point; we gave her a tour of the area and offered her a beer.
She declined the beer, but we invited her back to dive with us when she isn't working.