Veteran's Park, Redondo Beach, California
Diving with buddy "Rafael"
In With: 2900 psi
Out With: 1200 psi
Max depth: 70 feet
Waves: Pretty flat
Visibility: 8-15 feet
Water Temperature: 50 degrees Fahrenheit in the canyon, warmer above
Total Bottom Time: 32 minutes
I haven't been diving for two weeks and wanted to make sure I still remembered how.
I got to the parking lot and hooked up with "Rafael" who was looking for a buddy.
After a quick briefing of the dive plan and how each other's gear was rigged, we entered the water and met outside the surf zone.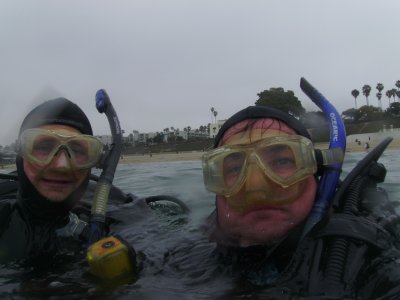 Rafael and Me off of Redondo Beach.
We descended to 20 feet and swam West, determined to find the "monument."
Going over the shelf at 35 feet was a tremendous thermocline – the temperature went from 62 to 50 degrees Fahrenheit.
We went to 60 feet and swam South in search of the "monument."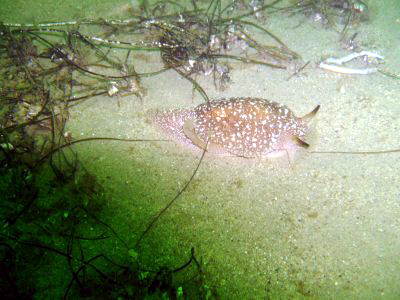 A sea snail? Sea slug????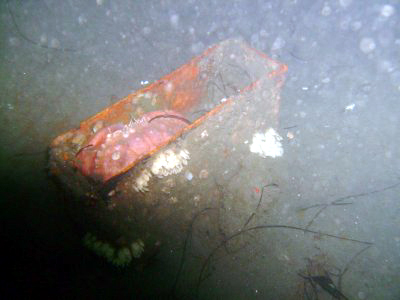 A  crab sleeps in an old ammunition box.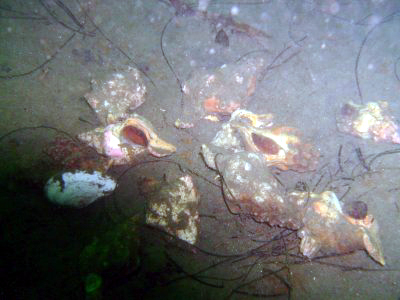 A transient village of conch.
I tried to navigate… I was sort of narced… 50 degrees and 70 feet below.
Oh, yeah!
I felt really good, but had no idea where the hell I was going for a while.
Regaining my composure as I always do, we swam through a section of the canyon that was absolutely twilight dark.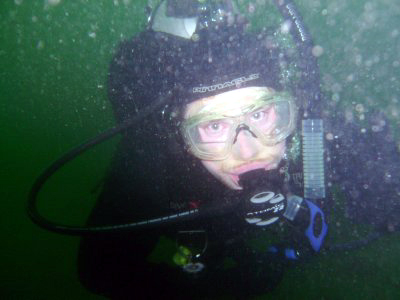 This is what Rafael looks like underwater.
We headed back after a slow swim South, but at 70 feet instead of 60.
I thought we were sure to spot the monument.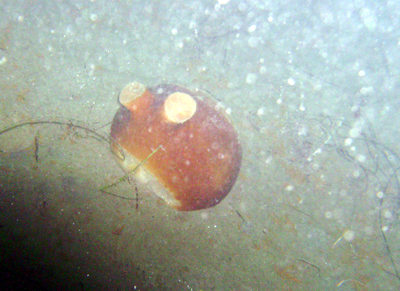 A sea blob – What the hell is this?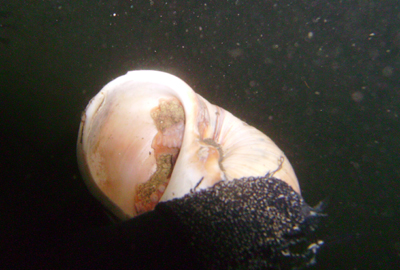 An octopus squats in a vacant snail shell.
We came across a huge Shovel Nose Guitar fish that blended in to the sandy bottom so well, none of my pictures came out.
We swam across the orange traffic marker and the man eating killer crab from last dive was still waiting for its next victim.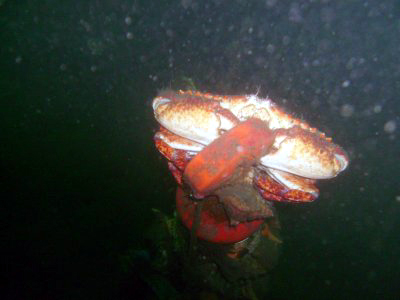 Seeing that he couldn't take me and Rafael on at the same time, the crab was passive.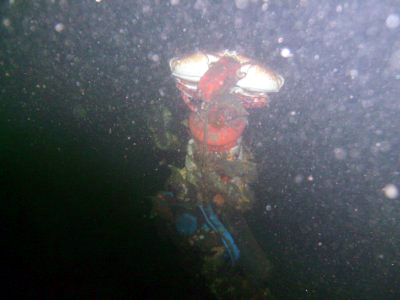 We must have missed the "monument" by only a few feet.
At 1200 psi, we went back up the shelf to warmer water and did a slow swim and safety stop back to an almost easy exit.
There's a sand step that I tripped over in a foot of water.
I crawled up and got back on my feet, hoping nobody saw my non-macho trip.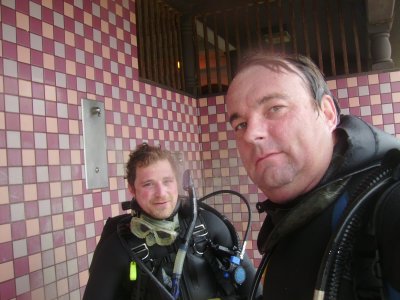 Rafael and me.
We debriefed with a couple beers and hung out with a few dive groupies.
A great dive and another day of cheating death!
Rafael is welcome as a dive buddy anytime.