Instructor John reserved a campground at Frandy Park in Kernville for a weekend of rafting; he had 15 people who said they were going.
Ed and I went up a day earlier to prospect the lower Kern river for Gold; hopefully, such a venture would pay for the gas up there, at least.
We left Friday from San Pedro around 7 AM; traffic wasn't bad since not too many people can afford to drive anymore.
The Kern River death count remained unchanged from two weeks ago at 242 dead since 1968.
We turned off the 155 and drove down the Keysville dirt road looking for an old mine.
Part of this area is set aside by the Bureau of Land Management as a "recreational mining area."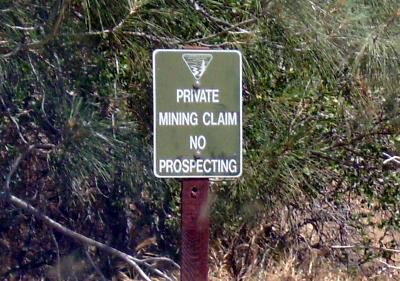 Signs everywhere remind people if they've gone too far off the path; people have been shot working on someone else's claim.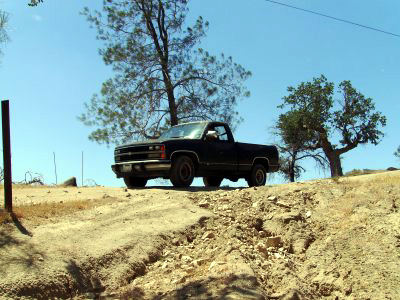 We ended up back tracking after a hellatious off road excursion in my two wheel drive truck; we found a spot not too far from the entrance.
Ed had never been prospecting before.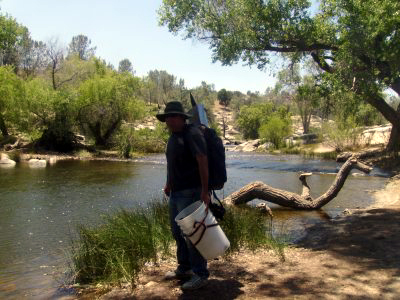 Ed asked me, "What is all that equipment for?"
I said, "Digging, moving, classifying and sluicing dirt and sand."
"Oh, my God!
"I thought we were just going to use metal detectors.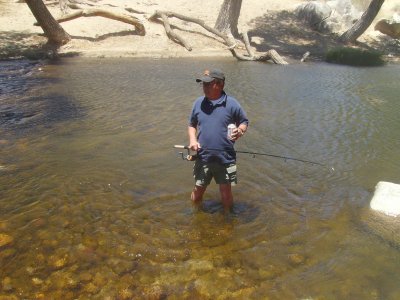 "You can go prospecting, I'll go fishing," Ed said.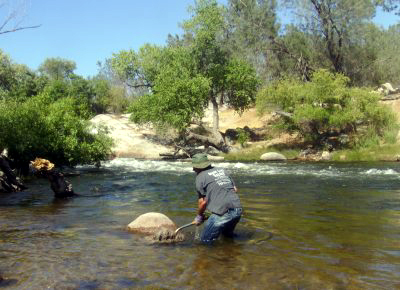 I set up my sluice and found three nice sized boulders in the middle of an eddie next to some heavy flowing water.
I accidentally fell into my own holes more than once.
I saw color in my sluice on the very first bucket of gravel.
Ed ended up eating the first flake as a mineral supplement; he says Gold tastes good.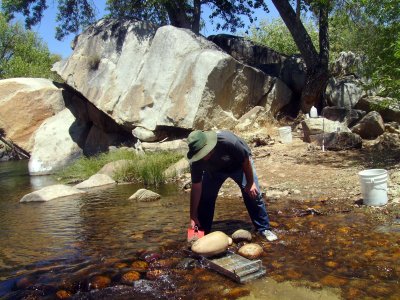 I spent about four hours digging in the area and talking to campers and other prospectors.
The standard prospectors' answer still applies here… "There ain't no Gold in these mountains!"
With answers like that, you know there's Gold.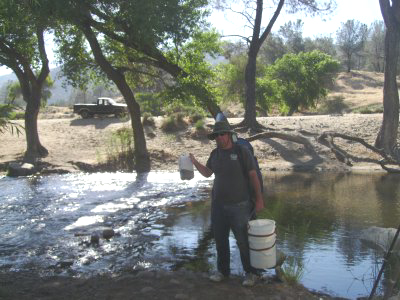 I ended up with about a quart of black sand concentrate that I planned to pan and pick through over the weekend.
We drove up river and set up camp at Frandy Park in Kernville.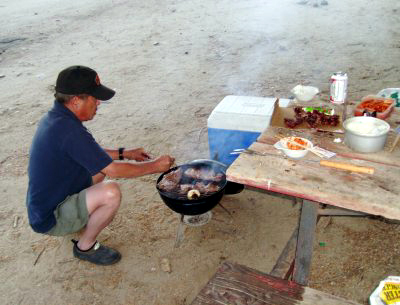 Ed cooked up some carne asada and served it with kim chi and rice.
Frandy Park is sort of a glorified temporary ghetto-like camp ground; people who want to visit the Kern and don't want to spring for a motel often stay here.
They have showers, toilets, water, ice, firewood and is located in walking distance to the stores, bars and restaurants in Kernville.
But the campground is often loud and crowded with a variety of boy scouts, bikers, rafters, fishermen and families.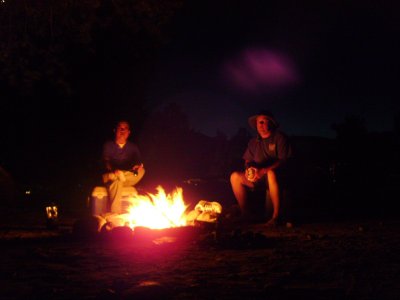 Ed and I drank beer in to the night while we listened to our neighbors try and drown out each others' music in a twisted mix of speed metal, mariachi music and classic rock.
John and Darnell pulled up about 10:40 PM and quickly set up camp.
I asked, "Where are all the other people?"
"Seven people backed out," he said.
This is typical!
Plan anything fun that people have never done before – white water rafting, scuba diving, bungee jumping – and a lot of people say they want to go, until it comes time to go.
Jeff W. was scheduled to come up later, followed the next day by a family of three.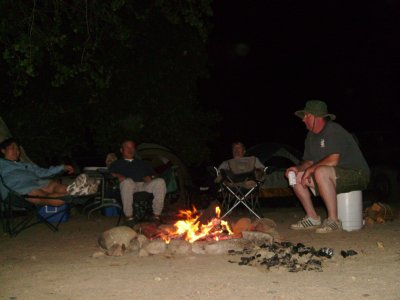 We sat around the camp fire until all the firewood was burned; John even joined us by having one beer that he got a pretty good buzz on.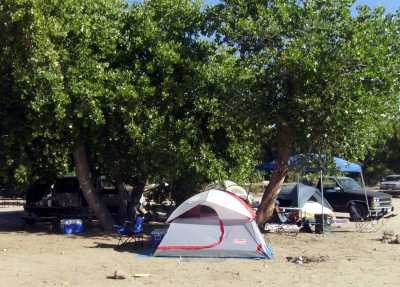 This is our campsite in the morning.
We inflated the raft; John gave his safety speech and we headed to the launching area above powerhouse.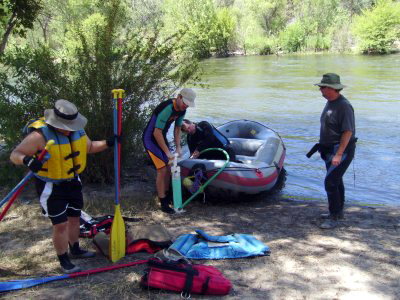 After a final inflation after the raft cooled on the water, we were ready to take off.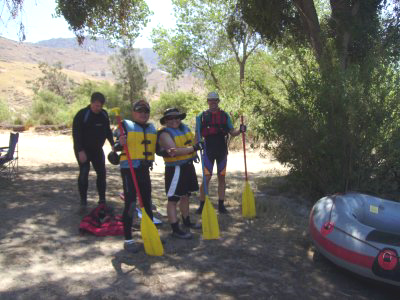 John, Ed, Darnell and Jeff W. – I'm taking the picture.
The water was running at 2,000 gallons a … minute, or second – I forget which; the water was higher than our trip two weeks ago, but the runs still took 45 minutes or so.
The Powerhouse rapids were great; lots of white water holes and pits – a great ride!
The rest of the run was great too.
We hit the rapids at Euwing.
We plunged off the six foot rock water fall; when the boat landed, it twisted sideways and my ass slipped off the boat.
I was in the water with my foot still in the toe hold.
I tried to pull myself back in the boat when we went over some rocks and my back and butt started to scrape against the boulders.
I let go and fell out; inhaling some water and gasping for air.
The water pushed me along, but I swam to the raft and grabbed the line.
"Rock! Rock! Rock! Pull him in!" John yelled.
I looked behind me; the raft was about to smash into a rock with my head in between.
I swam further on down the raft and, with a slight brush against the boulder, I avoided death.
Darnell grabbed my life jacket and fell back in the raft, pulling me back on board.
What really happened is speculation, but when I surfaced, Darnell – who was behind me – was sitting in my spot and, she lost her paddle.
Maybe she slipped into me and pushed me, or maybe I just slipped off?
Who knows?
Soaking wet, but okay, I was in the boat; the others recovered Darnell's paddle.
I made two more runs down the river.
The second one was with John and the family of three.
The wife and son had never rafted before, but knew the commands and how to paddle; we had a great run.
My third run was fun; John took the trip a little less conservatively, but we missed a few holes that looked like a potential good ride.
In all, the group made five runs on Saturday.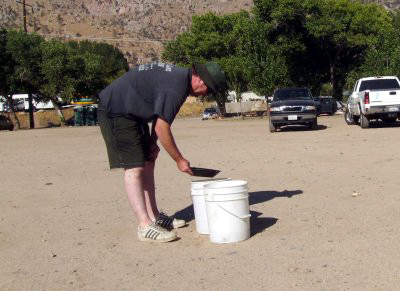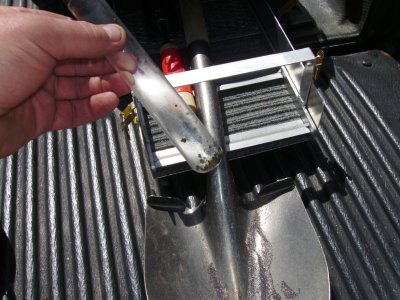 I spent some time going through my sluicing concentrate looking for Gold before heading out to the local "Hut" bar for a few drinks.
"The Hut" is a nice dive bar located just outside Frandy Park; women hang out there and the drinks are reasonable.
Ed and I partied into the night while the rest of the group headed to Lake Isabella for dinner.
I ended up cutting a deal with a firewood vendor – six bundles plus delivery for $20.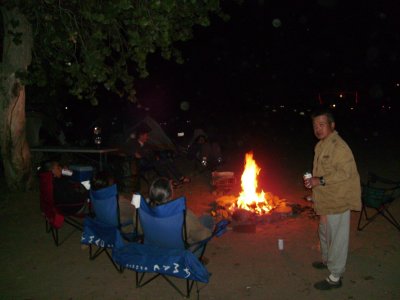 The fire didn't go out until after midnight.
Too hung over the next morning to go rafting – I told John, "I must have hit my head on a rock when I fell out of the boat yesterday, because my head really hurts."
"I'm sure it isn't the beer," John replied.
The rest of the group was planning two more runs before heading home.
Ed and I headed out for the three and a half hour ride back to the South Bay.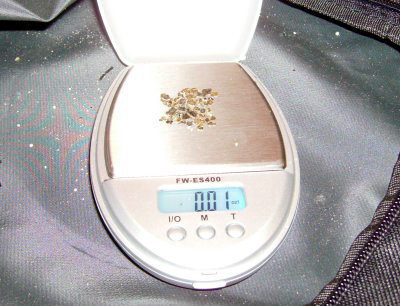 Total Gold recovered was one tenth of an ounce of placer Gold flakes; maybe worth about $45 now.
I'm planning another trip up to look for Gold in a month or so, but the lower Kern really beats the East Fork of the San Gabriel River!