Secret Location: 4e 6f 72 74 68 20 6f 66 20 74 68 65 20 67 61 74 65 20 77 69 74 68 20 4d 61 72 73 20 6f 66 66 20 74 68 65 20 68 69 6c 6c 73 20 77 69 74 68 20 47 72 65 65 6e 20 54 72 65 65 73 2e
Southern California Buddy Diving With The Divevets off the Island Diver
In With: 2900 psi
Out With: 300 psi
Max depth: 50 feet
Waves: Minor chop, strong surge towards shore
Visibility: 15 feet plus
Water Temperature: 55 degrees
Total Bottom Time: 40 minutes
Since we can't safely go deeper, we went to our secret shallow spot for the second try.
I again, was the first off the boat because I had the most time to out gas from the previous deeper dive.
This place has a lot of kelp and the vis was pretty good.
Lots of other divers and hoop netters were out trying to get their last bugs for the season.
After I submerged off the back platform, I swam towards shore; I forgot to check the anchor line.
I didn't see any lobster until I got to 30 feet, but the water became very surgy – almost unmanageable.
I grabbed for a few good ones, but unlike the flat sand of previous dives, the bottom is contoured with rocks and reefs – sometimes I just couldn't pin the bugs.
I managed to grab one and measured it – it was good.
I reached for my bag and it was a tangled mess that wouldn't open.
I struggled with my bag harder than I did with the lobster.
I ended up surfacing and untangling it with one hand.
My new wrist mounted dive computer is too cumbersome for bug hunting; it tends to get caught in the bag's metal mouth.
I continued shallower, to about 25 feet; but, the surge was getting to be too much and I turned around.
At the tail end of the season (no pun intended), the surviving bugs are pretty smart and fast; a lobster monster saw my light and took off.
I made my way back to the boat, doing a shallow surface swim under the kelp – burning my air down to almost 200 psi.
The rest of the divers made it back; Dan caught one, the rest got skunked.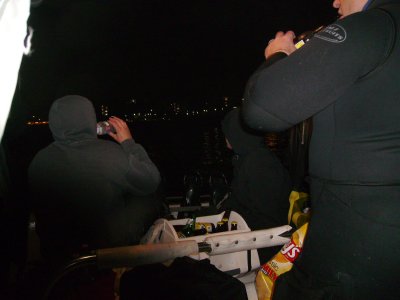 The debriefing started on the boat in traditional fashion.
On the way back, there was a very loud "Bang!" coming from the engine; Captain Anthony slowed the engine down.
"I think we're OK; we probably just blew a turbo," he said.
The boat continued on, slowly.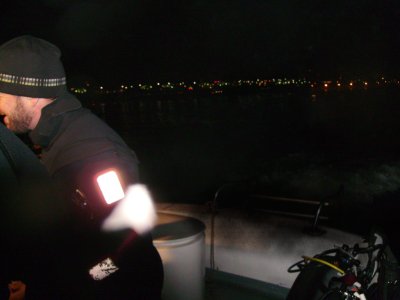 "Uh, hey Anthony, there's black smoke coming from the back of the boat!" I yelled.
"We're OK, I think it's just something passing through the engine," he said.
I was a little concerned and was sort of pissed that I was no longer wearing my wetsuit, but we eventually made it back.
As we discovered later, a pipe from the turbo on the engine had popped out of its fitting.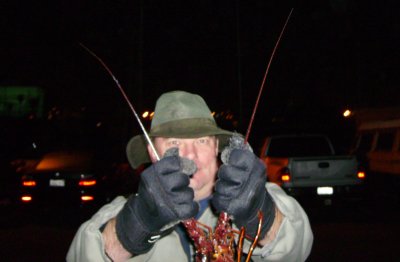 The lobster that I caught was so big, Bob couldn't fit the whole thing in the camera frame.
The only chick on board – Annelaure – complimented my hat and called it "technical."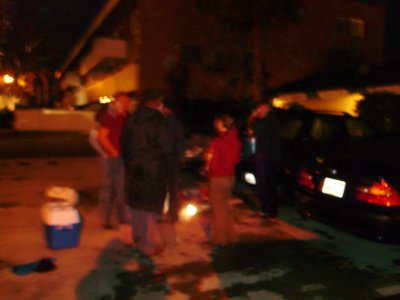 The debriefing continued in the parking lot as is always the case; we celebrated Annelaure's newly acquired Ph. D in Chemical Engineering.
I bet she can brew some pretty damn good beer!
Comments Off

on Logged Dive #281 – Maybe The Last Chance For Bugs This Season