Secret Location: 54 68 65 20 66 61 72 6d 20 6f 66 20 70 69 70 65 73 20 6a 75 73 74 20 6f 75 74 73 69 64 65 20 6f 66 20 74 68 65 20 53 70 61 6e 69 73 68 20 52 65 64 20 42 65 61 63 68 2e
Southern California Buddy Diving With The Divevets off the Island Diver
In With: 2900 psi
Out With: 1000 psi
Max depth: 85 feet
Waves: Minor chop
Visibility: 15 feet plus
Water Temperature: 55 degrees
Total Bottom Time: 24 minutes
Two nights before the end of lobster season and I'm on the Island Diver again with the Divevets.
The owner of the boat went to Florida with the GPS system, so the Captain Anthony stopped by "The other boat" to borrow its GPS.
We anchored just outside Naja's while the Captain ransacked the other boat for the navigation tool.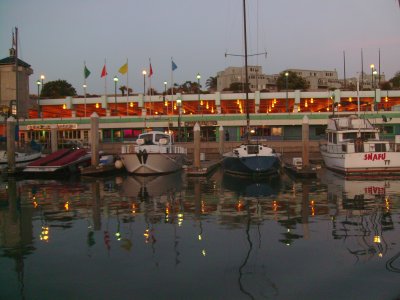 Looking at Naja's near the boat launch.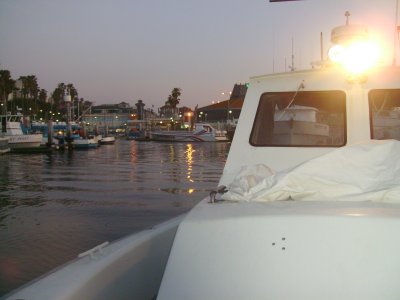 Looking towards Quality Seafood.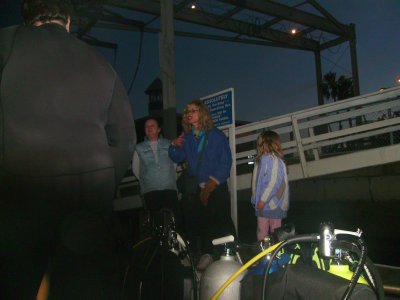 As we were waiting in the back of the boat, looking macho with all of our SCUBA gear around, some tourists – two older females and two children – started asking us what we were doing going diving at sunset.
Dan explained how we hunt lobsters underwater with our bare hands; they were astounded and a little freaked out.
They were also impressed that a female was on board.
Dan later said, "Why was I even talking to those kids? I don't even talk to my own."
After 15 minutes, the Captain returned with GPS coordinates, but no GPS; he would attempt to get us to our secret spot by dead reckoning using landmarks.
We sped out and trolled around while the Captain figured out where our spot probably was.
A small bathtub sized zodiac was waiting in the water and started to follow us.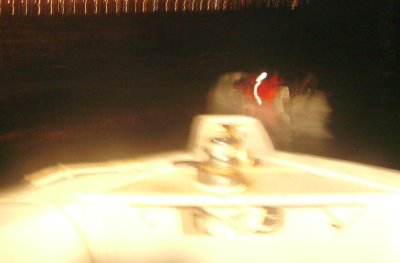 We thought it was some illegal aliens or potential terrorists, but we later found out that it was a few divers that couldn't get on board, so they just followed us out to our secret spot.
I was the first one overboard and went down the anchor line, touching bottom at 85 feet.
The first thing I did was check the anchor – a lot of times there's bugs around.
Our secret spot is an old dumping ground of sewer pipes and construction equipment – the Captain put the boat right above it.
Pretty damn good job for not having a GPS!
I saw a lot of sand bass and a few short bugs.
But, this soon after sunset, the pipes and boxes should be filled with lobsters – they weren't.
So, none in the pipes means there probably won't be any on the sand.
I was feeling pretty good with a narc-buzz going on, but I kept my composure.
I looked for a good 20 minutes and pinned two short ones.
The longer I go without seeing bugs, the larger the short lobsters look.
I ascended, doing an open water safety stop and swam 40 yards back to the boat with an empty bag.
Before the recent storms and swells, this place was crawling with bugs.
Now, I'm speculating, that maybe the bugs have gone even deeper as they did in December and January.
All the divers made it back, and all had empty bags.