Long Point, CA
(aka The Old Marineland)
Dove With Evil Jeff
In With: 3000 psi
Out With: 400 psi
Max depth: 60 feet
Waves: Minor Chop
Visibility: 10 feet
Water Temperature: Chilly
Total Bottom Time: 65 minutes
The small group of regular divers met at 8 AM; Reverend Al, Dennis G, Evil Jeff and a few others.
The point looked good, so it was decided to go off the Point and exit the cove.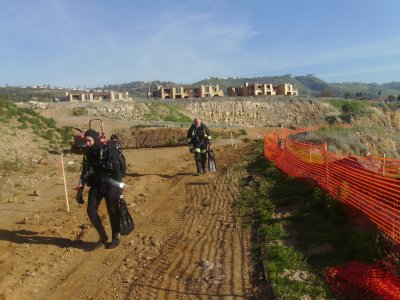 The walk down is not for the unmacho.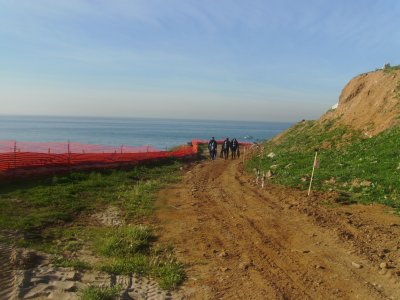 I told Reverend Al that I was going to follow the group; Al later paired me with Evil Jeff.
Al dropped, but skillfully recovered one of his fins in the surf zone.
The seven of us made it through the surf zone, swam out and met around a lobster trap buoy.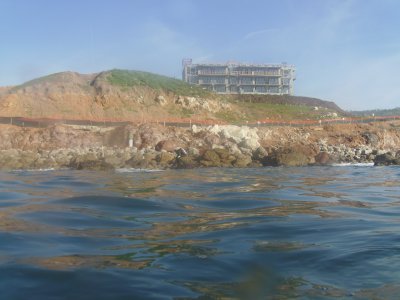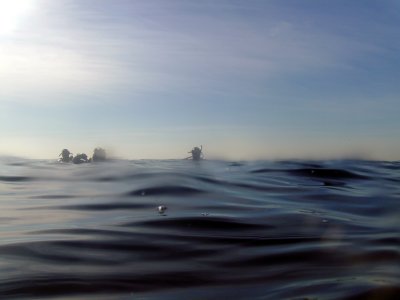 I told Evil Jeff to lead and I'll follow; we descended…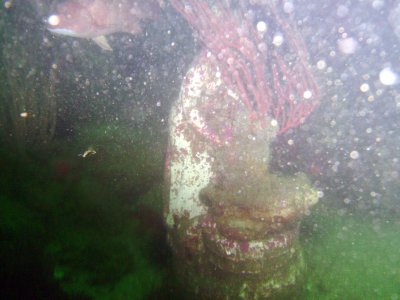 … and landed right on the statute that we were going to look for.
We toured around the various points of interest, looking in lobster holes and admiring the scenery.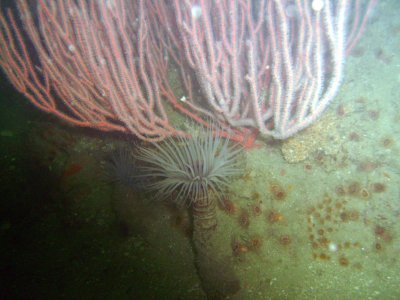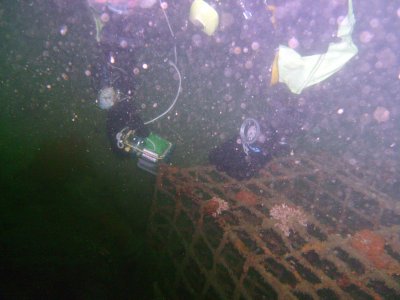 We came across an abandoned and rotting lobster trap.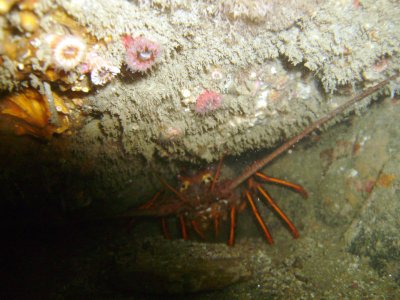 There were plenty of lobsters around and all hid safely out of reach.
I'm glad they're shallower now.
Vis was 10 feet, but compared to my other dives lately, I wasn't complaining.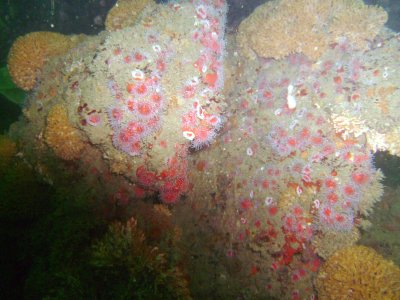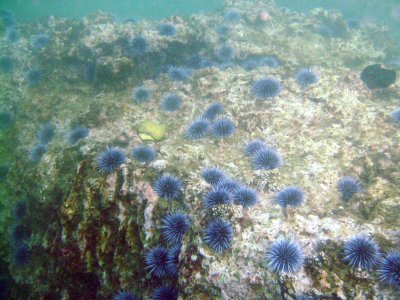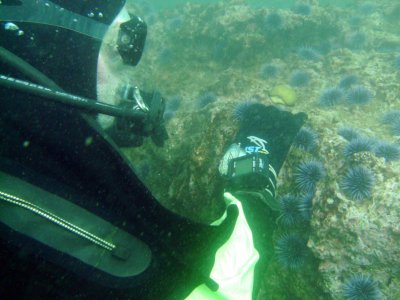 When I was at 1500 psi, we started swimming towards the cove.
When I was down to 500 psi, Evil Jeff handed me his auxiliary second stage; he had 1500 psi left.
I thought to myself I must be really crappy on air consumption or Evil Jeff doesn't breath; I later found out that his tank had 40 more cubic feet of air than my tank.
We ran across Reverend Al and Dennis peaking into lobster holes.
A heavy chain lies on the ocean floor…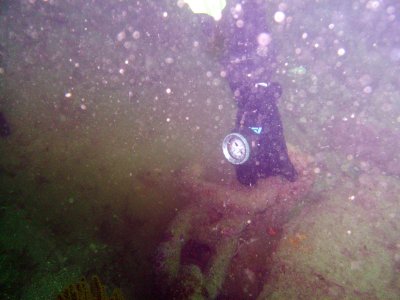 Jeff gave the signal to ascend; I put my reg back in my mouth and slowly swam to the surface.
We were about 50 yards from the cove; Jeff thought we were further.
As we were surface swimming to the cove, a small boat slowly approached us within yelling distance.
The guys yelled, "…our lobster traps… the DFG will be meeting you guys to see if you've been poaching our traps."
Evil Jeff yelled back, "OK, that's great."
We exited the cove without incident.
Dive Bum Don said that the guys in the boat were looking at us a ways away through binoculars and saw us descend near their lobster traps.
We weren't poaching, just using their buoy as a meeting spot.
However, I do see their point, and these guys have been known to be mean to divers.
Evil Jeff said that Bill surfaced above a lobster trap to a shotgun in his face.
I've been told by a lobster trapper that he used to carry bricks in the boat to drop on bubbles that were around his trap.
We all walked back up as a group and debriefed.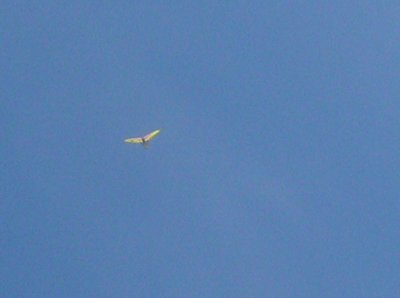 A UFO disguised as an Ultralight passed overhead – how cool!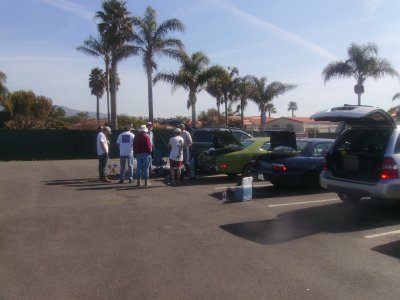 We drank beer and talked about diving, dive accidents and the kid who died here a few years ago while SCUBA diving with his father.
Comments Off

on Logged Dive #276 – Diving With Evil Jeff Off Of Long Point