Veterans Park
Redondo Beach, CA
Solo Diving
In With: 3000 psi
Out With: 1000 psi
Max depth: 60 feet
Waves: Some large sets of swells up to five feet.
Visibility: 10 feet or so at best
Water Temperature: 55 degrees
Total Bottom Time: 35 minutes or so
Well this was a really stupid dive!
I arrived and geared up around 5 PM; Mirek was coming back from diving and didn't say anything to me about the sucky conditions.
The rest of the Divevets were slowly showing up.
I asked Shanon, "What does it look like?"
"It looks like the ocean," she said.
I geared up and started walking towards the stairs; out of the corner of my eye, this skinny homeless looking guy was approaching me.
I looked over and it's one of my coworkers!
Yes, I have a "real" job to keep from being homeless.
My coworker's mouth dropped open and he said, "I always thought of you as a cubicle jockey, fat, beer swirling non-macho kind of a guy.
"I never would have imagined that you went SCUBA diving."
I swore him to secrecy and continued down to the beach.
The swells were fairly large; I would have canceled any classes – if I was an instructor and if I was teaching.
I made it through the surf zone, swam out and submerged in 20 feet of water.
Mirek had reported seeing two lobsters at the end of the line that went North; I followed the line to some sort of anchor.
Some crabs were sleeping…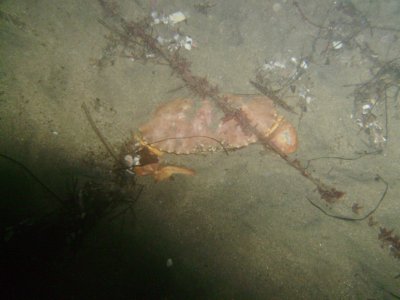 …others were ready to attack…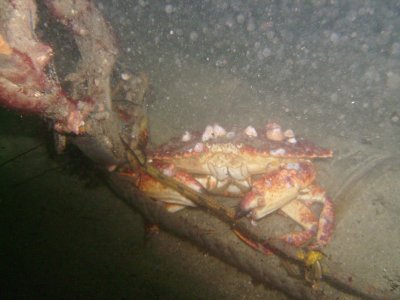 Continuing West, it suddenly became really dark; I looked up and was under a huge school of mackerel.
I continued on, but noticed that it wasn't getting any lighter.
I then realized that the sun was probably close to setting and I did not bring a light!
I went South along the bottom of the shelf at 60 feet trying to find the "Monument," but couldn't.
I went back up the shelf; it was getting darker…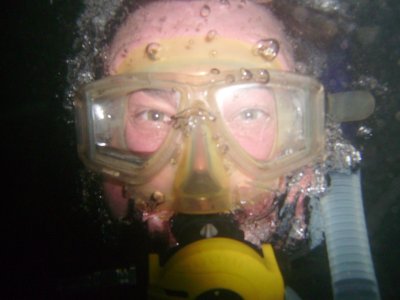 Crap, I should have brought my light!
I swam along the bottom slowly making my way back and surfaced in 15 feet of water in pretty large swells.
I took my time getting ashore, breathing off my regulator as I let the swells push me back to the sand.
I couldn't figure out if it was just dark because of the evening sunset, or if the visibility really sucked.
Mirek told me, "The vis is only 5 feet in the canyon."
Well, as I said, I should have brought a light.
I gave Dennis G. a report that the conditions were OK; I didn't realize that vis sucked that bad.
We did our traditional debriefing in the parking lot.
Some new divers showed up and introduced themselves.
Comments Off

on Logged Dive #275 – The Dive That Sucked – Veterans Park, Redondo Beach