Secret Location: 4f 66 66 20 74 68 65 20 63 6f 61 73 74 20 6f 66 20 74 68 65 20 53 70 61 6e 69 73 68 20 52 65 64 20 42 65 61 63 68 20 6c 69 65 73 20 61 20 72 65 65 66 20 6f 66 20 74 6f 69 6c 65 74 20 62 6f 77 6c 73 2e
Off the Island Diver Boat
In With: 3000 psi
Out With: 600 psi
Max depth: About 90 feet
Waves: Calm at first, but became increasingly choppy
Visibility: 25 feet
Water Temperature: Cold!
Total Bottom Time: 20 minutes
So Cal Buddy Diving With Bob from the Divevets
It has been raining for the last few days and was raining pretty hard on the way King Harbor.
The wind was mild and there was no small craft advisory,  so the trip was a go.
The trip was delayed for 30 minutes while we waited for two divers who were stuck in traffic.
Bob and I were the first ones over and down the anchor line.
I trolled for a few minutes before pinning my first lobster.
The lobster was just barely legal, but I had to wrestle the thing from holding my console; Bob later commented that he thought that I grabbed a huge one from the amount of sediment that was kicked up.
We eventually went our own separate ways.
I grabbed a second lobster a few more minutes thereafter.
I found it hard to propel myself; there was a strong current that went one way on the surface and another way at depth.
I figured twenty minutes at 90 feet would be safe, so I started heading back after fifteen minutes.
I crossed paths with another group of divers from the boat before making a slow ascent to the surface.
I did a short twenty yard surface swim to the boat in water that was becoming extremely rough.
I was the first one back and carefully climbed up the bouncing stairs.
I asked the Captain why wasn't there was a small craft advisory.
He said, "They issued one just as we were leaving."
Dan and his dive buddy were thrown a current line and hauled back; they were tangled in reel line.
Apparently, Dan's buddy got disoriented and didn't know which way was up.
Dan grabbed the diver and started an ascent, but they got wrapped up in the line from a surface buoy they were towing.
Bob ended up with a bug and so did a few other divers.
I think total on this boat, out of seven divers, we caught a total of five or six just legal lobsters.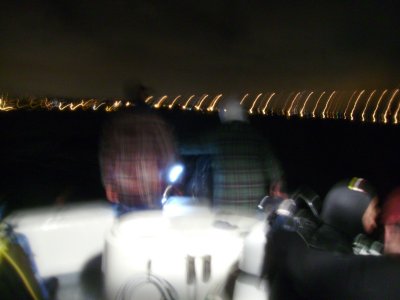 The boat tossed in the increasing swells as Dan made the decision that we needed to try someplace a lot shallower.
Comments Off

on Logged Dive #272 – Lobster Hunting Off The Island Diver