My girlfriend Jane trains in Brazillian Jiu Jitsu at The Neutral Grounds Academy in Long Beach.
I was lucky enough to be able to train with Royce Gracie at a Saturday seminar – something usually reserved for students of the academy.
Royce Gracie has always been one man that I respect since I saw the first Ultimate Fighting Championships more than 10 years ago.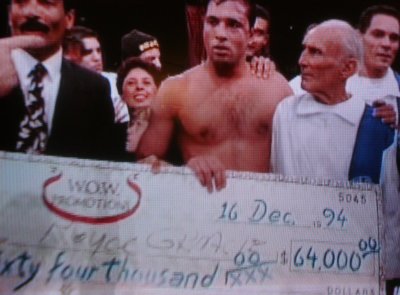 Back then, there were no weight limits and not many rules.
Unlike today, the contestants could literally beat the shit from each other, and often did.
It would be common to have a competitor's teeth knocked out or be kicked in the head while down.
They had a clean up crew to mop up the blood between fights.
Royce won the first three out of four UFCs – most of the time by a submission hold, but punching the hell from a grounded boxer was not out of the question.
There's a lot of controversy about the Gracies and the first few UFCs, but the family is responsible for bringing Mixed martial Arts to the American spotlight.
We arrived early.
Jane introduced me to her instructor Evaldo and we took pictures with Royce.
The whole seminar lasted two hours with the last half hour reserved for sparring.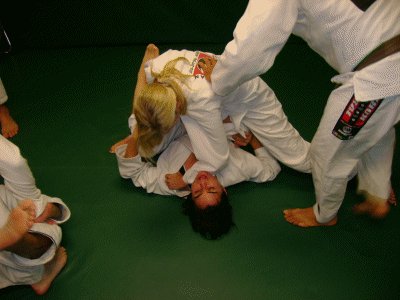 Nothing like an arm across your throat to tell someone who's boss.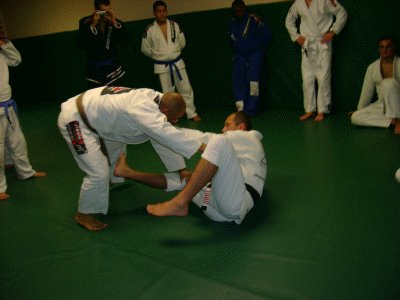 Royce and Evaldo demonstrate a move.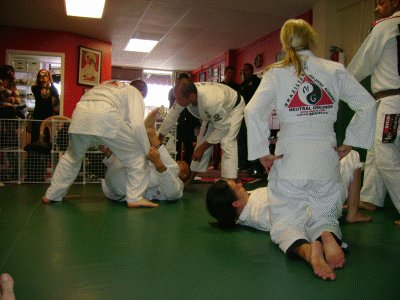 I did OK, I guess.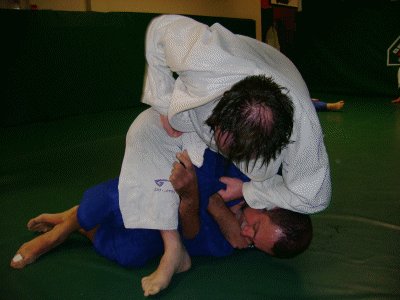 The only problem was that my fat beer gut prevented me from doing triangle chokes sweeps.
However, my beer gut did help anchor my base.
I got my ass kicked with an arm lock by one of the students, but for the most part I did pretty well…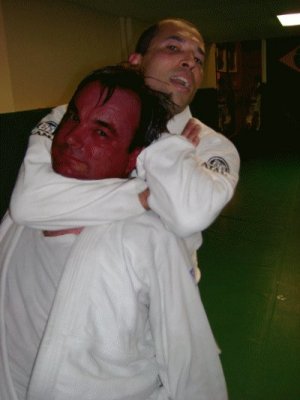 But Royce reminded me who was truly the master!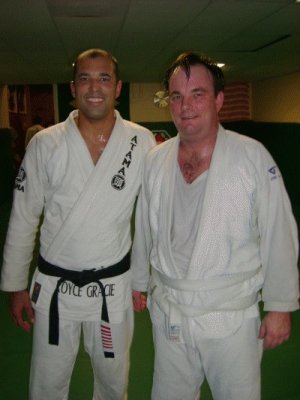 Royce is a really nice and humorous guy – so is his whole side of the family from what I have experienced.
Royce probably doesn't remember me from before, but I was touring the Gracie Jiu Jitsu Academy in Torrance a few years ago and walked behind him in the hallway.
Jiu Jitsu is not an easy martial art to learn.
A lot of the stuff they teach you for competition fighting will not work in a street fight, so I'm still going to consider running as part of my contingency plans.
Comments Off

on Royce Gracie Jiu Jitsu Seminar