Veteran's Park
Redondo Beach, CA
Solo Diving
In With: 3000 psi
Out With: 500 psi
Max depth: 90 feet
Waves: Flat!
Visibility: 20 feet, some silt
Water Temperature: Sort of cold
Total Bottom Time: 45 minutes
Nothing like a nice exercise dive in December water.
Dive N Surf and Divevets were having their annual Christmas tree dive and toy run.
Since I didn't sign their waiver and didn't know a lot of people there, I decided to not "officially" be part of the group.
I just wanted to dive and observe.
I entered the water a few minutes ahead of the Christmas group and dove down to 20 feet heading West.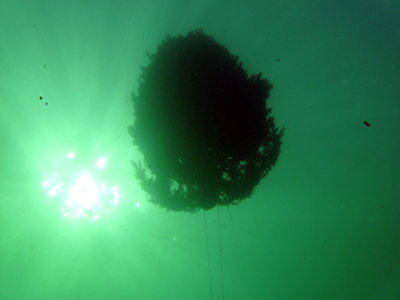 I came across the Christmas tree that they had anchored earlier and preceded down the shelf to water that was only slightly chillier.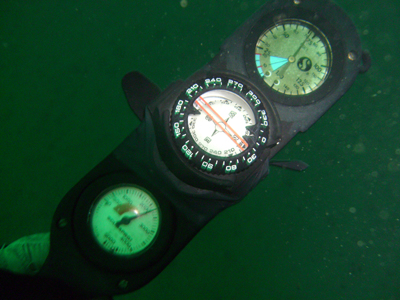 My ancient console served me faithfully.
I headed West slowly making it down to 85 feet; I turned around after reaching 1800 psi.
I navigated to the "monument" or "blocks" that rest at 65 feet just over the shelf.
Every time I see this place, more junk has been added.

Some kind of sound board was the newest edition.
Back up the shelf I went and ran in to….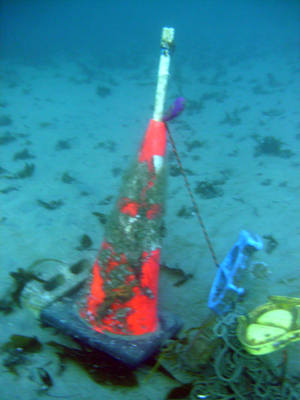 …The orange traffic cone!
I was so excited!
I trolled North a ways and then ran back in to the underwater Christmas party which was in full swing.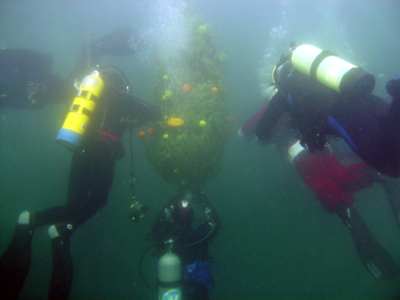 Divers decorate the underwater Christmas tree.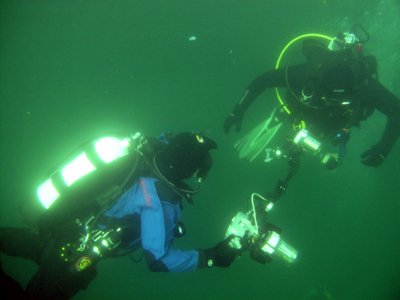 The photographer and crew get ready for pictures with Santa.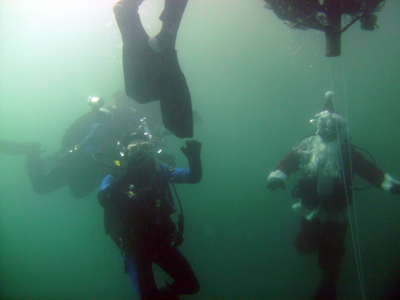 Last minute decorations…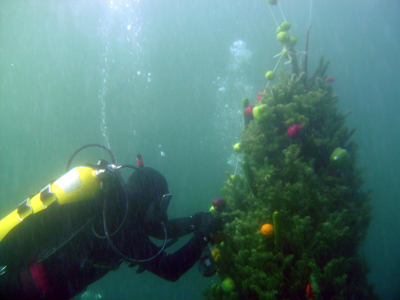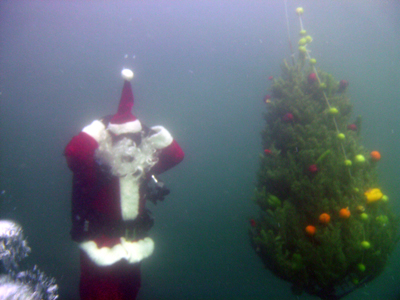 Santa adjusts his garb.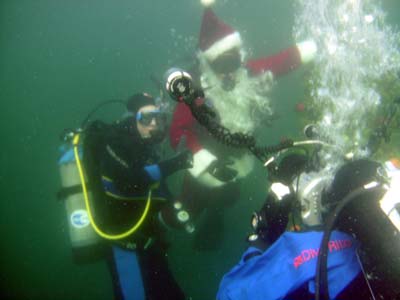 Divers pose with Santa.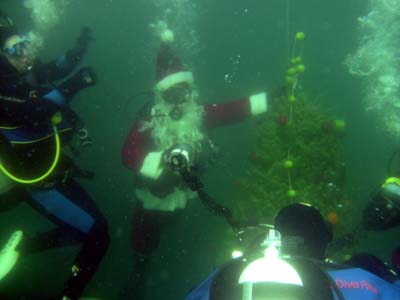 I exited just off the stairs and quickly packed up.
For some reason I didn't stick around… maybe because of the lack of faces that I'm used to talking to.
Next time I'll have a few beers before heading over.
A van parked behind me with a bumper sticker that really has more truth than most people want to admit…
Comments Off

on Logged Dive #267 – Underwater Christmas Party