Secret Location: 4f 66 66 20 6f 66 20 74 68 65 20 53 70 61 6e 69 73 68 20 52 6f 75 6e 64 20 42 65 61 63 68 2c 20 31 30 20 6d 69 6e 75 74 65 73 20 6f 75 74 20 6f 66 20 74 68 65 20 62 72 65 61 6b 20 77 61 74 65 72 20 6c 69 65 73 20 61 20 66 61 72 6d 20 6f 66 20 70 69 70 65 73 2e
Night Diving, Solo Diving – So Cal Buddy Diving with the Divevets off of the Island Diver boat
In With: 2900 psi
Out With: 400 psi
Max depth: 90 feet plus, maybe even more
Waves: Pretty damn flat
Visibility: 20 feet plus
Water Temperature: Cool
Total Bottom Time: 30 minutes
Notable Event: Came close to running out of air, skipped safety stop, not good
Lobsters caught: 3
This boat was billed as the "last chance for lobster before Thanksgiving."
I think the lobsters might be going deeper now, so I bought my ticket early.
Six divers, two DMs, Captain Dick and a Captain in training left around 7:30 PM to try our first deep lobster dive of the season.
I was one of the first ones off the boat.
There was a current going towards the North, but the ocean was pretty flat.
I made it down the anchor line to 85 feet.
There was another diver that was following me for a while with a huge, brightly lighted video rig.
I swam against the current and spotted a few bugs, all too small.
Then I came across a nice one, pinned it and bagged it!
I caught my second one shortly thereafter.
I was at 90 feet and feeling pretty damn good; I was narced but composed.
I usually feel OK after some time passes and this was the case on this dive, but I always felt sort of dingy.
I then came across a pretty large lobster and pinned it.
It's tail started to flip in a vain attempt to flee, but I had a firm grip on it.
I picked it up and fumbled with my bag.
The damn thing was trying to hold my bag closed as I was trying to open it!
The struggle ensued for a few minutes, but I successfully put the critter into the "lobster liberation bag."
I looked at my gauge, I was at 90 feet with 700 psi of air left… and looking at my watch – I had run out of bottom time!
Fuck!
I headed for the surface.
I kicked and kicked and kicked….
My depth gauge still read "90 feet."
Did I have that much lobster weighing me down?
I banged on my gauge a few times and the needle fell to 60 feet.
Up and up… crap, I don't know what it was, but I spent an awful long time getting to the surface.
My air was rapidly running out.
I broke surface maybe three minutes after starting; I had skipped the safety stop, which I don't like to do.
The boat was down current, but over some, about 80 yards away.
I started the surface swim.
The boat crew spotted me and shinned the brightest light at me – brighter than a Police searchlight.
For a minute I wasn't sure if I was heading to the boat or was in the process of dieing.
All I saw was a bright light… go towards the light…
I was the first back.
I only remeasured one; the rest were way legal.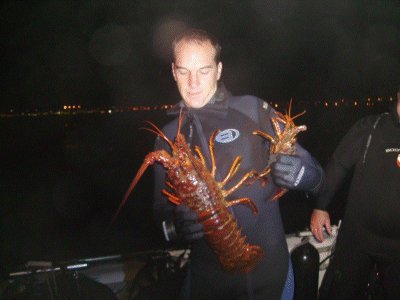 Jimmy The Bagman brought up a huge lobster and compares it with a legal one.
Jimmy dumped the lobster back in the water to spawn more tasty bugs.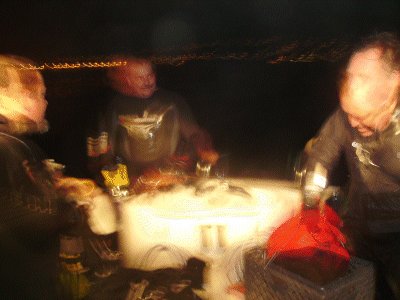 Divers unload their lobster bags… Whoa! Man! I'm seeing trails, maybe I'm still narced?
Comments Off

on Logged Dive #261 – Lobster Hunting Off The Island Diver