North of Secret Location:
4f 66 66 20 6f 66 20 4d 61 72 67 61 74 65 2c 20 6e 65 61 72 20 74 68 65 20 44 6f 6d 69 6e 61 74 6f 72 20 77 72 65 63 6b 2c 20 50 61 6c 6f 73 20 56 65 72 64 65 73
Solo Diving, So Cal Buddy Diving, night diving, off of John's Zodiac
In With: 2800 psi
Out With: 500 psi
Max depth: 40 feet
Waves: 1-2 foot swells
Visibility: 10 feet
Water Temperature: Warm, felt like it was in the 60's.
Total Bottom Time: About 45 minutes
We moved the boat North.
John had almost limited on the last dive, Jim had four, Michael Paul I believe caught two.
So, John knows were to go?
I decided to follow him on this dive.
Jim sat this dive out; he was tired and didn't feel well in the Zodiac – I will now refer to John's zodiac as the "Barf Bucket."
So Michael Paul and I followed John under and towards shore; they caught all their lobsters in about 20 feet of water.
It didn't take long before my obsession with catching lobsters took priority over following John.
At least I was headed in the right direction.
I grabbed for maybe four nice sized lobsters, only catching two.
One of the springs on my game bag had broken off, so the bag didn't stay closed very tightly; I held the bag shut while swimming.
I surfaced a few times to get my bearing.
Thankfully, the boat was never very far away.
I ended the dive with two lobsters.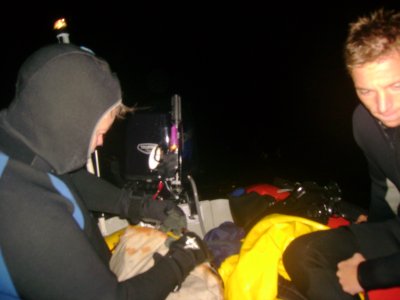 By this time it was about 3 AM in the morning.
Everyone was a little tired and everyone except John was a little motion sick.
I never get sea sick, but I wasn't feeling too great this morning.
We didn't crack open any beers until we were in the harbor on flat water.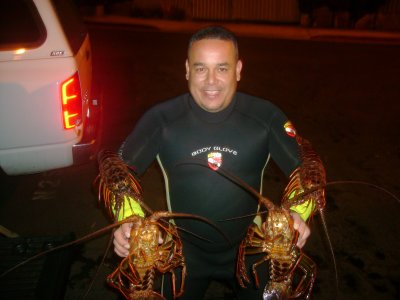 Jim shows off his bugs.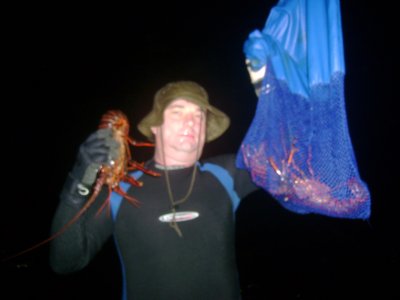 Here's my stash of lobsters for the morning!
We're planning on going out again tonight.
Comments Off

on Logged Dive #252 – Opening Morning Of Lobster Season Part Deux