The Palos Verdes Underwater Arch off the Island Diver
Palos Verdes Peninsula, CA
Dove With Juan Twenty and Drysuit Greg
In With: 2200 psi
Out With: 900 psi
Max depth: 55 feet
Waves: Minor chop
Visibility: 10-15 feet but pretty silty
Water Temperature: About 55 degrees
Total Bottom Time: about 35 minutes
After a carefully timed surface interval – almost an hour, we were ready to explore the Palos Verdes Underwater Arch.
It's located off the shore at the very end of Hawthorne Blvd.
I had no idea where anything was.
The Captain pointed toward shore and said, "the arch is over there."
I asked Juan if I could follow him.
Not only because I didn't know where to go and what to look for, I was also following his dive computer's profile.
We all submerged to about 55 feet and followed Juan to the edge of a reef.
There was a lot of silt in the water, not too much color.
After a few minutes of maneuvering, we came across the arch.
If the vis would have been better, I might have been more impressed, but it was a novel place to be.
I had not even known that this arch existed, and I grew up in this area.
Juan took a picture of Greg and I going through the arch; I did the same for Juan.
I would have to estimate that the arch lies in about 50 feet of water at the base and comes up to 30 feet or so at the top.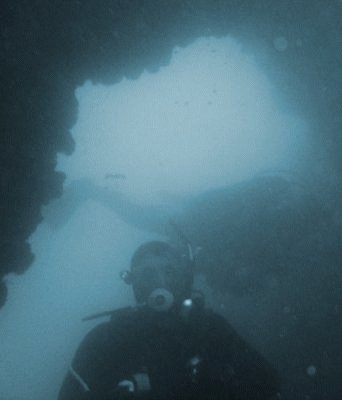 Photo By Juan Twenty
There's enough room for three divers to squeeze through at once.
I wish the visibility was better.
This is a place that looks pretty pristine.
Not many divers have been through here compared to Malaga Cove and Long Point.
We followed Juan through and back around the arch where we saw a sun star — a starfish with many legs.
I believe that's the first time I've seen one.
After another trek swimming over sand we all motioned to ascend.
We sort of blew off the safety stop — we had no location perception, so we didn't know if we were being swept away by a current.
Upon surfacing we had a short 20 yard swim back to the boat against mild current.
I broke open my stash of beer and started handing them out.
Juan said, "You may be the only one drinking. We're going to help repair the dock when we get back."
I was warned about such an activity beforehand in an email.
Having dove in a harbor before and remembering how absolutely obnoxious it was – the water was murky and tasted like diesel fuel and swamp water – I made sure to consume as much beer as possible so I could only be deemed capable of shore support.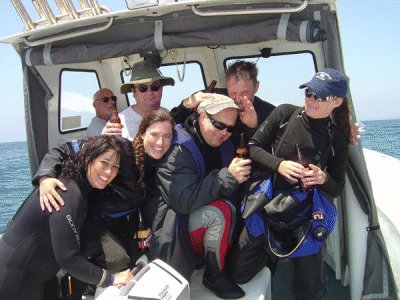 Photo By Juan Twenty
We took a group shot after the dives for insurance purposes.
The Captain called ahead and had pizza and beer waiting for our return.
I helped lower buoys and untangle and feed the air lines to the SCUBA crew.
I also documented the episode with Juan's camera…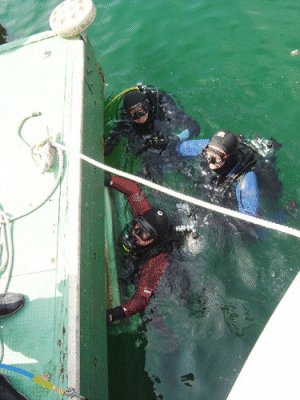 Divers wait in nasty harbor water for a float.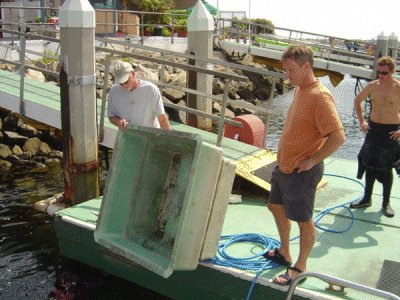 The buoys are carefully lowered.
One of the divers told me, "the pizza and beer are for the people doing the real work."
"Great!" I thought.
I helped myself!
I stayed until about 5 PM doing what I could to help above the water.
After a while though, I thought I would be more productive drinking beer and staying out of the way.
Comments Off

on Logged Dive #244 – The Palos Verdes Underwater Arch