Dive On the Point Vicente Wall off the Island Diver
Palos Verdes Peninsula, CA
In With: 3000 psi
Out With: 2200 psi
Max depth: About 40 feet
Waves: choppy
Visibility: 10-15 feet
Water Temperature: 55 degrees
Total Bottom Time: 18 minutes
Notable Event: Distress Call From Another Boat
Dove with Juan Twenty, Mirek and others.
Should this be considered a dive?
We all had made it back on board, but due to no current, nobody saw the wall.
So the plan was to move to the small rock island off of the Point Vicente Lighthouse and go down for "a few minutes" to check it out.
Well, only a few minutes… I mean really, I just got out of the water so I didn't really have a surface interval.
I mentioned to Juan Twenty that I only had 700 psi left in my tank.
People were concerned, so I switched tanks and proudly exclaimed, "I've never run out of air and don't intend on doing it today."
Laila seemed relieved.
We jumped over, swam towards the rocks and submerged.
I followed Juan, but pretty much we went as a group before breaking up in to two groups.
Juan, Mirek and me looked around the wall.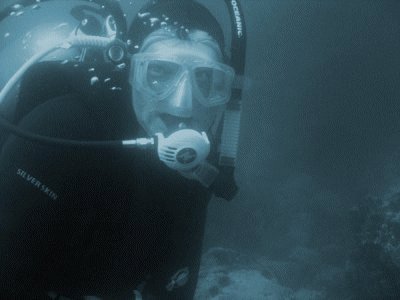 Photo By Juan Twenty
Thousands of muscle shells littered the base of the wall.
There was a sense that "not too many people have dove here."
Sea urchins, fish, a few octopuses – and then we came across a plaque that stated something along the lines of:
"The Artist Of The Deep Blue"
"_en Wayne Redding"
"1961-1998"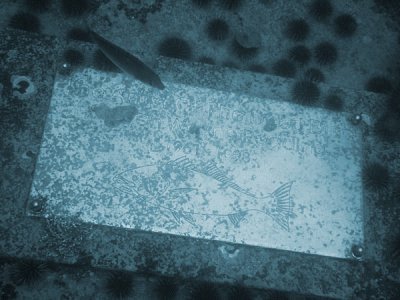 Photo By Juan Twenty
An internet search revealed nothing.
We swam toward the direction of the boat and surfaced fairly close to it.
The others who broke off from our group were shortly behind.
I'm glad that I did switch tanks.
I would have been really rushed for time.
Once on board, we heard a distress call coming in over the emergency radio channel.
With my recollection, along with a post on divevets.com from Max Bottomtime, here is a close transcription of the call:
RADIO: We need immediate assistance!!!!
Coast Guard: Were you the people yelling mayday a few minutes ago?
RADIO: Yes!! We have three people down! Three people down!
Coast Guard: What is your location?
RADIO: We are at Rocky Point near the white lighthouse.
Coast Guard: What are your GPS coordinates?
RADIO: We are between Long Beach and Marina Del Rey at the breakwater near the white lighthouse!!!! Please help us! This is an emergency!!!
Coast Guard: Which break water?
RADIO: The Long Beach Break water!!!!
Coast Guard: What is the nature of your emergency?
RADIO: Our anchor is stuck and we have three people down! Three People Down!!!!!
Coast Guard: What is the specific emergency?
RADIO: They are sea sick and barfing all over my boat! We need assistance right now!!!
(Long Pause)
UNKNOWN VOICE: Be sure to kill them when you find them!
Everyone listening just busted out laughing at such a ridiculous call!
Max Bottomtime, who was listening on another boat, put in his post, "As soon as he said they were barfing we almost fell out of the boat laughing."
Comments Off

on Logged Dive #243 – Pt Vicente Wall From The Island Diver