The Palawan Wreck, Off of The Island Diver Boat
Redondo Beach, CA
Dove with "Scott" following Juan Twenty and "Chris" from the Divevets
In With: 2900 psi
Out With: 600 psi
Max depth: 110 feet
Waves: Mild Chop
Visibility: 20-30 feet with a crud layer on the way down
Water Temperature: 55 degrees
Total Bottom Time: 15 minutes at the wreck, 10 minutes ascending from the wreck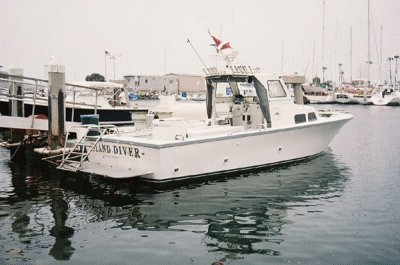 The Island Diver, King Harbor (Photo By Juan Twenty)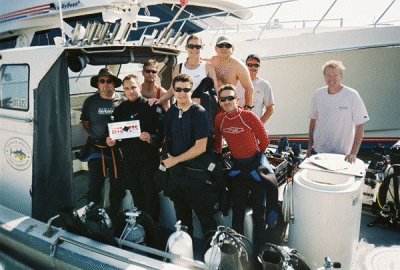 A group shot before weighing anchor. (Photo By Juan Twenty)
After begging Juan Twenty for a spot on their next Palawan trip, and after being told there was a two year waiting list, a newly chartered trip had a spot for me.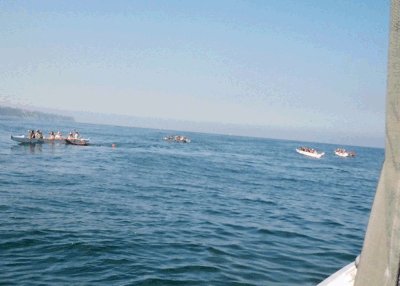 After a 15-minute ride to the spot, we witnessed several rowing boats passing by filled with hot, young chicks.
Captain Alec found the wreck, Juan Twenty buddied me up with "Scott."
We were to follow Juan and Chris.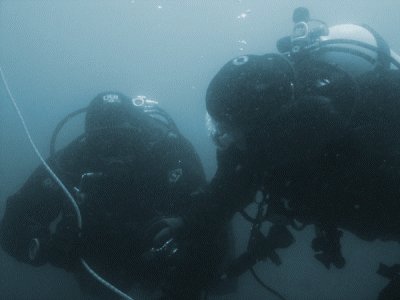 (Photo By Juan Twenty)
We jumped over board and followed a line down to the wreck.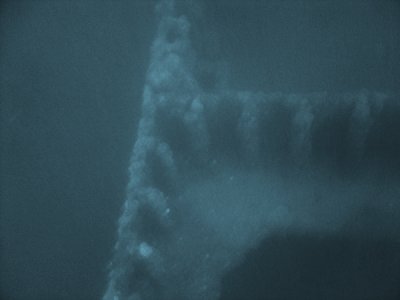 (Photo By Juan Twenty)
We passed through a crud layer that didn't promise too much visibility, but it cleared right above the wreck and gave us a great view from port to starboard.
The Palawan was a World War II supply ship that only saw a year or so of service before being mothballed up North for 40 years or so.
In the 70's, they stripped the Palawan of the engines, tore off the decks and then sunk it as an artificial reef.
Our group took a "Divevets" group photo and trolled around for the short amount of bottom time we had under no-decompression rules.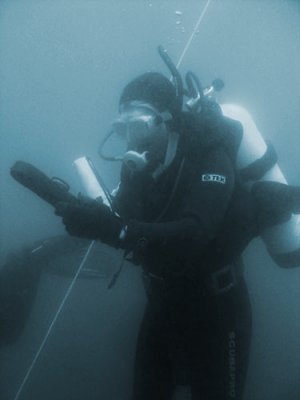 Everyone is impressed that my ancient equipment still works.
(Photo By Juan Twenty)
I followed the group up slowly, following Scott's dive profile on his computer – cheaper than buying one of my own, I guess.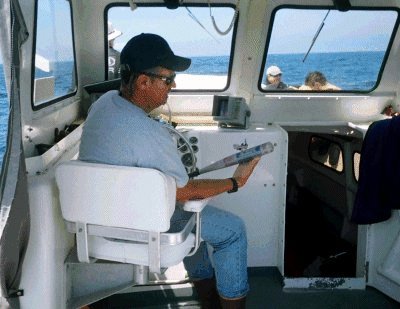 Captain Alec is well prepared to battle pirates and mutineers.
We did an hour and a half surface interval.
Comments Off

on Logged Dive #234 – The Palawan Wreck