The Divevets Annual Easter Egg Dive
Malaga Cove, Palos Verdes Estates, CA
Dove with "Bob from the Divevets"
In With: 2700 psi
Out With: 500 psi
Max depth: 20 feet
Waves: Sort of choppy, five feet and rolling
Visibility: 8 feet
Water Temperature: Cool
Total Bottom Time: 45 minutes
Here's the event:
110 boiled eggs are dropped into the water over a 150 feet area surrounding a buoy.
Each egg has a card suit on it.
Divers collect four eggs and bring them to shore.
A flop card is drawn and prizes are awarded based on the best hands.
I got to Malaga about 8:30 AM; the Divevets already had a tent, chairs, and the barbecue already set up.
Bob was in the water earlier; he reported 8 foot vis and surge.
Bob wanted to "buddy up" on this dive to get past the Dive Masters.
Our plan was, if we got separated, to continue our dives on our own.
Dan gave the dive briefing around 9:30 AM; at 10:00 AM all the divers were on the sandy beach.
I already had my fins on.
When the word was given, the divers started walking out.
I forgot Malaga was shallow for a ways, so I was swimming out along side people who were walking out in knee deep water.
The surface swim was strenuous with all the divers racing to the buoy.
Bob submerged and I followed.
Vis sucked so bad that I couldn't follow him, so I surfaced and continued to swim.
My compass got stuck and I ended up going the wrong way for a bit.
I must have been the last one to swim to the buoy area.
I submerged about 150 feet from the orange buoy and swam toward it.
In the first 15 minutes, I collected two eggs – a seven of spades and a king of hearts.
I spent the next 30 minutes trying to find two more!
I trolled over the sand and reefs in 15-20 feet of water.
I occasionally would run in to another diver or group; I surfaced several times to get my bearings.
I realized after 45 minutes that two more eggs wasn't going to happen.
I ascended with 500 psi left.
I did the long surface swim back and was greeted by another diver and his daughter.
"How did you do?" he asked.
"I got a seven. We're playing Blackjack, right?" I said.
"No, Poker."
"Well, I only found two eggs."
The debriefing was world class.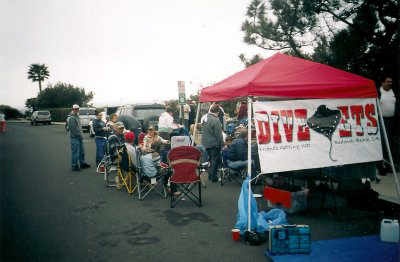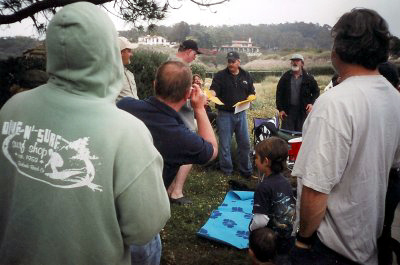 Dan hands out prizes.
Even though I didn't win anything, the barbecue, beer and other divers and guests made it worth it.
Someone made a killer mixed drink – "Bunny Killer" – Shanon is funny when she is drunk..
Nick eventually showed up to the party; I introduced him to Dan.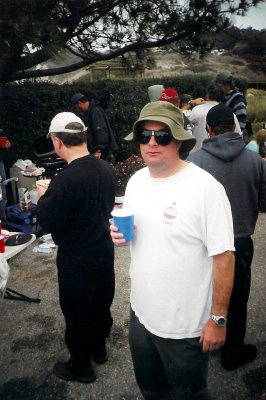 I wore my disguise just in case the Police came by – "No Ociffer, that's only lemonade in my cup."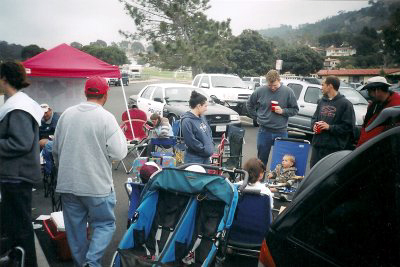 The cops finally did cruise by, but knowing they were so out numbered, just continued on.
Another day of fun and cheating death!
Comments Off

on Logged Dive #227 – The Divevets Annual Easter Egg Dive