Lobster Hunting Off The Island Diver With The Divevets
Secret Location: 4f 66 66 20 74 68 65 20 68 69 6c 6c 20 6f 66 20 74 68 65 20 67 72 65 65 6e 20 74 72 65 65 73 2c 20 6a 75 73 74 20 4e 6f 72 74 68 20 6f 66 20 74 68 65 20 67 61 74 65 20 77 69 74 68 20 61 20 6d 61 72 2e
Solo Diving/night diving
In With: 3200 psi
Out With: 500 psi
Max depth: 40 feet
Waves: Choppy
Visibility: 10 feet or so
Water Temperature: 53 degrees Fahrenheit
Total Bottom Time: 35 minutes
Notable Event: My mind was messing with me, I think.
Dan and his buddy brought back bugs last dive, so it was decided to move the boat where they had the luck.
We kept it shallow because Jim P's computer didn't turn on last dive.
I was the first overboard and immediately submerged.
It was a kelp forest and I searched and searched.
I was pretty fucking cold.
I saw a few obviously short lobsters.
I came across one – it looked good, so I pinned it and bagged it.
The bug kept swimming in my bag, really fighting!
I think it knew how to crawl out of a bag; it was waiting at the top for me to open it.
It was starting to look grim for another catch, so I surfaced to look for the boat.
On the surface, I felt something tug on my leg, hit my leg.
I thought it was a seal, or sea lion.
I thought I saw something swim by and then I felt something hit me.
I started to freak out.
What the fuck?
Nothing had ever hit me before in the water.
I secured my lobster bag as I swam to some kelp and got caught.
My snorkel slipped off, but I caught it and put it in my bag.
I swam towards the boat, breathing off my regulator.
I was scared, but to this day, I don't exactly know what happened.
My lobster could have been fighting; I could have been hit by kelp or even a shallow reef.
Maybe it was a sea lion?
Who knows?
After regaining my composure, I submerged for one more try.
No more lobsters, but my mind was fucking with me and I was getting cold.
I surfaced and swam back to the boat.
Bob caught a total of five, Dan a few.
Captain Alec hauled up two anchors this night.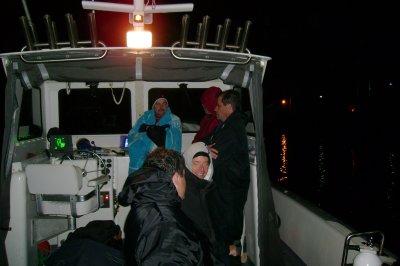 It was a cold, but sort of short ride back.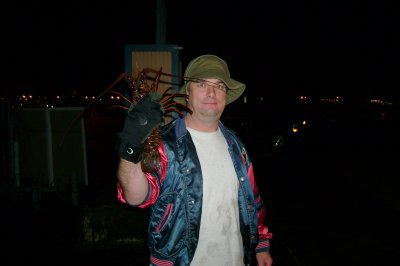 I pose with my monster catch of the night.
We had a good debriefing in the parking lot.
Comments Off

on Logged Dive #225 – Lobster Hunting Off The Island Diver