Casino Point, Catalina, CA
Dove with Instructor John's Open Water Students.*
In With: 3000 psi
Out With: 2400 psi
Max depth: 50 feet
Waves: Insignificant
Visibility: 15-20 feet when not stirred
Water Temperature: Cool
Total Bottom Time: About 20 minutes
*Note: Student names have been changed.
After lunch and giving ex-student Jodi a hassle about the rip in the butt of her rental wetsuit, we prepared for the third and final dive.
The group leaders from the last dives were responsible for the same people on this dive.
We were to all submerge and follow John to the barge.
Upon John's recommendation, Pancho didn't even attempt this dive.
It took several minutes for everyone to submerge and meet on the bottom at 30 feet; one student turned back when he wasn't able to equalize.
We then followed John who was off to the barge – we were a total of 12 to 13 divers.
We followed John down to 50 feet where he turned to take a head count.
Someone was missing.
John signaled that he was going up to look around.
We waited… and waited…and waited.
I kept checking air; we were at 50 feet.
The students stirred the bottom and vis was almost zero in some spots.
The vis was so bad that I had a hard time keeping count.
John swam down and motioned for me to swim to the surface and help someone back.
I surfaced and found Gomez floating on the surface.
Gomez was practically crying that he couldn't stay down or keep up.
He was saying that he didn't want John to yell at him.
We swam back to the stairs and exited with no problem.
The rest of the group came in only several minutes behind us.
Jim was REALLY PISSED at Arrogant Asshole.
He was pushing his wife Suzuki along at 50 feet – she was down to 400 psi.
Jim ordered her to surface; Arrogant Asshole was waving Jim off and giving him the OK sign.
Suzuki's husband, Arrogant Asshole, is a real dumb-shit know-it-all.
He gave a speech on the history of Catalina in the taxi over to the point.
He also told everyone how he's dove all over the world – but doesn't seem to own any equipment, he was diving with rental gear.
This guy is going to end up killing his wife if he's not careful.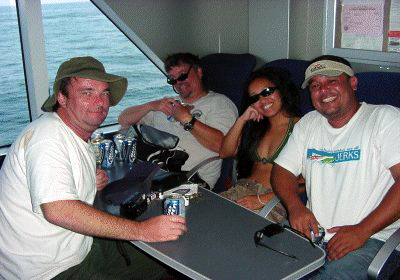 The boat ride back was a joy.
John, Jody, Jim, girlfriend Jane and I sat at a table drinking beer and exchanging diving stories.
Comments Off

on Logged Dive #197 – OW Class At Avalon