This is my second year as a safety diver for this event and this time it's part of my Divemaster course.
Instructor John, fellow DM Student Ron and myself took the 7 AM boat over.
As instructed, I just took free diving equipment.
I didn't have to take my weight belt, but I did some free diving before the event.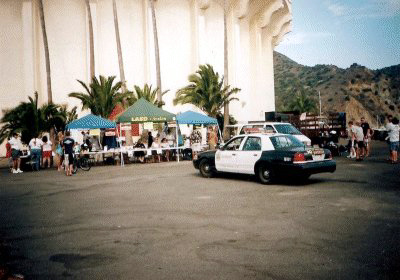 Registration and food!
The safety crew.
Pretty damn scary, huh?
The charity event started at 11 AM – John and I were in Kayaks; Ron was in the water with a can.
The whole event went without a hitch, thank God.
I was getting so bored, I reached over to grab a piece of kelp – I was going to throw it on the kayak and watch it turn green in the Sun – but I fell over and into the water.
Ron swam over and held the kayak as I climbed back on board – Ron wrote this down as his "rescue" for the day.
Jake from American Diving swam over and dumped a chick that was in another Kayak; Jake then had to free dive for her lost mask.
This event had record attendance; I think 130 registered divers participated.
We took the early boat back.
Comments Off

on Safety Diver for The Los Angeles Sheriff Department's "Gold Star Dive."