Veteran's Park, Redondo Beach, CA
Dove with Instructor John, Jim and about a dozen current and former students.*
In With: 3000 psi
Out With: 2500 psi
Max depth: 30 feet
Waves: 2-5 foot swells, rough
Visibility: 5-10 feet
Water Temperature: "Fairly Not Cold"
Total Bottom Time: About 10 minutes???
*Note: Student names have been changed.
The first thing that John said to me was, "I think you're going to help me teach my last class ever."
I sensed his utter frustration with this batch of students.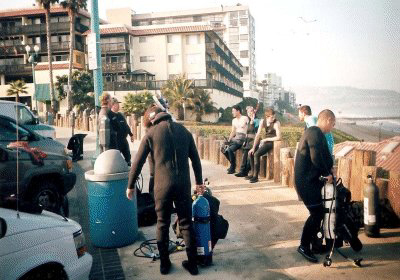 John gives his usual Vet's park dive briefing.
Gomez and his wife Morticia were the students that couldn't make it to Catalina last trip because they hadn't demonstrated their pool basics.
There was a short older woman that John had to tow through the surf zone during the skin dive – I'll call her Suzuki.
Then there was a short young guy that got winded and "quit" the skin dive — that is until he was told he must complete the skin dive before he got to SCUBA dive.
One of the Officers from the Harbor Patrol was there to make his last dive before graduating.
Jodi, an attractive female ex-student was there for more experience and "just for fun."
Pancho, who didn't rent any gear, but borrowed everything from a friend…
…and a few other students…
On the skin dive, I went out first to keep the group together and not have them float back in to the surf zone.
Jim worked the surf zone while John sent the students out.
A young girl – high school age – made it out first followed by a few of the "non-problemed" students.
We floated for 45 minutes as the rest of the students slowly swam out.
I had to manually inflate one of the student's BC jacket.
Jim and I helped with the two free dives.
Gomez complained that his weight belt was slipping off.
I told him how to tighten it, but he couldn't do it; I had to tighten it for him.
I think this initial skin dive must have taken two hours total.
We all made it back to shore and dawned our SCUBA gear.
Four students set up their gear wrong and some of the rental equipment didn't work.
John decided to break the class in to two groups and contunue in Catalina – Oh man!
Catalina is going to be a long day!
The first group was the "strong students and ex-student Jodi.
The cop and Jodi made it through the surf zone.
Pancho made it out, but when I fixed his snorkel I noticed that his tank was falling off.
I believe three students total made it through the surf zone for this dive.
Again I kept the group together; Jim worked the surf zone while John sent them out before swimming through the surf himself.
I called John's attention to Pancho's slipping tank; Pancho's BC jacket is borrowed from a friend who rethreaded the strap buckle.
There was no way his tank was going to be held more securely – I would have to keep pushing it up.
Jim and I finally submerged…and waited…and waited.
About four minutes later the first student came down, followed by the second.
I went up a few times to see what the hold up was.
Pancho couldn't submerge, so John gave me the responsibility to bring Gustavo back through the surf and in.
Pancho and I swam back to the surf zone.
I instructed Pancho to get on his back – oops! – I meant stomach!
Pancho's tank came lose and fell off as we were coming through the surf zone.
I grabbed his tank and we managed ashore.
I went back down to the shoreline to help the rest in, but they came in further South and I missed their exit.
One of the students was a little freaked out because he came ashore alone and almost panicked.
By the time the second dive came around, it was almost one o'clock in the afternoon; I told John that I couldn't stay.
He wanted me to send in the students while he waited outside the surf zone.
I sent Gomez out first.
I yelled, "Kick! Kick! Kick!" as he got thrown around in the surf zone; He made it out.
The short, young guy made it out.
Morticia made it out, but John brought her back in after she complained that she was tired and couldn't stay afloat.
I helped her to the shore and told her to crawl if she couldn't stand; she wasn't even able to crawl.
I tried dragging her and had to yell to Pancho to help me.
Now it was Suzuki's turn.
Suzuki was accompanied by her non-student husband who will from now on be called "Arrogant Asshole."
Suzuki could not make it past the surf zone and kept washing back to shore.
Her husband kept telling her to "keep your respirator in your mouth!"
Suzuki was showing signs of panic; she kept asking us to turn her "air up" – The air is either on or off.
John eventually waved her off after she washed back up the fourth time.
Arrogant Asshole got pissed at me because I wouldn't allow him to throw his hyperventilating and panicky wife back in the surf.
He said, "If she can't make it out today, she'll have to come back!"
I told him, "Uh, yeah."
I left soon after, but apparently John had to bring Gomez back in because he wouldn't kick to propel himself.
This second dive ended up being John and one student.
Catalina is next Sunday.
John, Jim and myself are not looking forward to this trip!
Comments Off

on Logged Dive #194 – The Most Torturous Open Water Class Ever!