Long Point, Rancho Palos Verdes, CA
(aka The Old Marineland)
Solo Diving
In With: 3200 psi
Out With: 1400 psi
Max depth: 40 feet
Waves: 1-2 foot ankle breakers
Visibility: 10-15 feet
Water Temperature: I would say "cool," but after girlfriend Jane wanted to go swimming, I asked one of the Divevets – 64 degrees Fahrenheit on the surface, 54 degrees Fahrenheit underwater.
Total Bottom Time: I guess about 35 to 40 minutes.
I brought my girlfriend Jane and Ed to Long Point.
My brother Paul, Nick and my father would come later for a barbecue.
This is such a fun place to hang out that I invited some friends and family for a barbecue here.
Ed and I geared up.
I was going SCUBA, Ed was free diving.
I forgot to tell Jane that there's no toilet facilities here, so I had to drive her to Cardiac Hill to use the toilet.
I entered off the cove probably around 9:30 AM, maybe 9 AM.
I still don't have a watch – mine broke several dives ago.
Jane stayed on the rocks getting a suntan.
I submerged about 70 yards outside of the cove and went East.
I swam along the bottom which, at that spot, resembled the sandy bottom at Redondo Beach – all sand with sporadic sea life.
I then came across a reef in 30 feet of water – a reef that did not look familiar.
I headed back a little early; I had the barbecue party on my mind.
I almost ran into two divers heading to "120 reef" on the way back; 120 degrees is the compass heading from the cove.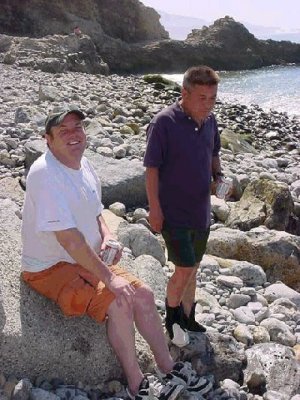 I made it ashore with no problems and posed for several pictures that Jane took.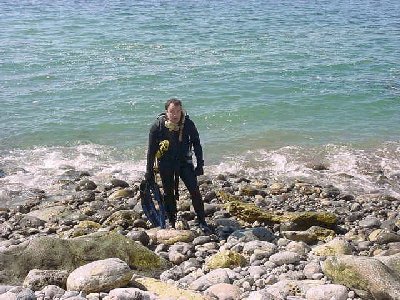 I emerge after my dive.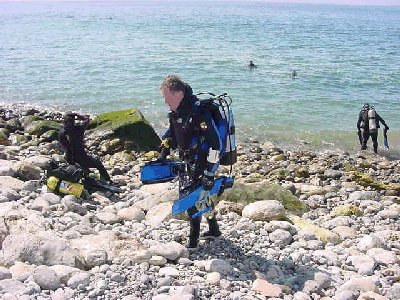 Reverend Al and Bob from the Divevets exited shortly after me.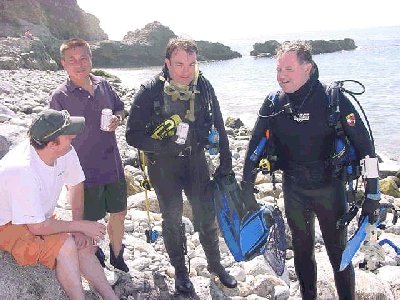 My brother Paul and Ed had some beer to offer before the party started.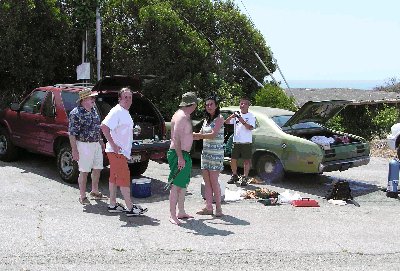 Let the party begin!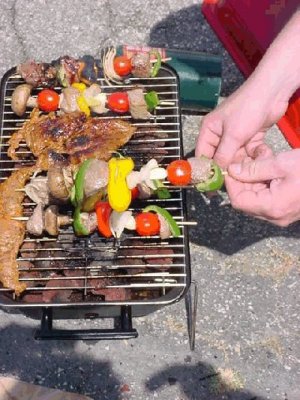 Shish-ka-bob and chicken make a gourmet meal!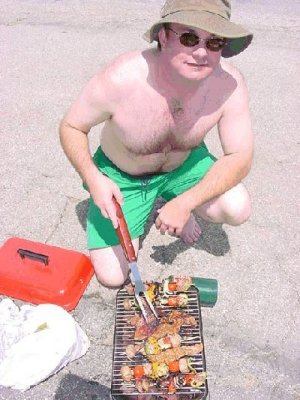 …especially with such an experienced cook.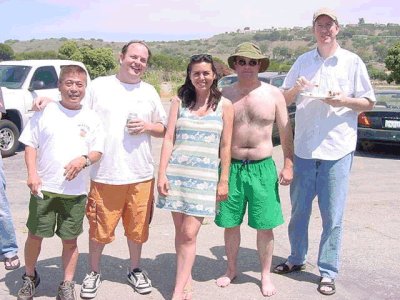 Ed, Paul, Jane, Me and Nick.
I mailed my Dad some of these pictures with the following comment:
"As with any publicly accesible place where you can pursue "dangerous" pastimes and party uncontrollably, it will only be a matter of time before this place too will come to an end…"
I hope not for a long time. What a great day!
Comments Off

on Logged Dive #192 – Solo Dive & Barbecue Party! Yeah! Party!