Inside Los Angeles Harbor
WARNING: You are not normally allowed to dive in a harbor unless you obtain permission first.
It is a great way to get arrested and interrogated by the Department of Homeland Security.
Having the Police with you is also a good idea.
But, by not diving in a harbor, you are not missing anything at all.
Dove with Instructor John, his friend Jim and John's Harbor Police Open Water students as part of my Dive Master training.
In With: 2500 psi
Out With: 2000 psi
Max depth: 20 feet
Waves: Insignificant except for boat wake
Visibility: 0-2 feet, really shitty
Water Temperature: 60 degrees Fahrenheit, I think
Total Bottom Time: 20 minutes
Notable Event: This was the first time I peed in my wetsuit!
Redondo Beach was closed for a Triathlon, so the Police said that we could dive off of one of their boats inside the harbor.
We met at 8 AM at the Harbor Police Station and then had to wait an hour for a student who woke up late.
The "Sarg," another Officer (they dove Redondo yesterday on the first dive), four students, John, Jim and myself squeezed onto a small Police boat.
We sped to the inside of the break wall.
I was the first in to the water after doing a "Jacques Cousteau" style back flip into the water; the current started to take me.
We tried diving this spot, but pulled anchor and moved across the way.
Another Police boat made sure none of us got swept into the channel.
On board, I asked where "the head" was.
The Pilot said, "You just came out of it."
We tried the dive on the other side of the channel.
For whatever reason, two students didn't make it into the water; one couldn't get down.
Having to urinate so bad, once I was in the water I finally peed in my wetsuit.
It felt good and warmed me up a bit!
Anyway, two students, Jim, John and myself submerged for the students to do their basic checkout.
Vis was so bad, I could barely make out the other divers who were in arm's distance.
I thought we were missing a diver, but John motioned that it was "OK."
They did the entire basic except for removal and replacement of their weight belt.
John gave them an exclusion for this dive because he would never have been able to find it if they dropped it.
They performed the skill in the pool several times previously.
After the checkout, Jim and I took the woman on a tour of nothing.
John and the other student went off on their own.
The woman and I followed Jim, or what we could make of his fins and tank, apparently in circles for several minutes until we got lost.
We surfaced.
I gulped a mouth full of harbor water by accident; it was so fucking gross – I think I'm going to get some kind of disease or sickness.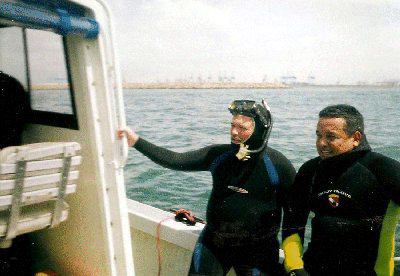 John and Jim enjoy the ride in the Police boat.
Comments Off

on Logged Dive #186 – Harbor Diving With The Harbor Police