Veteran's Park, Redondo Beach, CA
Dove With Nick and Ed
In With: 3500 psi
Out With: 1200 psi
Max depth: 70 feet
Waves: flat, one foot maybe
Visibility: 20-30 feet
Water Temperature: Cold
Total Bottom Time: 42 minutes
Nick is back from Cleveland for the weekend, Ed is getting back in to diving after two years off.
I'm sort of out of shape, so a nice "refresher" dive at Redondo Beach is at hand.
Nick seemed a little concerned about this dive – he's still traumatized by our first night dive here.
Ed told us, "Don't follow me."
I got a great fill from American Diving – 3,500 psi (my tank is rated for 3,000 psi) – and the water was very calm, but cold.
All three of us stuck together until Ed zoomed down the canyon and back up.
True to our dive plan, Nick and I kept going without Ed.
It was 55 degrees Fahrenheit at 70 feet.
It was a bit silty over the shelf.
Nick messed with the sea life as usual.
Crabs, octopi and the usual variety of spare sea life were present.
We made it ashore with no problems.
Nick wants to go again, but with his camera.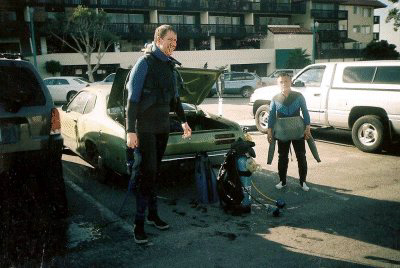 Nick and Ed.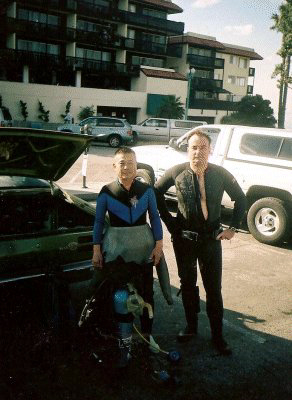 Ed and me; Ed is finally SCUBA diving again after a two year break.
We had our debriefing session at Quality Seafood in Redondo Beach.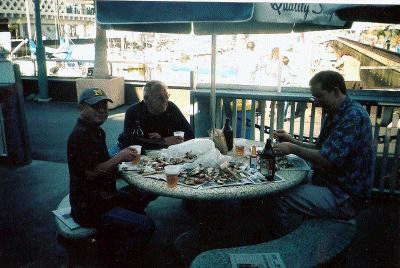 Ed, Pete Dragich – who founded Quality Seafood – and Nick sit for a post dive seafood meal.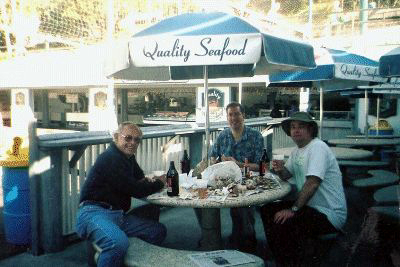 Pete Dragich, Nick and Me finish up our gourmet meal.
Beer washes the ocean water out of our mouths!
Comments Off

on Logged Dive #166 – Redondo Beach With Ed and Nick