November 18, 2016
Once everyone was back on board, Nice Bob decided to move to a better spot a few minutes down the coast.
The visibility looked good on the surface; I was the first one over board.
Logged SCUBA Dive #504
Solo Diving
SECRET LOCATION: 41 73 20 74 68 65 20 43 61 70 61 74 61 69 6e 20 74 6f 6c 64 20 75 73 20 6f 66 66 20 74 68 65 20 49 6e 64 69 63 61 74 6f 72 2e , Palos Verdes, CA
In With: 3000 psi
Out With: 2100 psi
Max depth: 41 feet
Waves: Surface was flat, some surge at the bottom
Visibility: 0-3 feet, very silty
Water Temperature: 62 degrees
Air Temperature: 66 degrees
Total Bottom Time: 12 minutes
Visibility was really good, until I got down to the ocean floor, where it turned to three feet at best.
I swam towards the shore, but I really couldn't see.
I surfaced and yelled back to the people on the boat, "Hey, you know the vis is only three feet!"
Someone gave me the finger, so a submerged and went the other way, away from the shore.
It got worse – I mean three feet was the best visibility, sometimes I had zero feet.
After a few more minutes, I really didn't think I was going to be so lucky as to just stumble upon a lobster already within grabbing distance.
I called the dive and surfaced.
Back at the boat, I told the Captain about the conditions.
He said, "I bet there will be three more lobsters before the night ends."
I said, "There won't be any lobsters coming back, unless someone is very lucky."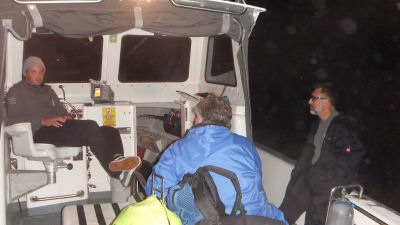 Waiting for the other divers.
Divers made their way back in early.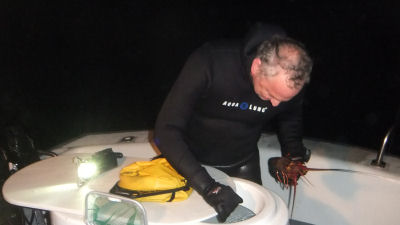 Nice Bob was very lucky and stumbled on two lobsters with the crappy visibility.
Everyone else got skunked on this dive.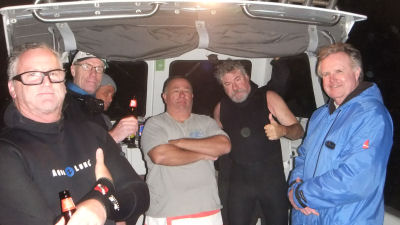 Debriefing started as divers came back.
Thanks to a donation by Nice Bob to someone who got skunked and was unable to make the second dive, everyone went home with at least one lobster.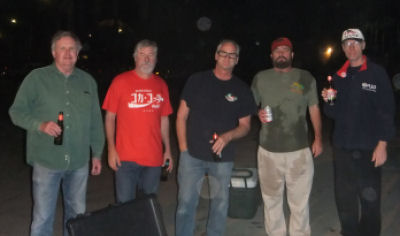 Debriefing continued in the parking lot of Rocky Point.
A $100 boat trip and I only caught one lobster on my first dive.
However, local lobsters are going for $42 a pound at the fish market – so I don't feel so bad.
I paid $100 for a $65 lobster, but had fun doing it.
Until next time, dive safe and don't do anything I wouldn't do!
Comments Off

on Second Lobster Diver Of The Night