November 18, 2016
Sorry for slacking lately!
I've had some issues other than diving to take care of, and since this blog is only a small tax write off, I am forced to keep my regular job as a full time peon.
Chipper told me about a lobster boat that Nice Bob was chartering and said, "Since Donna The Hot Biker Chick can't go, we decided to invite you."
This time, I actually had the money, or at least enough room on my credit card.
The boat was the six pack diving boat "The Island Diver" that I have been on many times before; Dive N Surf brought the boat from Rocky Point a few years ago.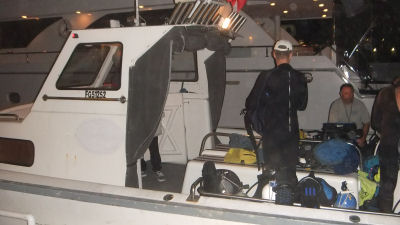 We were all geared up and off by 6:10 PM.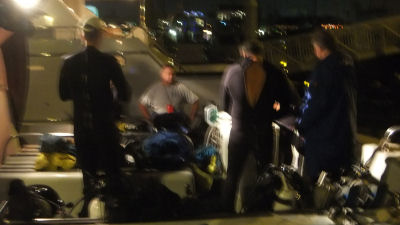 The diving crew consisted of The Other Jeff, Nice Bob, Reverend Al, some guy named Joe, Chipper and myself; the DM and Captain made it complete.
We thought we would try no deeper than 50 feet, so we headed to a secret location off of Palos Verdes picked by the Captain.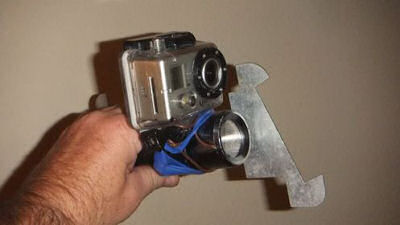 I was the first one off, carrying my new invention – The Lobster Cam!
Logged SCUBA Dive #503
Solo Diving
SECRET LOCATION: 43 61 70 74 61 69 6e 20 6e 61 6d 65 64 20 73 75 72 66 20 73 70 6f 74 20 73 6b 69 20 6a 75 6d 70, Palos Verdes, CA
In With: 3100 psi
Out With: 500 psi
Max depth: 43 feet
Waves: Surface was flat, some surge at the bottom
Visibility: 10-15 feet with some silt
Water Temperature: 62 degrees
Air Temperature: 66 degrees
Total Bottom Time: 36 minutes
I descended and dropped on sand and started to swim towards shore.
All I saw was sand; I asked myself, "Why the hell did we come here?"
There was no structure here at all and I was a little pissed.
I ended up finding a small reef, but it was barren of even short lobsters.
I surfaced to get my bearings and discovered I was right next to the boat – I had been going around in circles.
I submerged again and headed towards the shore.
Visibility was patchy as there was some surge.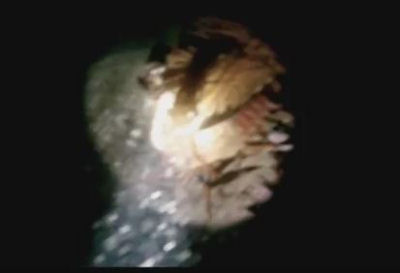 I started to see short lobsters and then was able to pin an obvious legal one – until I measured it; yeah, it was short.
When I got down to 700 psi, I spotted a large lobster; without hesitation, I swam over and pinned it, just as my leg started to cramp.
I am macho, so I easily ignored the pain.
It was like grabbing a beer can!
I put it directly in my bag, surfaced and swam to the boat.
I was the first one back; we remeasured the lobster using the Captain's lobster gauge and it was short.
It was the girth of a beer can, how the fuck could it be short?
I was just about to throw it back, when I remeasured with my gauge – it was way legal!
We were accidentally using the "Crab" gauge side, and not the lobster side – Phew!
Other divers made it back with either one or two lobsters, except for one exception.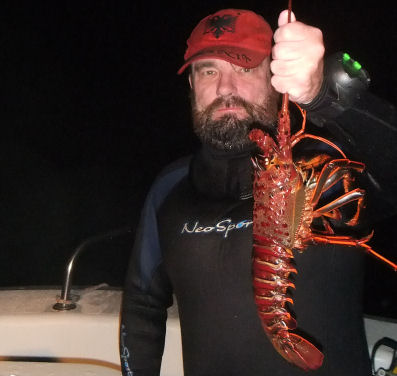 Me with my lobster.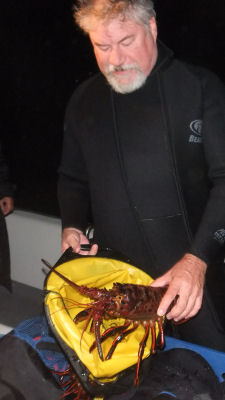 The Other Jeff caught the biggest one.
We decided to move the boat to a "better spot" to be picked by Nice Bob and the Other Jeff.
Lobster Cam Footage is here: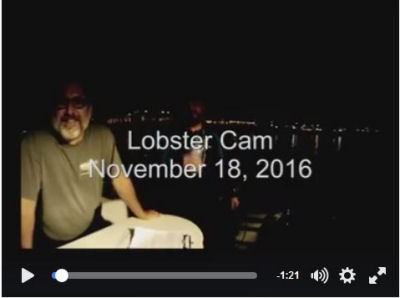 Stay tuned for a report of our second lobster dive!