So, last pier clean-up, I met this really hot chick who had just moved here from Boston; she had expressed interest about getting back into diving now that she had moved to Southern California.
She has been certified since 2005.
I gave her my phone and pager number and told her to call me when she wanted to go diving.
Weeks later, she called me to go diving; it took me a while to get over the shock and confirm TwinDuct wasn't just messing with my mind.
TwinDuct suggested that we should dive White Point in San Pedro, since we haven't done it in a long time.
It sounded like a plan, so the three of us – TwinDuct, Boston Kelly and me – met at 8 AM at White Point.
The wind was up, but the swells were manageable.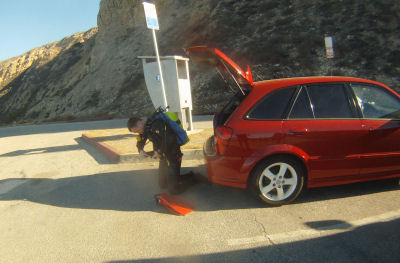 TwinDuct drags his ass gearing up…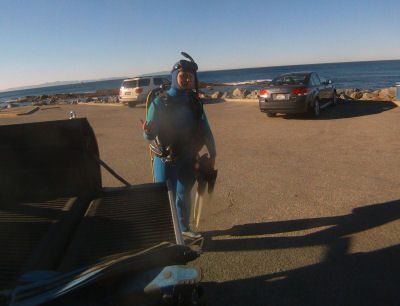 …as Boston Kelly looks on in amazement.
We made the short, but rocky walk to what was left of some of the old hot spring pools to make our entrance.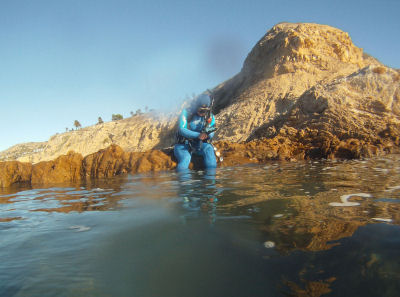 Kelly makes her entrance.
The entrance area was protected from the incoming swells; we swam out and submerged.
I tried to go deeper, but ended up going in circles; we surfaced and swam further out before making another descent.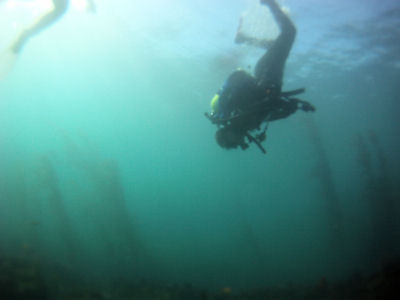 Logged SCUBA Dive #495
Dove with Boston Kelly and TwinDuct
White Point, San Pedro, CA, USA
In With: 3000 psi
Out With: 1200 psi
Max depth: 40 feet
Waves: Pretty flat with some waves breaking against the rocks
Visibility: 20 feet or so
Water Temperature: 65 degrees
Air Temperature: 73 degrees
Total Bottom Time: 35 minutes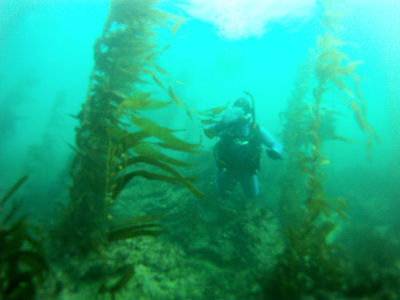 Boston Kelly Follows.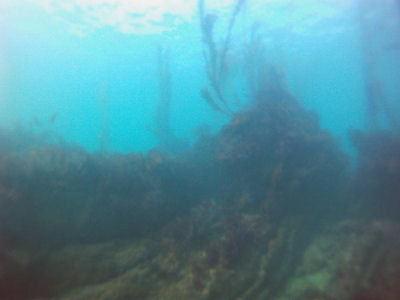 Visibility was pretty good.
This was Boston Kelly's second dive in Southern California waters, with the first dive being the pier clean-up in Redondo Beach.
She later remarked that she couldn't believe there was so much to see here.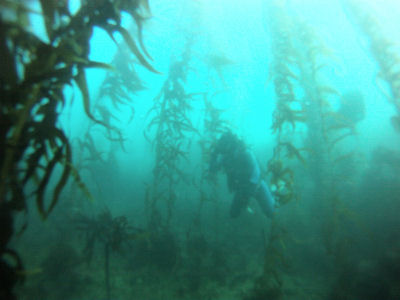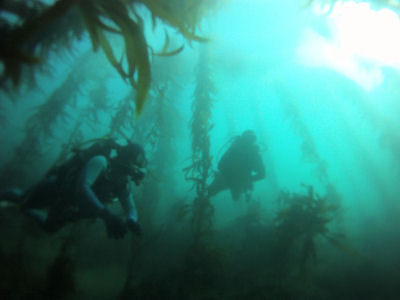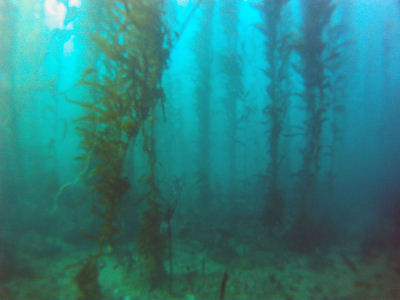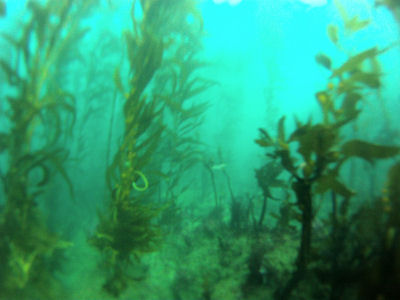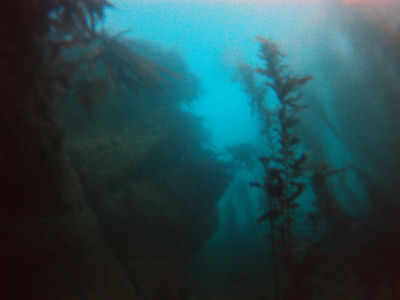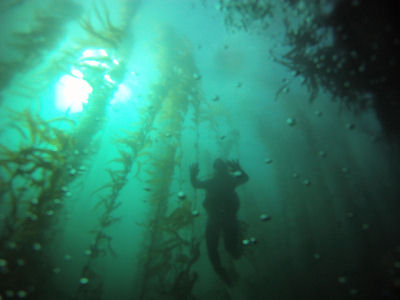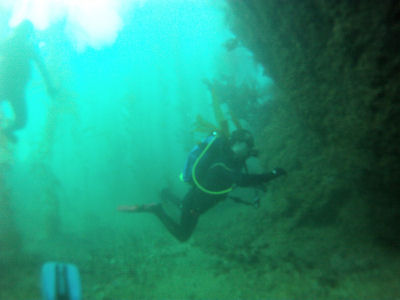 TwinDuct checks a reef for lobsters.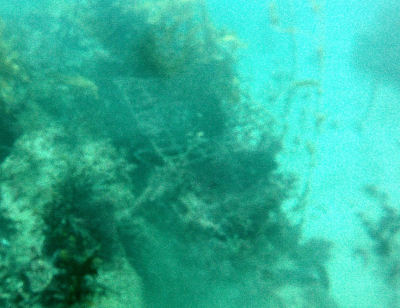 What is left of an old lobster trap.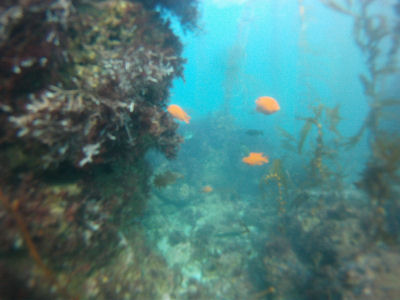 Garibaldi at White Point.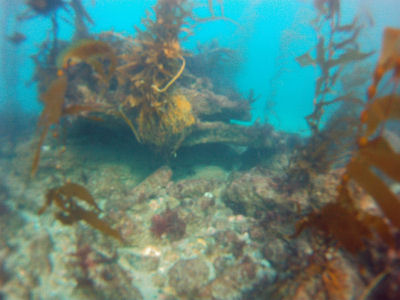 Even though we did get down to 40 feet, the majority of our dive wasn't much deeper than 30 feet.
We headed back and in to make an easy exit.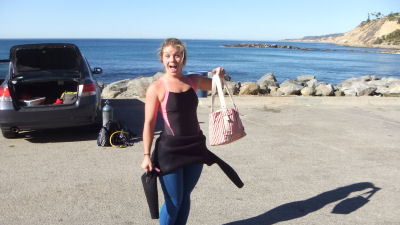 Kelly brought beer!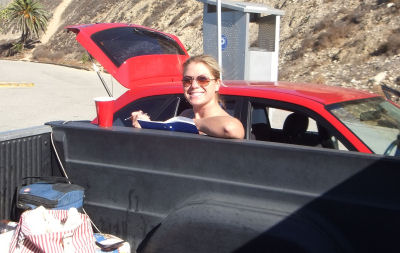 Boston Kelly logs her dive – this was dive number five, after her certification a decade ago!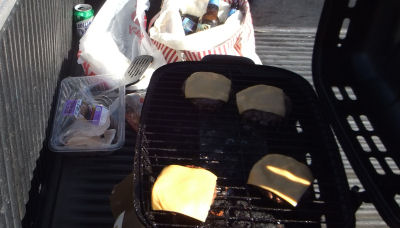 We broke out the ghetto grill and made some hamburgers.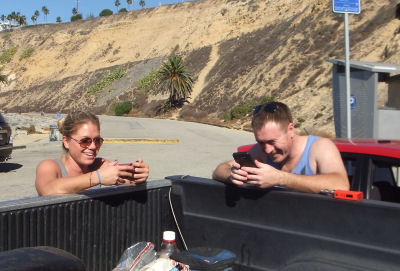 Being away from their smart phones for more than an hour is just too much to bear!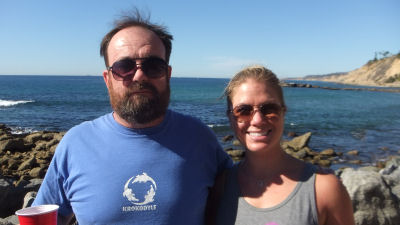 Me and Boston Kelly – Sorry, I can't suck my gut in and smile at the same time.
Debriefing conversation consisted of topics as diverse as photography, diving, water rafting, bungee jumping and the shitty dating scene for apparently all singles.
Kelly expressed interest in rafting (if we have snow pack) and bungee jumping – I forgot to ask if she would be interested in going to Albania next year.
She's off on another business trip, but hopefully we will dive again, soon.
More diving to come!
By the way, this cute, lovable dog still needs a home…

UPDATE: This dog was adopted Sunday, October 29th and went to a new home!
To repeat this dog's story from last post:
Some asshole abandoned this dog by roping him to a fence in an alley (Wardlow and North Marietta Court, Long Beach) tight enough to where he couldn't even lay down on the hot pavement. No tags, no chip.
The dog is scared, but not aggressive at all. He is a good dog, but I am unable to adopt him because of my HOA agreement.
So, if you want a really cool dog, he needs a home. Contact is on the link.
And, I witnessed this first hand.