I needed a dive – it keeps my blood pressure under control, until the debriefing of course.
It rained a bit a couple of days ago, and the swell maps made the conditions look like it was going to suck; I decided to go and at least look.
It was a very small diving crew consisting of Reverend Al, Ben, Randy, Alex and myself.
I was told the Point was doable, if you timed it right; that usually means I'm going to get smashed against the rocks.
Reverend Al gave me one of his old wetsuits that didn't have any holes in it and had never been peed in – and it actually fit!
We geared up and walked to the Point where the swells were crashing against the low tide rocks in predictable sets.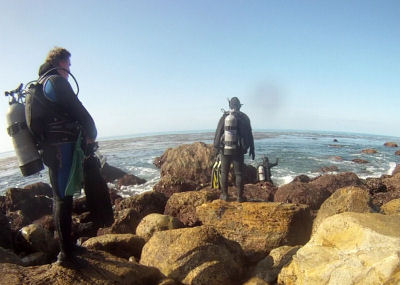 We took our time in getting out – and everyone made it without any problems.
We swam a little ways out and submerged.
Logged SCUBA Dive #491
Dove with Reverend Al, Randy, Ben and Alex
The Point, Terranea Resort, Palos Verdes, CA
In With: 2900 psi
Out With: 500 psi
Max depth: 58 feet
Waves: Some swells at the point, other surge.
Visibility: 10 feet or so
Water Temperature: 52 degrees
Air Temperature: 75 degrees
Total Bottom Time: 39 minutes
It was dark, but the 10 feet of visibility that we did have was clear.
However, for whatever reason, this is the only underwater picture that came out…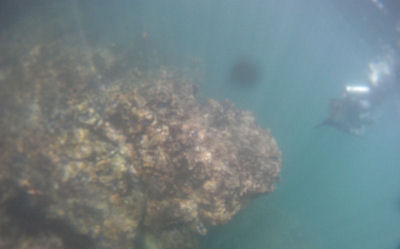 I took a lot of pictures, but only ended up with a few.
Maybe the camera wasn't on?
I don't think the pictures would have been spectacular anyway.
The statue at the pinnacle has a lot of growth on it now – I almost passed it, thinking it was a reef.
My new-to-me wetsuit was more buoyant than my last one, so I put some rocks in the pockets of my BCD jacket for extra weight.
It was cold; I should have worn my core warmer, too.
I followed the group until I got down to 500 psi and surfaced.
I was a hundred yards from the exit at the Cove, but the surface swim was easy.
It was low tide; coming in, I had to swim back out to take my fins off and walk in.
The rest soon followed, and all made perfect exits.
I apologized the Reverend Al for peeing in his wetsuit.
He was so disgusted that he let me keep it.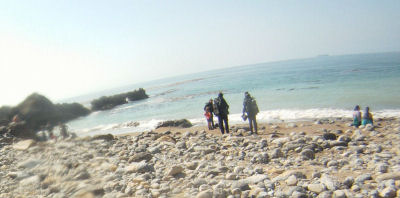 I like the sandy part of the beach now.
Debriefing was rather quick, and wrapped up by 11 AM.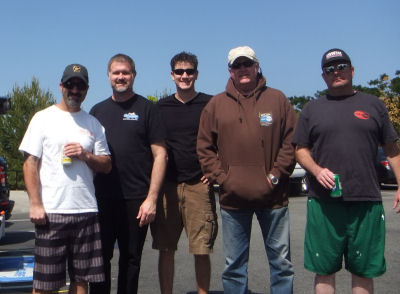 Today's crew – Randy, Ben, Alex, Reverend Al and Me.
Next week, I go on a secret non-diving two week mission.