February 1, 2015*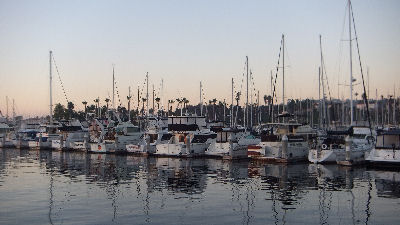 Once again, it's time for my yearly Super Bowl Dive on the Oil Rigs – the boat leaves at 7 AM and returns a little after noon, so you can catch the game.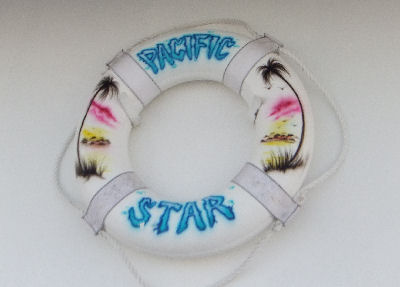 It was an extremely light boat, with only 11 divers on board; participants included Mike C. and his hot Polish girlfriend Kasia, Donna The Hot Biker Chick, Dan of Divevets and Carl.
I had two goals to accomplish – collect 10 scallops to bring to a Super Bowl Party and dial in on my new GoPro camera.
The guy I bought my GoPro from had lost the English instructions, so I still need to figure out how to work the camera.
I asked a few GoPro users for advice, but they are used to the newer ones.
Dan asked me, "Where did you find the very first GoPro to ever be made?"
EBay, or course!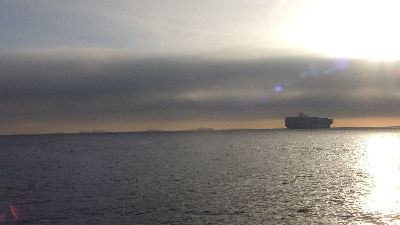 There is a labor dispute at the docks, so lines of ships anchor outside the harbor.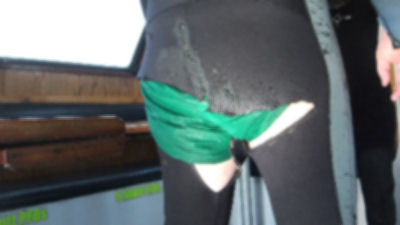 The rip in my wetsuit has gotten so terrifying, I was scared that I might get arrested for indecent exposure.
I need to come up with some money to buy a new wetsuit and some boots that fit; I have to shove socks in the heels so my fins won't slip off.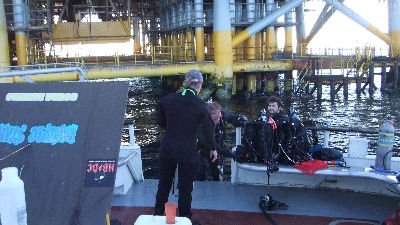 I was the second diver over.
I swam to underneath the oil rig and turned my camera on.
The LED display said "FUL."
I came to find out later that "FUL" means the card is full – so, no pictures from this dive.
I decided to just concentrate on getting scallops.
I submerged.
Logged SCUBA Dive #485
SoCal Buddy Diving/Solo Diving
Eureka Oil Rig, California, USA
In With: 2750 psi
Out With: 700 psi
Max depth: 124 feet
Waves: Some vertical chop
Visibility: 20-30 feet
Water Temperature: 58 degrees
Air Temperature: 72 degrees
Total Bottom Time: 20 minutes, or so
The Oil Rigs are sort of tricky to dive – Eureka is in 600 feet of water, so there is no bottom as a reference point.
You need to be very careful of how deep you go, because it is very easy to get very deep, very quick.
Also on this dive, there was a strange vertical swell – if you got too close above or below a beam, you could get thrown into it.
They had scraped the columns recently, so all the scallops were below 85 feet.
I quickly collected eight scallops to the delight of the surrounding fish.
Visibility was pretty good; I slowly made may way to the surface and made an uneventful journey back to the boat.
Our next dive was at the Elli and Ellen Oil Rigs… stay tuned!
*Post delayed due to the Super Bowl.
Comments Off

on Super Bowl Dive At The Eureka Oil Rig