January 24, 2015
Two weeks ago at this secret spot, the lobsters were so plentiful, divers were limiting on their first dive within ten minutes.
I grabbed a spot on the Island Diver for a scheduled Saturday night deep lobster dive.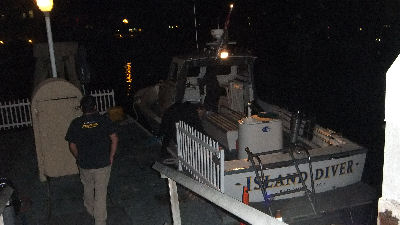 Kathy M. was the Dive Master; Donna The Hot Biker Chick, Famous Polish Diver Mirek, Mean Bob, Roger and Chris G. were the other divers.
I was planning on doing one dive, limiting quickly during the brief bottom time and returning with my first limit of the year.
We made a quick dart out to the secret spot.
I was diving dry.
I was debating whether I should go dry or wet; I really didn't want the distraction of a dry suit while lobster hunting.
However, my wet suit has such a large hole in the ass, and we were going deep, so dry it was.
Mirek was going to do one long technical dive, everyone else was sticking to recreational limits.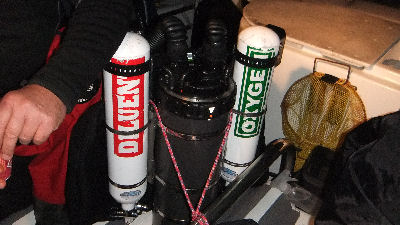 Mirek's rebreather.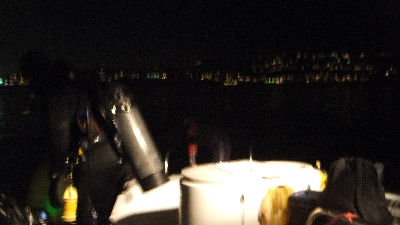 I was the first diver over board; I swam to the anchor and descended.
Logged SCUBA Dive #483
SoCal Buddy Diving/Solo Diving
Secret Location: 54 68 65 72 65 20 69 73 20 61 20 66 69 65 6c 64 20 6f 66 20 64 65 62 72 69 73 20 4e 6f 72 74 68 20 57 65 73 74 20 6f 66 20 61 20 61 20 77 6f 6d 61 6e 20 6e 61 6d 65 64 20 50 61 6c 61 77 61 6e 2e, Redondo Beach, CA, USA
In With: 2900 psi
Out With: 500 psi
Max depth: 112 feet
Waves: Pretty flat
Visibility: 10 feet
Water Temperature: 57 degrees
Air Temperature: 69 degrees
Total Bottom Time: 20 minutes, or so
Visibility sucked; I couldn't see further than ten feet, and it was silty.
There was some cool structure and a few bugs.
I grabbed a couple, but they were all short; I missed a few legal bugs.
At 110 feet, I didn't have that much time before going into deco.
I had no idea where the anchor chain was, and didn't want to get swept away by a potential current.
I slowly went to the surface without a safety stop.
I surfaced close to the boat and started to swim to the anchor chain.
"Where are you going?" the Captain yelled.
"I'm going back down for the safety stop I missed," I said.
"Are you OK?"
"Yes, I'm fine."
I went back down the chain and hung out for a few minutes at 20 feet.
I made it back onto the boat.
I was sure someone was going to come back with their limit; I must have just went to the wrong spot.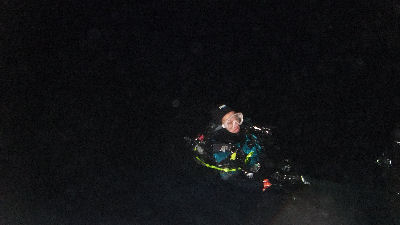 As divers returned, their bags were empty.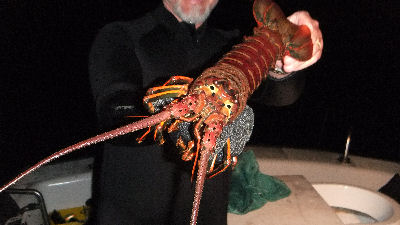 Roger was lucky enough to catch one bug.
Donna and Chis just went to the wreck, Roger caught one, Mean Bob and I got skunked.
Now, we were waiting for Mirek, who was on a rebreather, in a dry suit and being propelled by an electric scooter.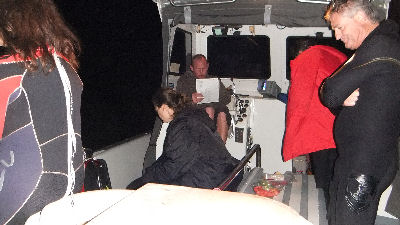 We were certain Mirek was going to limit; we waited.
After an hour and twenty minutes, we spotted a lighted bag in the far distance – we assumed it was Mirek.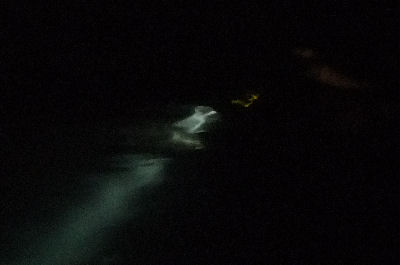 The boat pulled anchor and we picked him up.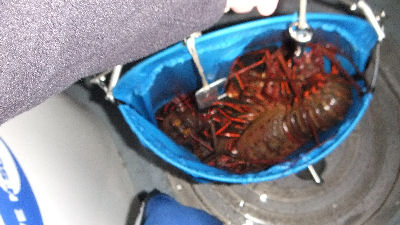 Forget checking if Mirek is OK, the first thing we checked was his game bag – and he had five lobsters.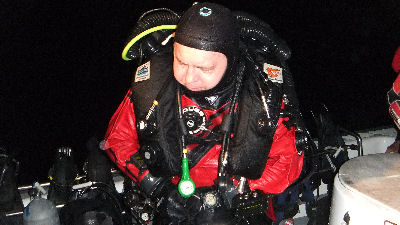 All the technical gear Mirek wore radiated machismo.
I said to Mirek, "You got five lobsters, and we only have one lobster between all the rest of us."
"That's because you guys suck at lobster hunting," Mirek said.
The neck seal on my dry suit was making my face turn red – Kathy the DM asked if I was OK and offered to give me Oxygen.
I appreciated the offer, but it was not necessary.
We debated on our second dive.