My old friend and original SCUBA diving instructor, Instructor Ed, called me a few days ago wanting to dive.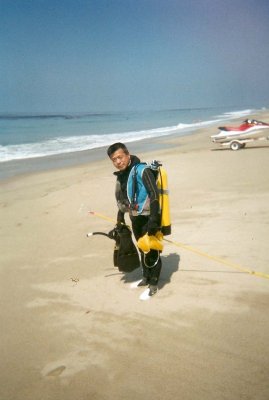 Ed in 2002.
He is now pretty much retired, but doesn't want to sit around and let his arteries harden.
He brought a potential future student with him by the name of Jo.
Sunday is usually my dive at Terranea Resort, however, Ed wanted an easier dive just to practice and make sure he still knew how to dive.
We decided on Veterans Park in Redondo Beach.
When I first began to dive, Redondo Beach was part of my training – diving Veterans Park and then heavy debriefing at the pier.
There's nothing like trying to relive the past – when I remember life as being better.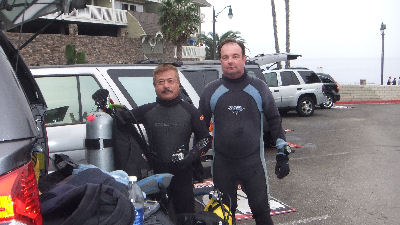 Instructor Ed and I get ready for our first dive together in many years.
I also needed to test my underwater housing that leaked a few weeks ago and ruined my camera.
I am now down to my reserve camera that I bought for a backup on dive trips.
I got a lot of compliments and comments on my custom wetsuit…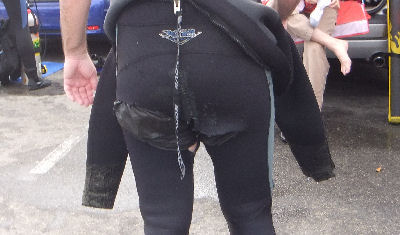 I have a rip in my wetsuit to allow pee to escape.
I don't normally have people take pictures of my butt, but I just wanted to see how bad the rip really is.
At least my swim trunks sort of match my wet suit.
The waves were sort of annoying, but manageable; we were off.
I made it out, but Ed apparently dropped his snorkel upon entry.
I swam back into the surf zone in a futile attempt to find it.
Ed waved me on; I swam back out and waited for him.
Ed entered and immediately went under.
I waited, and waited… 10 minutes later I realized that the reason I learned to solo dive was because of Ed.
I didn't see any bodies floating around and nobody was yelling for help, so I continued the dive on my own.
Logged SCUBA Dive #477
SoCal Buddy Diving With Instructor Ed; a.k.a. Solo Diving
Veterans Park, Redondo Beach, CA, USA
In With: 3000 psi
Out With: 1000 psi
Max depth: 100 feet
Waves: Some annoying waves, but good once out
Visibility: 15-18 feet
Water Temperature: 68 degrees
Air Temperature: 72 degrees
Total Bottom Time: 30 minutes
I swam West and down the canyon; I pressed the buttons on my camera housing – all was fine.
I got as deep as 100 feet and then turned around.
I had thoroughly washed and resealed my camera housing prior to this dive – it was obvious to me that my camera got flooded due to my lack of housing maintenance.
I made a perfect exit and once ashore I saw Instructor Ed.
He was not comfortable surface swimming without a snorkel, so he just went under and continued on his own.
I wish he would have told me first.
He also forgot Vaseline to oil down his mustache, so his mask was constantly leaking.
The waves started to pick up.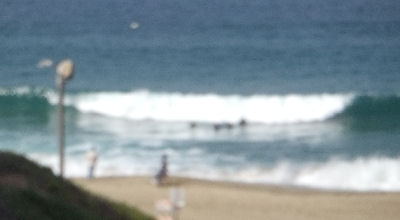 I saw a rouge wave toss an exiting class.
I saw a lot of people who I have gotten to know over the years, but haven't seen in a while because I don't dive here regularly.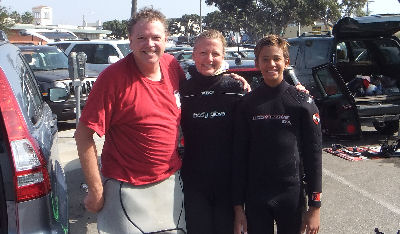 Joe R. and his diving crew – Penni and Sam.
I offered Joe and his group a beer, but Sam is on the wagon, so they all declined in a token of solidarity.
Here is a shout out – Hi Joe, Penni and Sam!
I now officially have seven readers of this blog!
Now, it was on to debrief at Quality Seafood on the pier.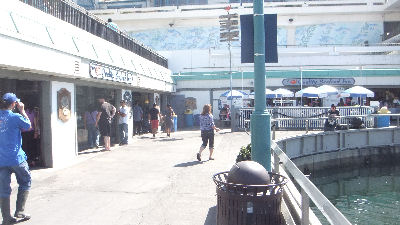 Quality Sea Food at the Redondo Beach Pier.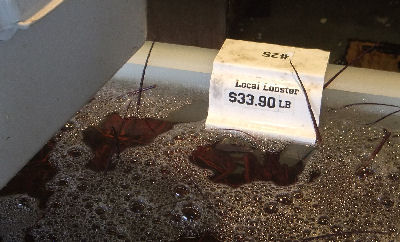 Local lobster is $33.90 a pound!
We debriefed with local crab, sea snails, mussels and oysters… oh, and beer.
We haven't been here for a long time and things have certainly changed.
You now have to pay in advance to park, and the beer prices at Quality Seafood are now outrageous.
Back in the day, a large bottle of Pacifico went for $2.50; since the founder Pete retired, the price is now $10 a bottle.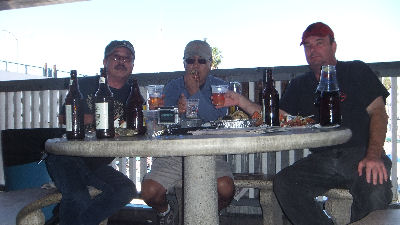 Instructor Ed, Jo and me.
When we used to hang out there years ago, it was predominantly a Mexican crowd, complete with a mariachi band that would travel from table to table.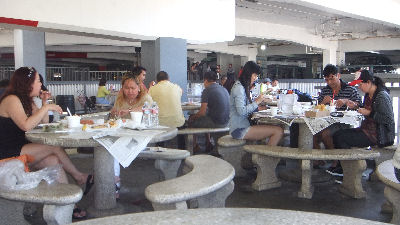 Now, it seems like a younger crowd of European and Asian descent.
Another perfect day of trying to relive the past!