It's a tradition – Opening Night of California Lobster Season.
This is the night where most first time lobster divers, and even experienced lobster divers, all meet to try and get their one night a year fill of bug catching.
I had a spot on the same boat as I did in a couple of previous years…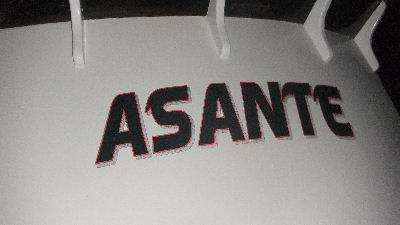 The Asante – a 40 foot 12 pack diving boat out of Ports O' Call in San Pedro.
The boat had nine experienced divers on board – Yours Truly, Tim, Eric F., Donna The Hot Biker Chick, Reverend Al, Chris I, Chris II, Nice Bob and Chipper.
Like all previous Opening Nights, this was a "You better know what the fuck you're doing, because there's going to be nobody around to help you" type of dive – unless you can manage to make it to the surface on your own.
You could feel the machismo in the air.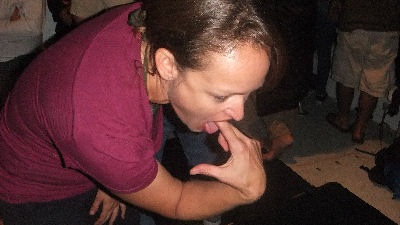 Donna finds out that I am on the boat.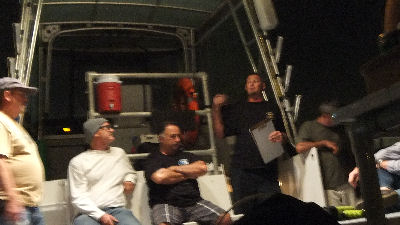 The Captain gave a briefing – the problem was, the swells were up.
He would try and make it to Catalina, but if it was too rough, he would turn back and we would dive Palos Verdes.
With the massive swells that have rearranged the rocky coast of Palos Verdes, I doubted that the lobsters would be shallow at the beginning of this season and I couldn't see us getting that deep there.
I was prepared to get skunked – I had already packed my Harakiri sword.
We set off a little after nine o'clock in the evening.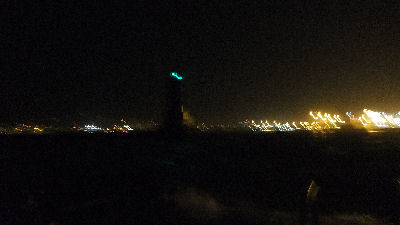 It was a rough ride after leaving the harbor, but we kept going.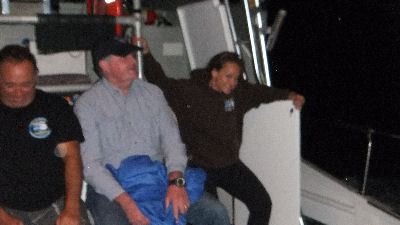 We didn't get soaking wet like previous years, but the ride made us hang on for dear life – we kept going all the way to the island.
Shortly after midnight, the Asante anchored in a secret location in 45 feet of water.
I was the first one off the boat – I think.
I swam to the anchor line and submerged.
Logged SCUBA Dive #474
Solo Diving
Secret Location: 54 68 65 72 65 20 69 73 20 61 20 63 6f 76 65 20 74 68 61 74 20 62 65 6c 6f 6e 67 73 20 74 6f 20 57 68 69 74 65 79 2e – Catalina Island
In With: 3000 psi
Out With: 200 psi
Max depth: 102 feet
Waves: Pretty flat once we were there
Visibility: 10 to 15 feet
Water Temperature: 68 degrees with a thermocline at 80 feet
Air Temperature: 70 degrees
Total Bottom Time: 26 minutes
I decided to swim towards the island and check bug population.
That was a big mistake- sand, more sand and a few lobsters the size of shrimp.
I went deeper, to 60 feet and found some sea grass.
I looked and looked – nothing.
I continued on, and at 80 feet I felt the water temperature drop about 10 degrees and came upon a piece of wreckage.
I have no idea what the wreckage was, I just cared that there were bugs on it.
I spotted three terrorist lobsters and went to pin the biggest one – BAM!
Got it!
Finally, I am not going to get skunked!
I could barely fit my hand around the carapace, so there was no need to measure; I dropped my light that was in my other hand to open my bag, and the terrorist lobster began flapping its tail and flew out of my hand!
FUCK! REALLY?
I went deeper and started to see a lot of shorts around some giant kelp.
I spotted two nice sized lobsters at 90 feet, but they were hiding under some debris.
Hmmm… I examined the debris and noticed it was just some sort of thin metal sheet.
Using my white belt Jiu Jitsu skills, I lifted the metal sheet up to the amazement of the stunned bugs.
Before they could react, I pinned the biggest one and bagged it.
I looked for the other one, but it did not stick around.
By this time, I had 600 psi left and was at 100 feet – I was not into deco, so I headed towards the surface aiming for the direction of the boat – slowly, but with no safety stop.
I was pretty close to the boat and made a short swim back.
When the Captain went to refill my tank, he mentioned, "You know how close you came to running out of air?"
"Yes, that's why I came back," I said.
Most got skunked – out of nine divers, three had a total of six lobsters.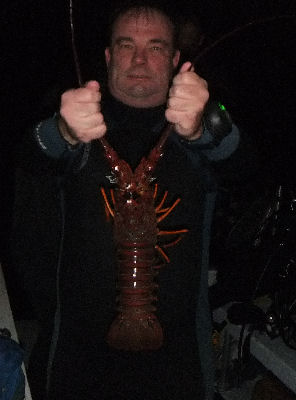 My first bug of the season!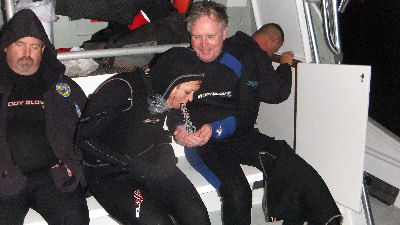 Reverend Al comforted Donna when she started to get sea sick.
Details of Dives two and three will be posted after I get some sleep – STAY TUNED!
Comments Off

on Opening Night Of Lobster Season! Dive #1