For the last several weeks, huge waves have been battering the coast from two hurricanes in Mexico.
I had checked on conditions two weeks ago, and the dive at Terranea Resort was quickly cancelled.
The only diving around was at Veterans Park – so, I went home.
Today is another day, and the swell maps gave promise to some good diving.
Nice Bob and Mike had checked out the conditions and reported, "The Point is do-able as long as you time it right."
As long as I time it right?
Dennis G. asked if I would join him for a dive at the cove.
I accepted.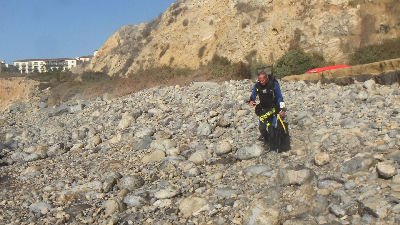 Huge waves rearranged the rocky beach, pushing many rocks further up, and taking out the staircase.
I also heard that the path to the Point was washed out.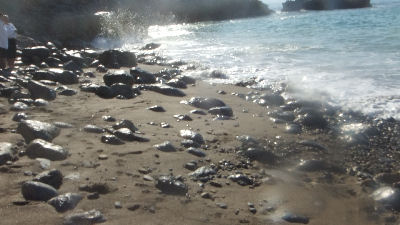 There is now a great sandy beach for entry and exit.
We made an easy entrance and swam out.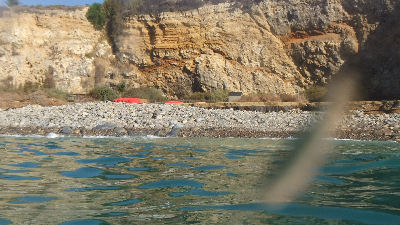 The new face of the Cove.
We swam to the rocky finger off of Pigeon Shit Cave and submerged.
Logged SCUBA Dive #473
Dove with Dennis G.
The Cove off of Terranea Resort
In With: 3000 psi
Out With: 750 psi
Max depth: 42 feet
Waves: Pretty flat
Visibility: 10 to 15 feet
Water Temperature: 64 degrees
Air Temperature: 85 degrees
Total Bottom Time: 44 minutes
Visibility sort of sucked – like five feet initially, until we got to 120 reef where it opened up to 10 to 15 feet.
I looked at my camera and noticed a few drops of water inside may case.
Hmm, it is a little warm for condensation… fuck, my camera housing was flooding!
The camera was already wet, so turning back would have been useless.
We surfaced, I opened my camera case, emptied the water and resealed it; that didn't help any.
We circled around 120 reef; Dennis broke open several sea urchins to feed the fish.
It's nice to see the fish coming back – it was getting real barren a couple of years ago.
After 35 minutes, we started heading back.
The water was pretty warm except for a strange cold blast that hit us as we were coming in; it only lasted a few moments.
There was a group of people at the Cove cheering a swimmer that was approaching the beach.
"You can do it! Go! Go! You can do it!," they were cheering.
A large boat followed; there was a kayaker beside the swimmer.
We came to find out that the guy had swam all the way from Catalina and had been swimming for the last 11 hours.
Well, if he started from Catalina and made it this far, I think he's going to make it.
He crawled up on the beach and made it to the dry rocks.
And to top that off, he was 47 years old and fat – I have hope for myself now.
Thank you Chipper for the following photograph: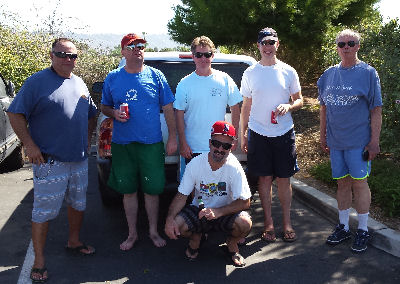 Today's diving group – Randy is kneeling, from the left is Chipper, yours truly, Mike, Eric and Dennis G.
I dried my camera on the dashboard of my truck during debriefing.
A couple of people almost got into a fight over parking – I still prefer watching M.M.A. though.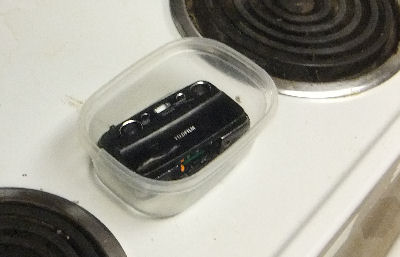 At home, I washed my camera in 90% alcohol to wash the salt residue out before putting it in instant rice to leach all the moister out.
The battery and memory card is still good; if my camera works again, it will be a miracle.
This is the 3D camera that I have used to document my diving for the last three years – I'm sad to see the probable end to it.