July 12, 2014
Back on the boat from my first dive, I took off my BCD and sat down.
I started to get a little sick – like dizzy – and it felt like my dry suit was constricting.
Then I figured out, yes, my dry suit is constricting because the release valve is open and I was getting dizzy because the boat was tossing up and down in the swells.
I unzipped my dry suit and stared at the horizon while repeating the mantra, "I am macho, to puke is to be non-macho."
I felt better after a while.
Captain Jeff of the Pacific Swann provided chicken noodle soup and Mike C. provided smoked salmon to eat while we did our surface interval.
The boat motored over and moored onto the marker for the Ruby E.
After 45 minutes, divers were heading back into the water – Donna and I were the first two over.
I felt cold water leaking into my dry suit.
I gave my zipper a quick jerk to seal it and that stopped the leak.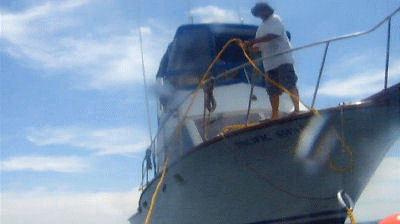 We swam to the bow line and descended.
Logged SCUBA Dive #470
Dove with Donna The Hot Biker Chick
The Ruby E Wreck
San Diego, CA USA
In With: 3100 psi
Out With: 600 psi
Max depth: 83 feet
Waves: Choppy on the surface
Visibility: 10 to 15 feet
Water Temperature: 54 degrees
Air Temperature: 78 degrees
Total Bottom Time: 32 minutes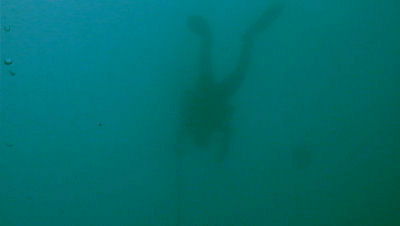 Donna going down.
I haven't dove the Ruby E. for probably seven or eight years – a lot has changed.
There are no solid walls above the deck and it looks like the hull has partially collapsed.
Donna and I ventured inside…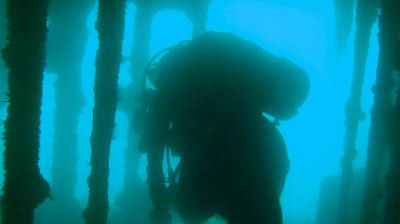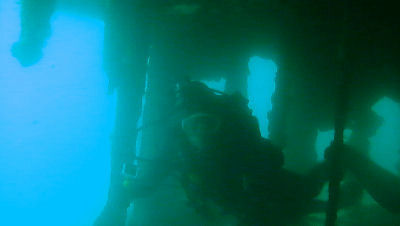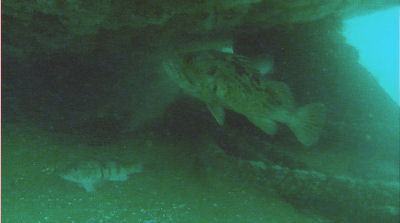 Fish under the stern of the Ruby E.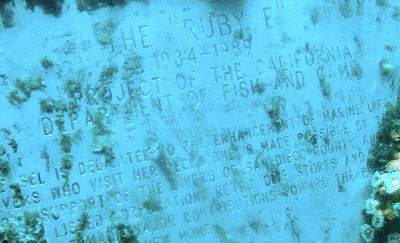 The Ruby E – 1934 – 1989
Apparently, the Ruby E was originally a smuggler's boat until being turned into a Coast Guard vessel.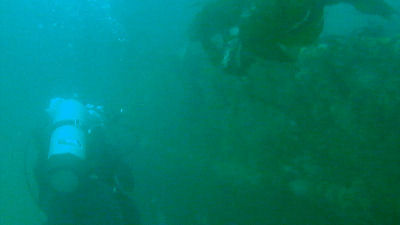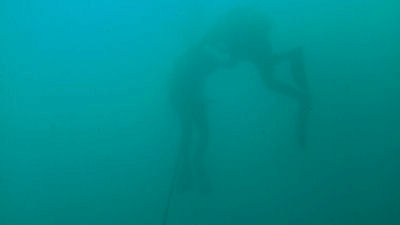 Off Gassing over the Ruby E.
In a way, I like diving this wreck better than the Yukon because it's much smaller and less intimidating.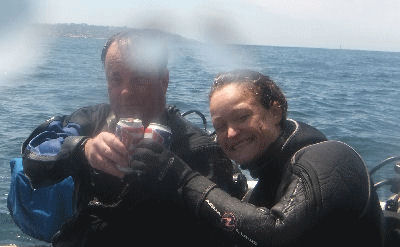 Me and my diving buddy, Donna The Hot Biker Chick.
The Pacific Swann is a comfortable six-pack diving boat run by Captain Jeff.
Soup, snacks, water, weights and completely filled tanks were available for the excursion – he did the best to make our trip as enjoyable as possible, and he succeeded.
However, unless you enjoy diesel exhaust, don't sit at the rear of the boat while the engines are on – a feature that heavy smokers should appreciate.
Apparently, Captain Jeff has a real job during the week and the Pacific Swann is his "weekend warrior" project.
Bob and I went directly back home after the boat docked; his excellent driving ability to weave in and out of slow moving traffic got us back within two hours.