July 12, 2014
I was offered a deal that I could not refuse – the last spot on a six-pack diving boat on a trip to the Yukon and Ruby E wrecks.
Financing and a ride to San Diego was arranged thanks to Mean Bob of Divevets.
Bob was due to pick me up at 6 AM; I got news that a very close relative has been diagnosed with ALS (Lou Gehrig's Disease) at 5:30 AM.
There was nothing I could do about it, and if I cancelled at the last minute, all it would do was free me up for an early drinking binge.
Bob picked me up four minutes early and we made the hour and a half drive to San Diego with no issues.
Donna the Hot Biker Chick was surprised to see me – we had kept me going a secret as we were afraid she would have cancelled.
The Pacific Swann is a fairly small, but comfortable six-pack diving boat operated by a cool guy named Jeff.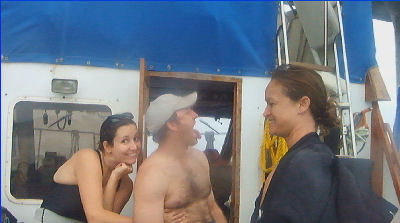 Kasia, Mike C and Donna The Hot Biker Chick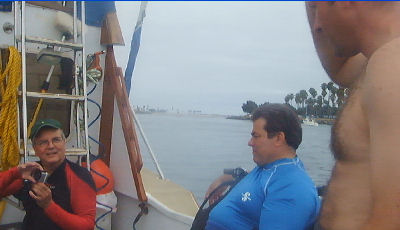 Dan and Mean Bob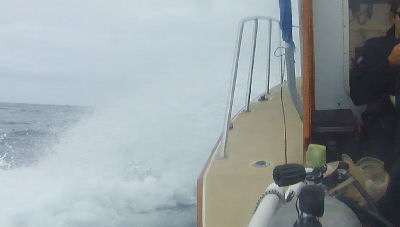 Rough seas and big swells made the trip to the wreck pretty macho – the non-macho became seasick.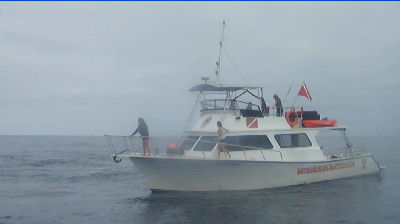 Another boat was already on one of the markers.
I was the first one off, Donna the second; we were getting sort of impatient waiting on the others, so we decided to head down first.
Logged SCUBA Dive #469
Dove with Donna The Hot Biker Chick
The Yukon Wreck
San Diego, CA USA
In With: 3100 psi
Out With: 700 psi
Max depth: 98 feet
Waves: Choppy on the surface
Visibility: 15 to 20 feet
Water Temperature: 54 degrees
Air Temperature: 75 degrees
Total Bottom Time: 30 minutes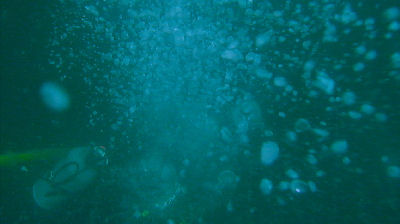 Heading down the line.
Visibility wasn't that great, and it was dark, but we could see.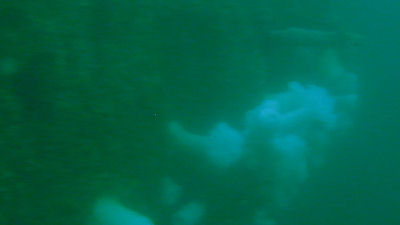 White sea anemones?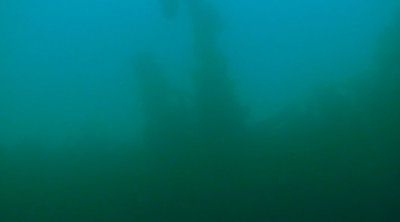 Looking up.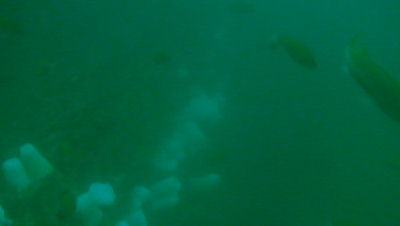 Fish along the hull.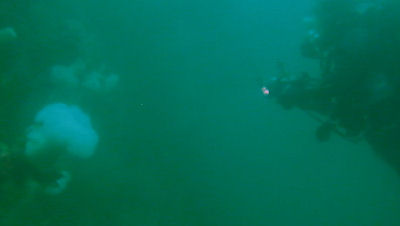 Donna the Hot Biker Chick examines the sea growth.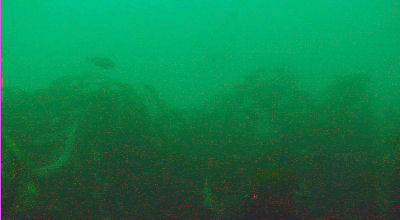 Kelp along the top deck.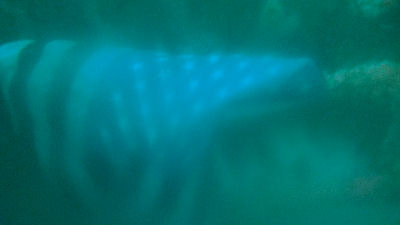 A Marine died on this wreck a few months ago – an American and Marine flag had been placed there in memory.
Amazingly, we found the mooring line that we went down on, and made a slow return to the surface.

Coming soon! Our next dive on the Ruby E.