Easter Day Diving Off The Bottom Scratcher Boat
Lion's Head, Catalina, CA
Solo Diving
In With: 2700 psi
Out With: 500 psi
Max depth: 100 feet and some change
Waves: 0
Visibility: 35 feet
Water Temperature: Cold at 100 feet
Total Bottom Time: 45 minutes
After an hour surface interval, I did my second dive, bringing my camera.
I went back to look for a giant sheep crab that I had seen.
I didn't find it, but I had gotten so deep, that I decided to hit 100 feet.
I posed a few times with my gauges.
My camera had problems working; the flash didn't work sometimes and I couldn't hear the camera advance.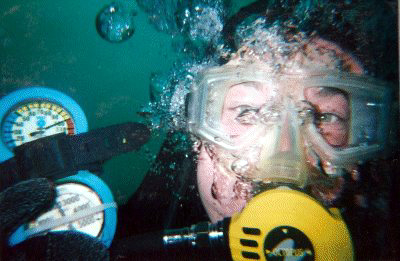 But after a few tries, I took a self portrait of me at 100 feet.
I'm soooo macho!
I was sort of pissed; I paid $40 for the camera and housing and after two years the thing is starting to go on me!
I fumbled around with my camera for a few minutes and then headed up to shallower depth.
I saw a bat ray or a shovel nosed guitarfish that in my narced state, thought was a diver in trouble.
It just looked surreal, like a scene from a weird movie – a diver struggling in kelp turns into a fish!
It was distant and I really do need glasses, but it looked like a diver screaming for help underwater – really weird!
Staying at 40 to 50 feet for the rest of the dive, I squeezed the rest of my air to a 45-minute total dive.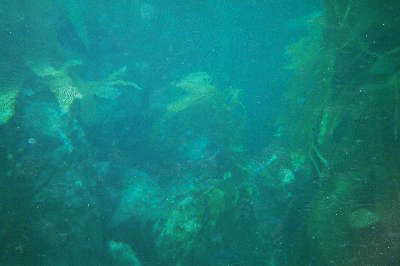 Two divers from Kansas ended up getting caught in the current; they were thrown a current line from the boat and hauled in with the help of several divers on board.
Bubba the chase boat wasn't feeling well today.
Comments Off

on Logged Dive #109, Lion's Head, Catalina, CA