December 14, 2013
I have had a really bad cold for the last couple of weeks; just as I think I'm shaking it, the congestion comes back.
I didn't want to miss such a unique event as the Dive N Surf Underwater Christmas Tree Dive and Toy Drive, so I had a hearty breakfast of water, coffee and a handful of Sudafeds.
I arrived promptly at 8 AM to a parking lot full of divers – Dive N Surf, Divevets and Pacific Wilderness were all represented, but with seemingly separate agendas.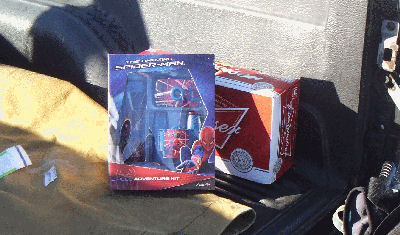 My donations to charity.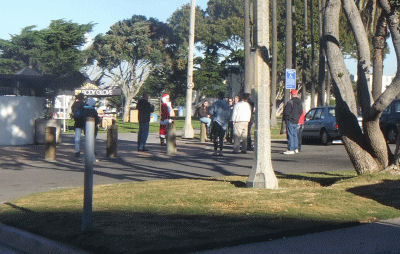 They held the dive briefing a little late; I felt the Sudafed wearing off as I blew snot strands on the pavement.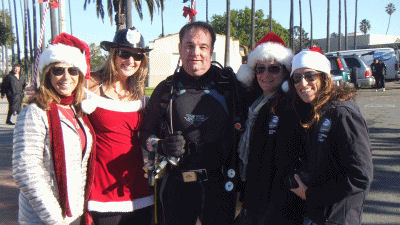 Me with some of the hot babes of Dive N Surf.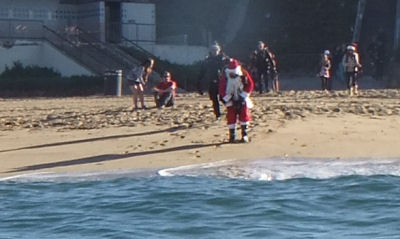 Santa enters the water – I wonder if she knows how heavy that suit is going to be when she gets out?
I made an easy entrance, and swam to 20 feet of water before submerging.
I pinched my nose as the water pressure squeezed my eardrums.
Logged SCUBA Dive #458
Solo Diving/SoCal Buddy Diving
Veterans Park
Redondo Beach, CA, USA
In With: 2800 psi
Out With: 2100 psi
Max depth: 60 feet
Waves: Pretty damn flat
Visibility: 15-20 feet
Water Temperature: 61 degrees
Air Temperature: 64 degrees
Total Bottom Time: 20 minutes, if that
I rested in 20 feet as my ears slowly equalized.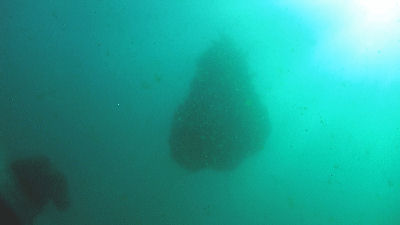 The underwater Christmas tree that was placed earlier in the morning.
Basically, divers decorate the tree with fruit strung with hemp string before they have their picture taken with Santa Claus.
I wanted to make a quick dash down the canyon before they were ready to start taking pictures.
I went to the shelf and down… FUCK MY EARS HURT LIKE HELL!
As I was equalizing, I wondered which was going to pop first – my ears, or my eyes out of the sockets?
After a few minutes I was fine; I looked up the canyon wall and took this picture…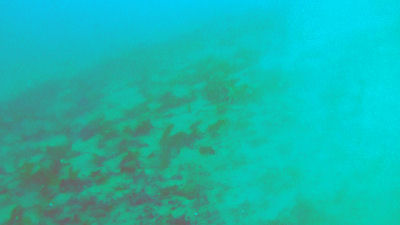 I noticed a drop of water pass by my view finder.
"Wow, I'm getting a lot of condensation for such warm water," I thought.
I tilted my camera case and noticed about 1/8th of an inch of water in the case.
My camera case is leaking!
FUCK!
I shut the camera off and started up the canyon, to find out that I now got to enjoy the dizzying affects of reverse blockage.
I swam past the Christmas tree – I now had 1/4 inch of water in my case.
I surfaced and swam in, tripping on the sand step as I got out.
I handed my camera to a Divemaster, who opened the case and emptied the water.
"Sorry dude, I think your camera is screwed," a spectator said.
Jimmy The Bagman was nice enough to run home and get some rubbing alcohol and a bag of rice.
My camera went into Emergency Dry Mode, or more commonly known as E.D.M.
Dominic, a famous ex-Divemaster made a parking lot appearance.
He hasn't dove in 18 months and has been told to never dive again.
Dominic was run over on the freeway while helping a downed motorcyclist; he went into a comma for six weeks while a section of his skull was removed to let his brain swelling go down.
After hearing all that, I was not going to complain about my camera housing leaking.
After an hour and a half of letting my camera bake in a bag of rice on my truck's dashboard, I attempted to power it on.
It still works!
Holy crap! My camera, is like the "AK-47" of cameras – it has been dropped several times, got rained on constantly in Poland and has now survived a partial camera housing flood!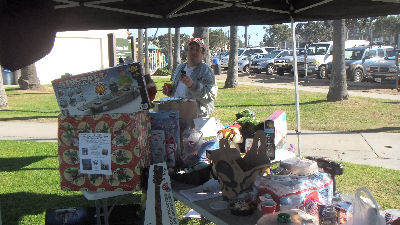 The toys pile up.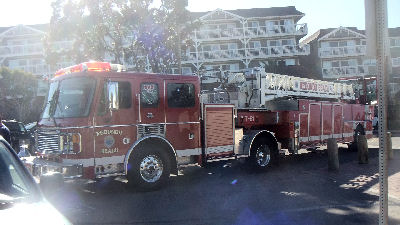 The Fire Department arrives to pick up the toys.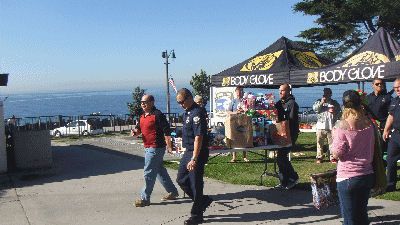 They scored this year – last year, I heard was pretty lame.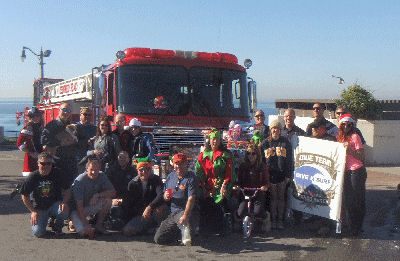 A group shot of basically everyone in the parking lot.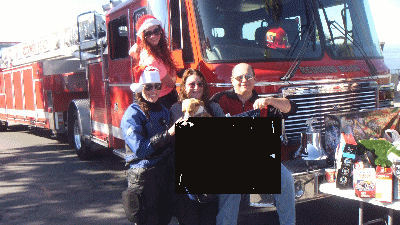 Mirek gets all the chicks.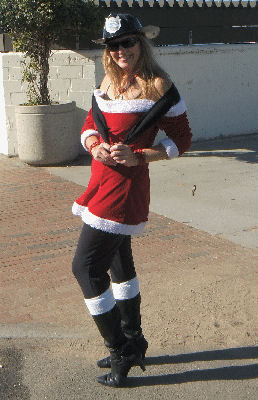 Oh man, I will dive anywhere this beautiful woman wants me to!
And so comes an end to another Southern California diving event!