November 17, 2013
My sister is in town from Reno and I have some birthday celebrations to attend in Palos Verdes, so there's nothing like a morning dive to combat the upcoming stress.
I arrived at 8:20 AM to find everyone almost geared up.
Apparently, Reverend Al trusted the Pacific Wilderness guys who had already checked out the conditions and went straight to gearing up
"They say it looks great," Al said.
I hurried and geared up.
Reverend Al, Eric and myself walked to The Point, where it was really high tide with some rollers coming in.
I dawned my fins and waited for a roller to come in so I could ride it out.
I was sitting on a rock, snorkel in my mouth, when a roller swooshed in – I leaped off into the receding water, to land on my stomach, grounded on a boulder.
I looked up to see an even bigger wave coming at me.
"Oh, shit!"
It picked me up, slammed me against another rock and rolled me around until I could ride the water out.
"You picked the worst time to get in the water," Eric said.
We swam over the pinnacle and dropped.
Logged SCUBA Dive #457
Dove With Reverend Al and Eric
Terranea Resort, Off The Point
Rancho Palos Verdes, CA, USA
In With: 3000 psi
Out With: 600 psi
Max depth: 64 feet
Waves: Surface chop, some rollers
Visibility: 15 feet at best
Water Temperature: 61 degrees
Air Temperature: 72 degrees
Total Bottom Time: 59 minutes or so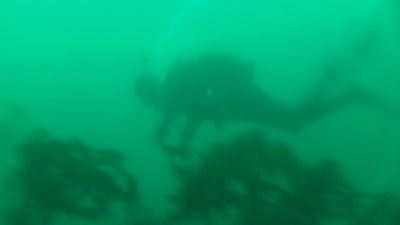 Visibility has declined since last week, so I'll keep the underwater photos to a minimum.
We spotted a few lobsters under the rocks – this is now a marine preserve, and I think a lot of the lobsters have moved here seeking sanctuary.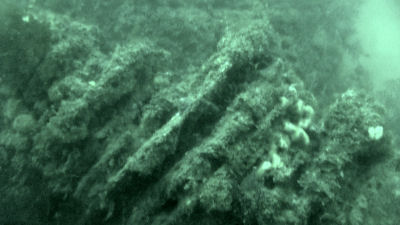 Along certain reefs, there's an interesting "layered" structure to them.
We also noticed a lot of fish, including male Sheephead, that had disappeared before the fishing ban.
I was diving with an Aluminum 80, Reverend Al had a steal 100 – he handed me his auxiliary regulator when I was down to 600 psi, and I continued my dive, holding onto his BCD and breathing off his tank.
We surfaced just outside the cove; Al had 450 psi left.
I think a big problem is that I need some maintenance on my gear – Eric noticed I had leaks coming out of my first stage and another leak out of my console – I have to take it in for service.
There were some rollers in the cove – by far, it wasn't the scariest exit that I've ever made, but it was not as easy as I was hoping.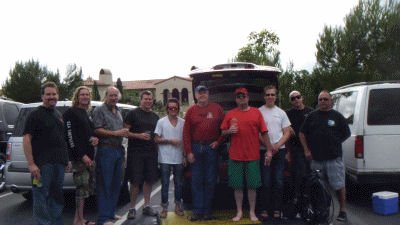 Sunday's Group.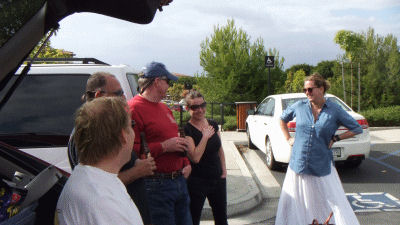 My sister Kate and her friend Tina joined the debriefing.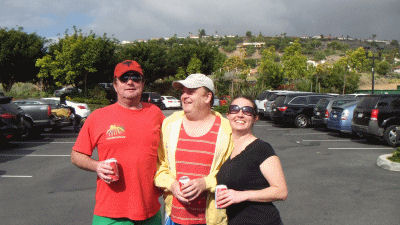 A group shot with my siblings – Me, Professional Debriefer Paul and Non-Diver Kate.
Ever wonder why your car doesn't get shit on by pigeons when you're at Terranea Resort?
It's because the Falcon Man chases then away…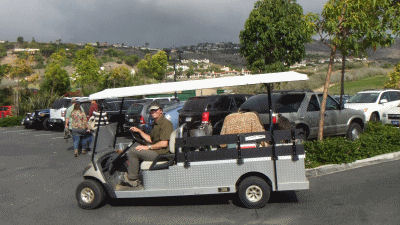 The Falcon Guy.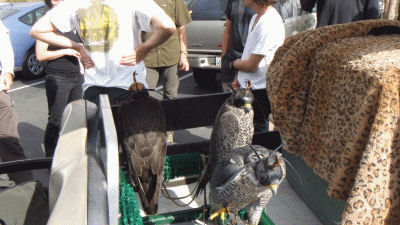 …and his falcons.
Debriefing continued until 1 PM, with diving stories and a Pacific Wilderness rant against my Luxfer Aluminum tanks from the 1980s.
"Those things could explode and hurt or kill someone," I was warned.
Tank replacement is on my list.