October 2, 2013
After a successful morning on "Opening Night," I was offered a spot on the Island Diver out of Rocky Point, in Redondo Beach.
Tonight's participants were Kathy K, Kathy M, Claudette, the famous diver Bill Holzer, Divevet's Dan, Chris G., Mirek and myself; in charge of the boat was Captain Taras.
I was begged to go; I think people were genuinely expecting me to show them some of my secret lobster hunting techniques.
The boat left around 7:30 PM, and after a short ride, we were in "the secret area."
For the next 20 minutes, the boat slowly circled, stopped, spun around, sped up, circled… over and over.
I thought that they were being very careful about where they wanted to drop us.
This was a dive around 80 feet; this area, and how deep people were catching the big ones added up to a good possibility that this was going to be a great lobster spot tonight.
We were told, "Go down the anchor line and head East to the structure."
I descended down the anchor line and headed East.
Logged SCUBA Dive #451
Solo Diving/SoCal Buddy Diving
Secret Location: 57 65 20 77 65 72 65 20 73 75 70 70 6f 73 65 20 74 6f 20 62 65 20 61 74 20 74 68 65 20 66 61 72 6d 20 74 68 61 74 20 67 72 6f 77 73 20 70 69 70 65 73 2c 20 62 75 74 20 74 68 65 20 43 61 70 74 61 69 6e 20 66 75 63 6b 65 64 20 75 70 20 61 6e 64 20 64 72 6f 70 70 65 64 20 75 73 20 31 30 30 30 20 66 65 65 74 20 53 6f 75 74 68 2e
Redondo Beach, CA, USA
In With: 3000 psi
Out With: 1000 psi
Max depth: 82 feet
Waves: Slightly choppy
Visibility: 15 feet
Water Temperature: 60 degrees
Air Temperature: 74 degrees
Total Bottom Time: 20 minutes or so
Hmmm… where is the structure?
There was nothing but sand.
I kept going until I found an old tire, just laying on the bottom.
OK, the structure must be around here; I kept going.
I saw some sea feathers, a yellow crab, a few shrimp and sand… a lot of sand.
And then… even more sand!
I headed North, then went South, and then I did a circle… where the fuck is this "structure" that is suppose to be here?
I came across some strange metal box with growth on it, and then more sand.
Wow, this sucked!
I'm at 80 feet and I thought "Fuck this, I'm getting back to the boat so I can start my surface interval; this dive is a waste of time!"
I slowly surfaced and came up about 50 yards from the boat; I swam back.
I was the first one over and the first one back.
The first thing I said to the Captain was, "If someone comes back with anything, I will be surprised."
Chris made it back and then Dan.
Both had the same question – "Did anyone see any structure down there?"
"Nope."
The girls made it back; Kathy M. said, "That was a great dive, it was such pretty sand – I really couldn't get enough of that sand."
Seven divers, all skunked, and all thinking, "How the fuck did we get here, and why are we diving here?"
We were waiting on Mirek.
Mirek usually doesn't use quantity of air or bottom time to judge the length of his lobster dives – when his bag is full, he returns.
We were a little concerned, but several minutes later, Mirek surfaced about 50 yards away.
The first thing out of his mouth upon climing back on to the boat was, "Kurwa!" – The equivalent of "Fuck" or "Bitch" in Polish.
He found some boulders and one legal lobster – the only lobster on this boat.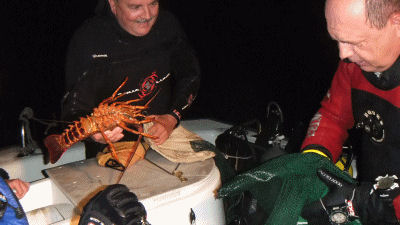 Dan holds Mirek's lobster to remind him of what one looks like.
We came to find out later, that the Captain had anchored about 1,000 feet away from the GPS coordinates that were given to him, and Chris G. didn't check them when we arrived.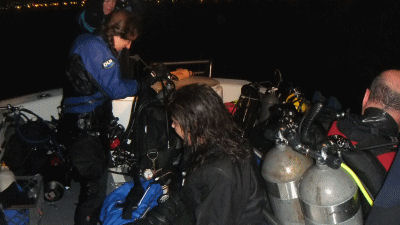 On to the next one…
Comments Off

on The Most Worthless Lobster Dive Ever! Seriously!