September 28, 2013
Here is is, once again – the beginning of the California Lobster Season!
"Opening Night" actually begins at midnight, so it's really "Opening Morning" – I was on a privately chartered 10 pack diving boat, currently named Asante (Previously named The Sea Bass).
The boat is still out of San Pedro.
We left at 9 PM, for the two hour ride over to a secret spot off of Catalina Island.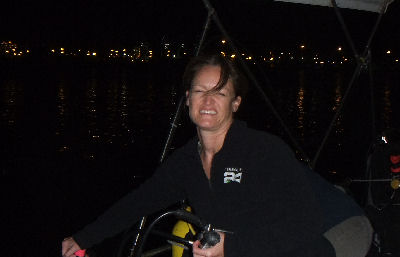 Donna The Hot Biker Chick was so happy to see I was on this boat.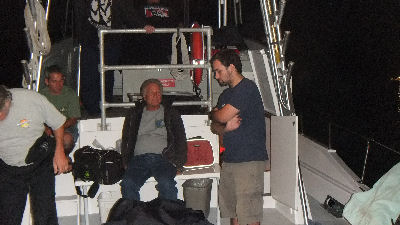 World famous diver Bill Holzer joined us.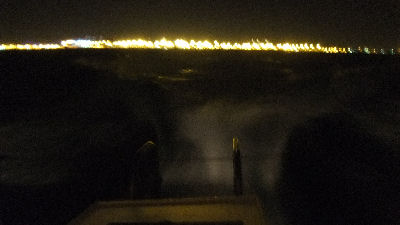 The lights of the harbor got smaller, as the ride got bumpier.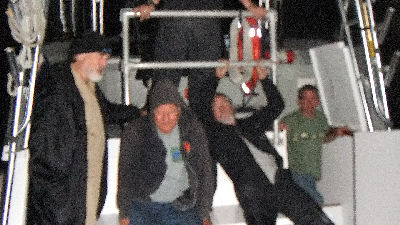 Some people held on for dear life.
At about 11:30 PM, the boat stopped; we were at our secret spot.
The Captain gave the dive briefing, "We are anchored in 40 feet of water, over sand… the lobsters should be in 40 to 70 feet of water either in the sand, or around the kelp…"
We're over sand?
"Where's the rocks and reefs?" someone asked.
"They're way over there…somewhere," The Captain said.
We're over sand and kelp?
Crap.
I jumped in, swam to the anchor line and submerged.
Logged SCUBA Dive #449
Solo Diving/SoCAl Buddy Diving
Secret Location: 41 73 6b 20 66 6f 72 20 54 6f 72 67 75 74 20 61 74 20 74 68 65 20 73 70 72 69 6e 67 20 73 74 6f 72 65 2e
Catalina Island, CA, USA
In With: 3000 psi
Out With: 500 psi
Max depth: 74 feet
Waves: Flat
Visibility: 20 feet
Water Temperature: 62 degrees
Air Temperature: 71 degrees
Total Bottom Time: 35 minutes or so
I had a hard time keeping my fins on – my last few dives were in dry suits, with bigger shoes – my spring straps were way lose, and it felt like I was going to kick them off.
I kept going, carefully… I kept thinking, this dive goes against everything that I've been taught for opening night; deeper than 40 feet and over sand and kelp just seemed so wrong.
At 50 feet, I spotted one!
I didn't want to get skunked, and I thought I was lucky to even see a bug.
I went for the pin, and that fucking bug shot from underneath me, so quick, I just grabbed a hand full of sand.
At 60 feet, I spotted one, no two… wait, three bugs!
Two were legal, the third I wasn't sure about.
I went for the pin on the largest one; it was like grabbing a Fosters Beer can!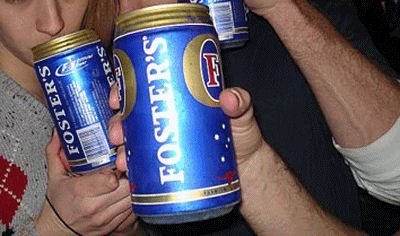 I put the bug in the bag, looked over, and the other two were still there.
BAM!
Second lobster scored!
Within 15 minutes I collected five bugs between 60 and 70 feet – all were munching on squid egg sacks, and they sometimes didn't give a shit about my light.
I should limited on this dive, but I missed a few good pins either due to my own stupidity, or how the lobster was positioned.
I made it back to the anchor line by following the divers who were coming down the line.
I was the first diver back.
Eric F. and Bill H. made it back shortly after; both had limited…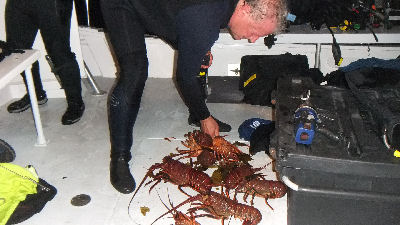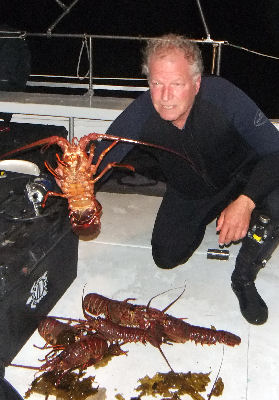 Man, I was afraid that I would be the only one who didn't limit on the first dive.
How embarrassing!
As the remaining divers made it back, some were not as lucky.
A couple got skunked, others had two or three bugs.
There was one guy on the boat with a mixed gas rebreather who didn't get anything on the first dive – I'm guessing he was too busy fucking around with his rebreather to catch any bugs.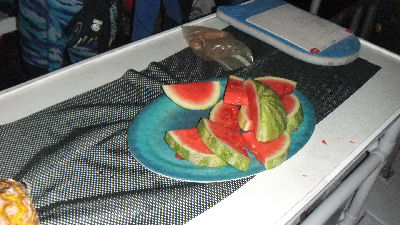 Watermelon to wash the salt water taste away.
So, should we stay, or find a "better" place?
Comments Off

on Opening Night Of The California Lobster Season!