September 11, 2013*
As stated in my last post, I accidentally ripped my right hand seal.
Igor put a hard cuff in the sleeve, a new seal over it and secured it with a band.
"I think it is fixed now," Igor said.
There were several divers in the water.
I went in and over to two divers.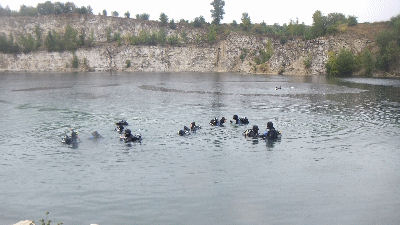 "If you guys are waiting on me, we can go," I said.
They laughed.
"We don't even know who you are, so it may be the guys behind you," he said in perfect English.
"Jeff, over here," Szymon said.
We submerged.
Logged SCUBA Dive #445
Dove with Szymon and Takub
Zakrzowek Rock Quarry
Krakow, Poland
In With: 2800 psi
Out With: 1800 psi
Max depth: 57 feet
Waves: None
Visibility: 15-20 feet
Water Temperature: 50 degrees
Air Temperature: 55 degrees
Total Bottom Time: 35 minutes or so
I just followed the two.
I have often wondered what people find intriguing about diving in a place like a rock quarry.
I also found it interesting when I was told that Pope John Paul II worked in this rock quarry during World War II.
Szymon and Takub posed for pictures, laid on their backs, attempting to blow air rings to the surface.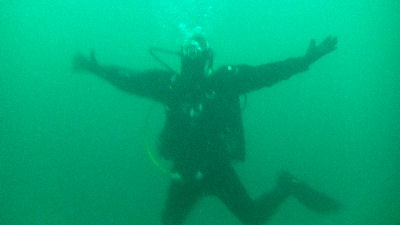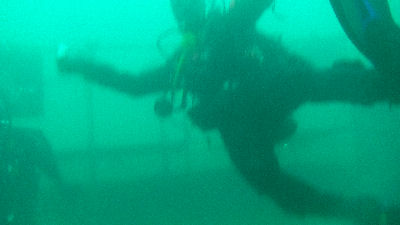 We swam to the bus.
I felt this cold water on my right arm, moving slowly to my chest.
Yeah, I was leaking.
Should I call the dive, or be punished for ripping my arm seal?
I am macho, and true to Instructor Ed's old saying, "Just keep going on."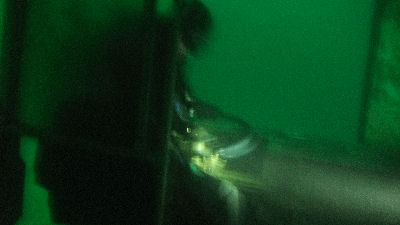 They started messing around inside the bus, posing for pictures sitting in the driver's seat.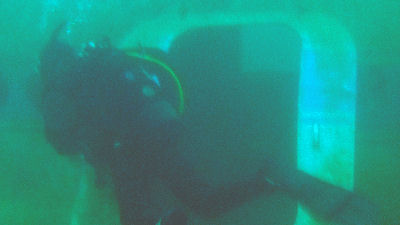 We passed by the airplane and soon I followed them to a line.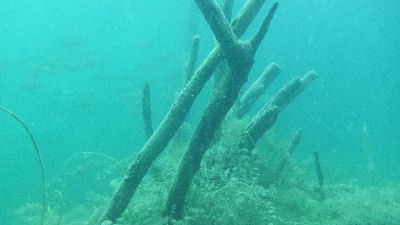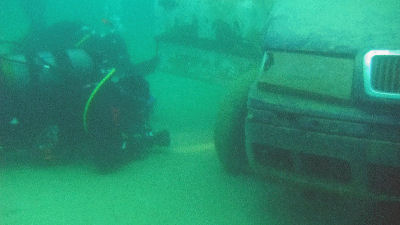 I grabbed the line and and followed them; we were in 55 feet of water.
All of a sudden, it looked like they were sinking, but I noticed that the line I was holding was taught… Oh, fuck, I was going to the surface really fucking quickly.
I grabbed my inflation hose and dumped all the air out of my BCD.
I sank down to the level we were at and gave the OK sign.
I did not realize that we were swimming to shallower water.
Szymon later told me that he thought I was giving the "out of air" sign.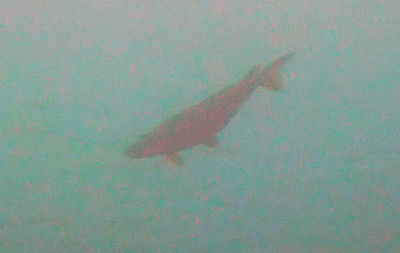 A Sturgeon.
We ended the dive shortly thereafter, because someone had to take a piss really bad.
We packed up and headed back to the diving base hotel.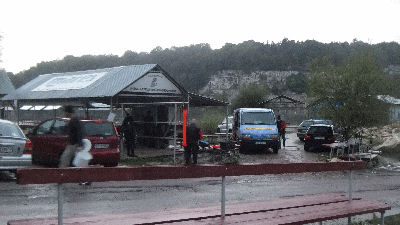 Again, they opened the bar just for us, where we proceeded to drink beer and eat pizza until 1 AM.
*This post has been delayed due to Polish beer, Vodka and lack of internet access.