September 11, 2013*

After arriving at the Diving Base in Zakrzowek, we partied in the bar until 2:30 AM.
I was told that breakfast is at 7:30, and that we would start diving around noon.
Perfect, I could nurse my hangover.
I was a little tired and the floor was no longer spinning when I woke up for breakfast; I got there a little late, but this is Poland – they are laid back when it comes to time.
I met Igor at breakfast.
"You need to eat a quick breakfast and be down here with your diving gear at 8 AM," he said.
"Wait, I though we weren't going to start diving until noon," I said.
"We need to set up the event first, that will take several hours…we are waiting on you," he said.
Something must have gotten lost in the translation; I scarfed down my breakfast prison-chow-hall style and ran up and got my diving gear.
We piled everything into the van and drove a few minutes to the diving area.
It was raining, but nobody seemed to care or complain.
So basically, this group drove from the North to run a day long "Discover SCUBA Diving" event.
I was to dive with an Instructor on the side, to practice with doubles.
They set up a lecture area, dressing facilities and kitchen.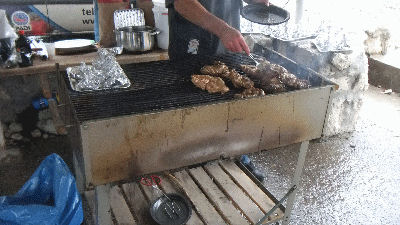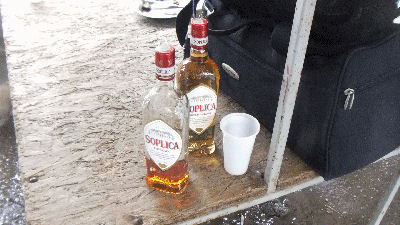 They even had a community hookah… and when you are in Poland…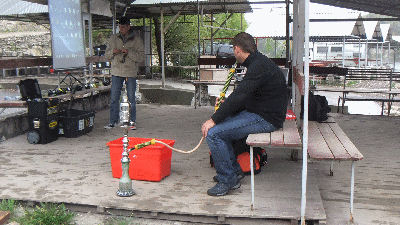 Igor was talking to his group, when I saw him sniff something off his hand.
He turned to me, "Would you like some"
"Oh, I don't do cocaine," I said.
Everyone laughed.
"No, this is peppermint snuff… it is powered tobacco that you sniff."
Well, when in Poland… I tried it, a very small amount.
Yeah, it wasn't so wonderful; all I did was sneeze and blow brown boogers for several minutes.
Everything was set up… now it was the "hurry up and wait" game.
It continued to rain.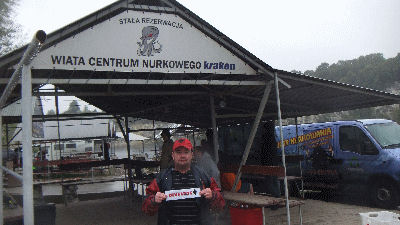 Finally, a huge bus pulled up…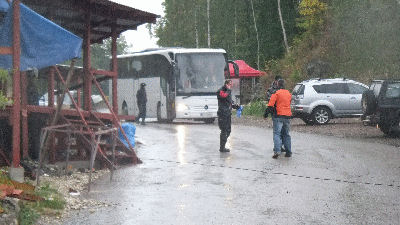 …and out came about 30 fairly young people, including some really hot chicks: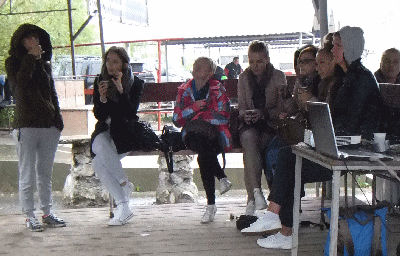 FUCK! And I couldn't talk to any of them!
With my Albania hat and Cleveland Indians Jacket on, I may have looked a little out of place.
Igor did a brief introduction before showing a PADI Dive Introduction movie; it was in English, with a Polish narrator.
Then half the group geared up, the other half waited for their turn.
I was originally going to dive with an Instructor named Lukasz, but he was diving with a side mounted cave configuration and told me, "I didn't know this was your first Open Water dive with double tanks; if you get in trouble, I won't be able to help you with what I'm diving with."
Igor said he would dive with me and that I should gear up and wait.
I geared up and put on the doubles.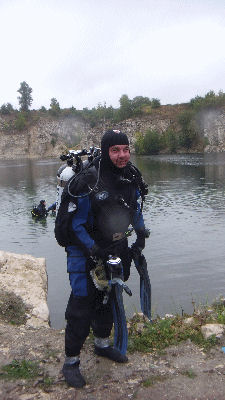 As my back started to give out, I said, "I'm gonna wait in the water."
So, I'm waiting in the water, and Kamil swims over.
"Jeff, are you ready to dive, I will go with you," Kamil said.
"I think I'm suppose to wait for Igor."
"No, I'm an Instructor, too, let's go."
We swam a little ways out and submerged.
Logged SCUBA Dive #444
Dove with Kamil
Zakrzowek Rock Quarry
Krakow, Poland
In With: 2800 psi
Out With: 1400 psi
Max depth: 96 feet
Waves: None
Visibility: 15-20 feet
Water Temperature: 50 degrees
Air Temperature: 55 degrees
Total Bottom Time: 40 minutes or so
I had a little problem with bouyancy…I couldn't find my inflation hose, but Kamil found it and rubber banded it to a strap for easier access.
Zakrzowek has stuff sunk all over the place – a car, an airplane, a bus, a replica of a ship.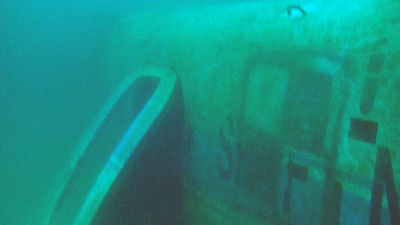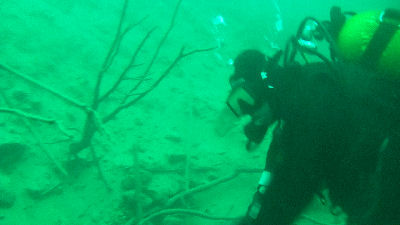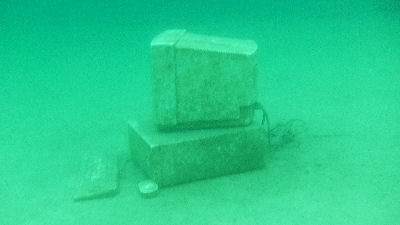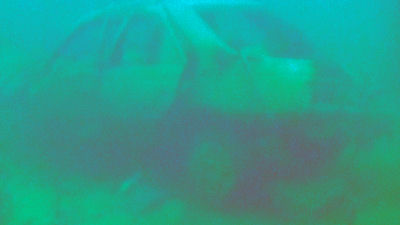 We got down to 96 feet.
The dive went well, the buoyancy was a little awkward,
When we got back, Igor was waiting.
"Jeff are you alright?" Igor asked.
"Yeah, I'm fine," I said.
I saw this overwhelming expression of relief from him.
"Would you like a second dive?" Igor asked.
"Of course,"I responded.
I had to take a piss really bad, and when I took my dry suit off, my right hand seal ripped.
Fuck! Now I must improvise.
*This post has been delayed due to Polish beer, Vodka and lack of internet access.
Comments Off

on First Dive At Zakrzowek Rock Quarry, Poland