August 24, 2013
In two weeks I leave for Poland, and I need to get amazingly proficient with double tanks really quickly; so far I have zero experience.
So now, at least, I can get in another dry suit dive.
I geared up and made sure to zip my zippers; it's hard to get a visual, but I couldn't zip them any more.
I made an easy entry through the surf, put my fins on, and I was away.
I noticed I wasn't getting much ball squeeze as I descended… actually I wasn't getting any.
Logged SCUBA Dive #442
Solo Diving
Veterans Park, Redondo Beach, California, USA
In With: 3000 psi
Out With: 800 psi
Max depth: 101 feet
Waves: Pretty flat with rollers at the surf zone
Visibility: 15 feet
Water Temperature: 55 degrees at depth, 67 at the surface
Air Temperature: 70 degrees
Total Bottom Time: 30 minutes or so
My dive plan was simple – go straight West to 100 feet, turn around and come back.
As I descended down the canyon, I realized I wasn't feeling "dry suit squeeze" because the pressure was being relieved by all the water that was flooding into my dry suit.
Yep, flooding again – at least I'm not an astronaut on a space walk.
Well, no reason to cancel the dive – I continued to 101 feet where I turned around.
At 60 feet, I swam North to a formation of blocks and then went back on course.
I wasn't cold, just pissed I had flooded.
I made it out and fell in the surf, just as I had before.
Luckily, I fell right in front of a rescue class – they stood there and watched me crawl a bit and then get up.
I can only imagine what it is like to be on a chain gang…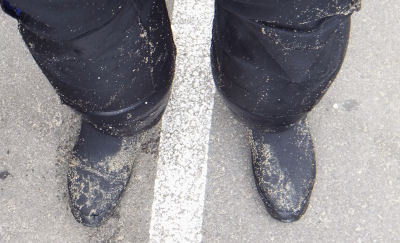 A flooded Dry Suit can hold a lot of water.
Upon inspection by Chris From Detroit, it was discovered that, even though my zipper felt like it couldn't go any farther, the zipper had another inch to go.
I also later noticed the pee valve was open, and I wasn't hooked up.
OK, even though I still really hate dry suits, I have learned now to be more paranoid about the seal.